Alexis Patelis
"Self-awareness leads to happiness"
The economist with an international career shares his experiences, overturns stereotypes and gives advice that he's made use of. He talks about the significance of self-knowledge in both personal and professional growth, about the challenge of working and living abroad, the diversity in work and the making of decisions, and he emphasises that the result and not the effort is what really counts in a successful career.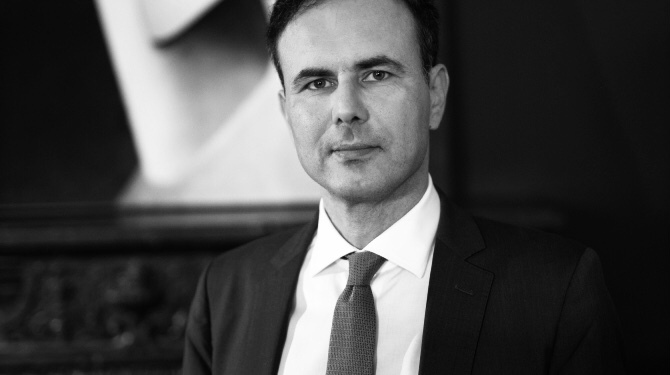 Alexis Patelis
Economist
An incredible career guided by self-awareness
By Christina Katsantoni
Translated by Alexandros Theodoropoulos
If there is a word that can characterize Alexis Patelis' life, that would be self-knowledge. Guided by that knowledge and self-comprehension, he has experienced an amazing journey which started from the centre of Athens and continued in the greatest dealing rooms of the world. Today he stands on the side of the prime minister in Maximos Mansion.
Since he was a child he's liked studying and was always a good student at school, especially in maths. When he was 12 years old he asked, as a gift from his father, a computer, where he started making various programs. Meanwhile he fancied economics and from a very young age he started reading The Economist regularly. His parents had both studied abroad, so when he finished school he followed their pattern and went to the UK to study maths and economics.
Studying in two continents
Before turning 18 we went to London, seeing his life back then as a fascinating adventure in a foreign country. During his studies in the University of Sussex he realised that economics was the field he was most interested in as it combined many different scientific sectors like maths, history and sociology. Still, Alexis Patelis hadn't decided the exact road that he was going to follow in his profession.
He continued chasing it and left the UK to do his Master's with scholarship in the famous Pinceton University of New Jersey, in the US. Since his first year there, he had realised that what he actually wanted was not an academic career.
Loyal to his decision to chase his real desires, he chose – while watching the CNN – 30 economists and sent letters to them asking for summer employment. 29/30 didn't respond. The 30> that responded was Gavyn Davies of Goldman Sachs, who offered him a chance. Alexis Patelis grabbed it without second thoughts.
The Greek of Wall Street
He worked for three consecutive years in Goldman Sachs and finished his Master's at the same time. In 1997 he earned the title of Doctor of Philosophy in Economics and at the same year he was employed full-time by Goldman Sachs in New York.
The period he lived in New York taught him a lot. It taught him the importance of setting goals in order of priority, to be productive and to understand that in work we are judged by the outcome and not by the effort. That challenge intrigued him and made his staying in New York even more fascinating.
Alexis Patelis' homecoming thoughts started when he turned 30. After 12 years living overseas, he resigned from Goldman Sachs and returned to Greece to work as financial advisor for the director of the National Bank of Greece. But the time for a permanent stay in Greece had not yet come. He decided that wanted another life adventure and left Greece for the sake of London where he started working for Merrill Lynch.
There, his growth was rapid. He managed to become Head of the financial sector of the company, a position he had dreamt since the time he was still writing letters as a student to economists and watched them on TV.
The Return to Greece
His spell in a big company like Merril Lynch was completed in 2009, as he decided to try something of his own. After his marriage in London at the same year, he decided along with his wife to return to Greece. In Athens he continued working for important fund managers, private banks and other customers.
he responded to the call by the Prime Minister, Kyriakos Mitsotakis, and undertook the Economic Office of the General Secretary of the Prime Minister as head economic consultant. He saw the invitation as a challenge and an opportunity to provide his services to the country by using all the knowledge and skills that he had developed overseas.
He never regretted that choice. This doesn't mean that he's thought of a career change towards politics. He is just doing what he can do best and what he actually loves. He moves forward with self-awareness and held to his convictions; to have a successful career and a happy life we should comprehend ourselves. As an 80s song that defines him says: I am what I am. I am my own special creation...
30€ /6months or 40€ /year
Become a subscriber to access all of ImpacTalk content