Anastasia Kotanidou
"Intensive Care Units don't function with robots"
World-class doctor, Head of the Intensive Care Unit of "Evangelismos" hospital and head of all the Intensive Care Units of Greece, Anastasia Kotanidou is at the frontline of the pandemic talking about a constant fight between life and death in an ICU – a fight which she always faces with optimism. She recollects her happy years in Bulgaria, where she grew up and studied, while explaining the difficulties to be devoted to both medicine and family.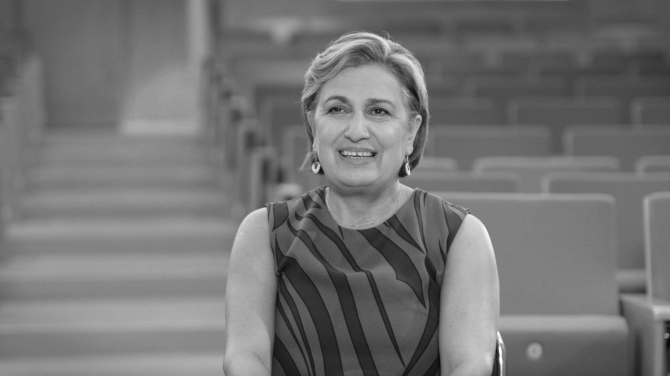 Anastasia Kotanidou
Professor of Pulmonology and Intensive Care
From Bulgaria with Love
By Mia Kollia
Translated by Alexandros Theodoropoulos
When it was time to select specialty everything pointed towards a career in Pneumonology but Anastasia Kotanidou felt like it would be pretty boring to deal with "breathe in, breathe out". By coincidence, there was a vacancy in the Intensive Care Unit which didn't require a long queue to compete for (which she wouldn't stand as impatient as she was), so she tried her luck. And for the sake of our luck too, she liked that and started a timeless life journey that continues today. 
Anastasia Kotanidou begins narrating her life from her childhood in Sofia where she grew up and studied. Happy years, as she says, in communist Bulgaria where she had everything needed. Her father was of Pontic Greek origin and went as a political refugee in Bulgaria where he met her mother who was a pre-school teacher at the time. They would live there without losing contact with Greece and Pontus. It was only during the Greek military junta when they weren't visited by friends and relatives but instead, they were just waiting for a phone call.
Medicine was a childhood dream, perhaps a dream of her father who was a pharmacist and couldn't fulfill his own passion. Rigidness and limits within the country but also within her family were probably favourable in completing her studies and helped her absolute discipline and devotion that would be required by her profession later.
She is not only a person totally devoted to her job. She is a human being that has always sought more and more knowledge and information, a human being that consistently carries out whatever she undertakes. Maybe that's the reason of her close relationship with well-known professor, Dimitris Trichopoulos, whom she met during her fellowship in John Hopkins hospital of Baltimore. 
Anastasia Kotanidou started her significant career when she got specialty in Pneumonology, in the Pathological Clinic of the General Hospital of Infectious Diseases of Athens and since then she has been working incessantly in "Evangelismos" hospital. Today she is the head of the Intensive Care Unit of Evangelismos and coordinator of all the ICUs of the country. She received specialty in Intensive Care in 1994 and she was voted consecutively as Lecturer (1996), Assistant Professor (2002), Permanent Assistant Professor (2007) and Associate Professor (2009) in Pneumonology – Intensive Care, in the Intensive Care Clinic of the University of Athens.
Personality and Personal Life
In the neuralgic sector that she chose to work there are a lot of integral parts in the road to success. Nevertheless, she considers common sense and sharp eye as the most needed skills and advantages of a good doctor, something that allows her to combine facts immediately and correctly. All these can happen taken into consideration that the doctor is constantly alarmed and informed of every medical result and change. As she says, medicine evolves so fast that in just a few years you could be out of context if you don't follow daily the progress being made worldwide. Requirements for a leader are so many that you can barely enjoy family moments as you'd like. Perhaps that's why she didn't want her daughter to get involved in medicine – something that she didn't achieve as her daughter, Gabriella, excels in dermatology, in London. Her husband, with whom she is married for almost 40 years, is a physical education teacher and businessman.
As every devoted and successful person she confirms that without a calm and balanced life you can't reach your goals when chasing success – which in this case is actually a vital matter. The honesty employed when she mocks herself is disarming, as she admits that she has to let off steam after a hard day in the job. Therefore she asks her husband: "should I go running or should we fight?". It is easy for us to assume that he more often chooses the first. And running is not mentioned by chance as she likes trips very much. But also she likes cinema and …..medical tv series!
Inside the Intensive Care Unit: a battle between life and death
Anastasia Kotanidou has literally lived her life in "Evangelismos" hospital and has spent thousands of hours in the ICU, fighting to save lives. She admits that to lose a patient that she hoped could make it, is what can actually break her, especially when that patient is a young person let alone a child.  
She destroys the myth of the all-powerful doctor and believes that the so-called disobedient and over-suspicious Greeks have behaved well at this pandemic time. A time that has introduced to the public all the people that work tireless in ICUs and whose hard work is now acknowledged. With a grievance she highlights that she feels most of the people to think of the ICUs as a place full of robots and not humans. Now due to the pandemic, people have realised what actually happens behind these doors that stay closed.
She has given medical treatment to a number of prominent people like Professor of Cardiology, Kremastinos, whom she considers one of the best teachers in the Greek medical community, Odysseas Elytis, and the Archbishops of Albania and Athens.
The first Greek subscription platform
for learning and inspiration.
34 leaders + 77 experts + 120 stories of individual people and companies