Mirella Papaoikonomou
"By writing, I live the lives that I haven't lived "
The screenwriter who defined television fiction with her works, describes the need that led her to writing, explains the difference between a screenwriter and an author, talks about the inspiration and the economy of expression, the small and big "no" required by a successful career, the stimuli from which her stories begin and the power of truth which can always make a difference in a scenario.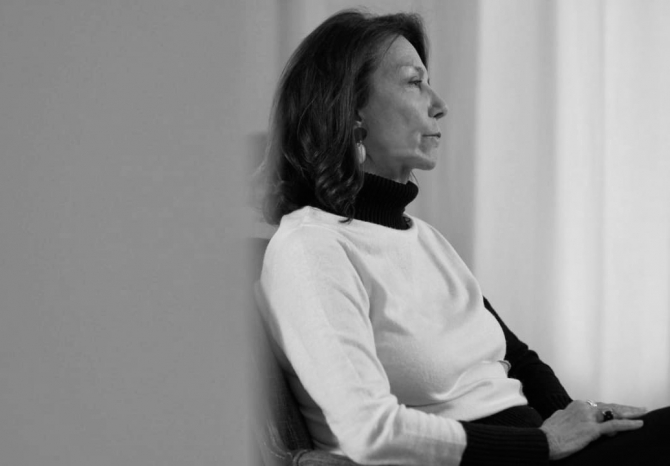 Mirella Papaoikonomou
Screenwriter
Mirella Papaoikonomou
The Creator who changed the Greek Television
By Christina Katsantoni
Translated by Alexandros Theodoropoulos
For Mirella Papaikonomou, writing is a way of life. It's an opportunity to travel to other places and times, to meet people and identify with them, to explore their stories, to listen to them, to understand them and to live through them all the lives she hasn't lived…
From a young age, she invested in writing the stock of emotion that hadn't manifested in her life. She's had happy childhood years and excellent performance at school, where she was particularly distinguished in writing and composition. Apart from good essays, however, she wrote everything: poems or anonymous letters, which could sometimes be addressed to her mother for a complaint and sometimes to an imaginary lover who had left her! The excess of emotions had to be somewhat relieved and for Mirella Papaikonomou the way to do so has always been writing.
The First Scripts
After graduating from school, she left for England where she studied English Literature and History of Art. Upon returning to Greece, she wanted to have fun. She continued her studies in set design and decoration, while at the same time she started working in the field of advertising.
Her journey continued in the theatre, a place that fascinated her from a young age, where she worked successfully as a set designer and costume designer. While she had a successful career ahead of her, television entered her life by chance and gave her the opportunity to deal with what she really loved. So she started writing again, but this time scripts…
The occasion was Thanasis Papageorgiou who suggested to Mirella Papaikonomou to try to write a screenplay for the series of independent episodes "Mikroi Megaloi". She wrote the first episode overnight, followed by another 99 episodes.
A New Era in the Television
After the introduction of private television stations, she decided to write a screenplay for a complete series, called "Window to the Sun". It took 5-6 months to write it. When she presented it to ANT1, Mega and ERT channels, she received a negative answer but with positive comments. "Nice writing, but this series is not for the job, it is not for television, it has no action, no murders",  that was generally the rejection answer...
She was upset, but stubborn, so she didn't give up. Over the weekend, she wrote another screenplay, using facts from her own life and the life of her sister. This time it was shortlisted by all three channels, even though it had no murders.  That script was "Women".
The series ended up in Mega Channel and evolved into one of the series that marked the early 1990s and the Greek television. A year later came another series which struck a chord with and was loved by the audience, leaving an indelible mark on the history of Greek fiction on television. "Anastasia", with Myrto Alikaki in the protagonist role, was a phenomenon of the time, which occupied everyone and achieved a rare viewing record. After that, every success was followed by another.
The "Window in the Sun", which had once been rejected, found its way to ERT Channel, while many series followed that launched the careers of great actors and became great hits such as: "Do not be afraid of fire", "The Absent", "Because of honour", "The Life I haven't lived", "Leny", "So suddenly", and later "The Island", for which she wrote and edited the script based on the novel of the same name by Victoria Hislop.
The Power of Truth
All of her series are defined by her personal mark. They are real stories with real and recognizable heroes. Stories, which arise from everyday stimuli such as the love of a friend for a much younger girl and they usually begin with a question: "what will happen if…" In this case, "Anastasia" was what happened.
Throughout her career in the field of screenwriting, Mirella Papaikonomou never stopped investing emotion in each of her screenplays, creating characters with whom she first identified with and telling the truth. She's always believed that a simple dialogue which tells the truth can have more power than a story with action and murder.
Because this truth is what moves and touches her when she watches scenes of her series once again. As if reliving moments of lives she lived, but also of those lives that she lives by writing.
The first Greek subscription platform
for learning and inspiration.
34 leaders + 77 experts + 120 stories of individual people and companies