Loukia
"Fashion has the charm of the ephemeral"
The designer who breathed new life into Greek fashion looks back on her life from the difficult childhood years and the studies in London of the Beatles era to the return to Greece and the first creations. She talks about her family, friends, her relationship with important personalities such as Melina Mercouri, the severity of fashion and advises young people who want to enter the field what to watch out for and what to avoid.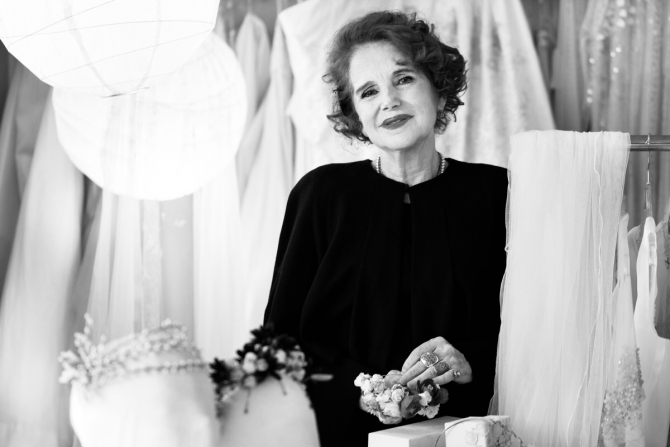 Loukia
Designer
The steel stem of Greek fashion
By Xristina Katsantoni
Translated by Alexandros Theodoropoulos
She has been described as an elf and she has accepted it, unsure of what to attribute it to; perhaps, to her girlish voice, to her low utterance, to the body language and to the harmony and grace that her presence radiates.  Loukia is a discreet presence that has dominated the field of Greek fashion for decades. A delicate stem, which she creates among lace and soft fabrics, but according to her close friend, Katia Dandoulaki, she is made of steel… 
The first patchwork
Loukia learned how to face difficulties in the early years of her life. She was born in Samos, but very soon moved with her mother to Athens. Her parents divorced very early and she grew up without her father. What she can clearly remember is the difficulty she faced at school, when her classmates asked what her dad was doing, and she didn't know what to answer.
Her mother was strict. She made her study not only the school lessons, but also great writers, Dostoevsky and Tolstoy. She loved making things with her hands, tearing up fabrics, her mother's old dresses and papers, and making patchwork before she even knew what patchwork was. Aesthetics have always been a part of her life, but in the early years it didn't cross her mind that her future would be connected with style and fashion.
Living in London of the Beatles era
After finishing school, she decided to do something related to design and interior design. The great adventure for Loukia began in London, a place that was the centre of the world at the revolutionary times of the Beatles era. 
She studied interior design and fashion design at Saint Martins, while at the same time she started working on the art de la table, where she discovered that she had great skills. But most importantly, she vividly experienced what the city and the era had to offer her, discovering and falling in love with the boho style, travelling a lot, meeting important people and starting some great collaborations.   
The old warehouse that became a studio
Deterioration of her mother's health forced her to return to Greece, ready for a new beginning in fashion design. Her first step was to find the right place, which she discovered in a warehouse with old furniture in the centre of Athens. Loukia's creations slowly began to attract attention and when she dared the first fashion show, Katerina Terzopoulou photographed two of her coats for "Woman" magazine. Somehow her fairy tale in Greek fashion had just begun...
Since then, great artists and important personalities of the country have passed through her studio. Her creations stand out not only for their aesthetics, but also for the completely personal, recognizable style, with which she continues to write her own story. Her signature, as she says, is her tendency to tear the fabrics, as she did with her mother's dresses when she was a child. 
Love affair with fabrics
Loukia likes to mix materials, to discover what connects the fabrics, with which she has an almost erotic relationship. She enjoys watching, touching and hearing them. The rustling of silk has a different sound to the one of the taffeta. As she says, it is like telling you stories. So her creations, which often have a hint of theatricality, have their own stories to tell. 
For almost half a century, Loukia has been balancing gracefully between high art and selective fashion trends, making creations not only for her collections, but also for great theatrical performances. Her main sources of inspiration are cinema, painting, music and theater.
Fashion for her is a very serious matter, combining many different arts together, which requires a constant willingness to study and explore. It has the charm of the ephemeral, something that is both interesting and exhausting. She devoted a large part of her life to her work, but she doesn't complain about her choices which were made with the motto: "Do what you want when you want it"...
 
The first Greek subscription platform
for learning and inspiration.
34 leaders + 77 experts + 120 stories of individual people and companies