Chrysanthos Panas
"Without risk, nothing is possible"
Chrystanthos Panas, the entrepreneur who deeply changed our idea of hospitality and entertainment in Athens, talks about the correlation between art and recreation. The man behind Central, Island and Salon de Bricolage, the creator of the rebirth of Athenee in the center of Athens, but most importantly, the man who envisioned the Athens Riviera dives deep into his love for aesthetics and culture. In a step-by-step process he explains how he built his career based on transparency. He offers advice to all young people to get the most out of risk taking. As an entertainment businessman, an art lover and collector, he shares his vision: to make our country known for its present and all that it has to offer at the moment. Chrysanthos Panas reveals the lessons that life has taught him; a life a lot of people wish they could live.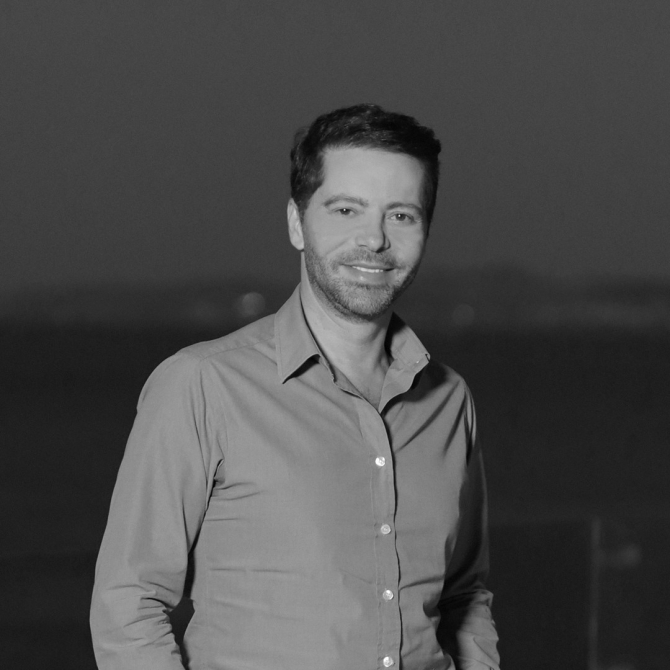 Chrysanthos Panas
Entertainment Entrepreneur
A pioneer in the aesthetics of entertainment
His name is associated with entertainment. For him, entertainment is always a requirement. He wants people who are hosted in his premises to reach a level of true entertainment, a concept of Apollonia, which has to do not only with pleasure, but also with self-knowledge and the practice of the soul. This has been Chrysanthos Panas' dream since he was a child…
The childhood dream
In a classmate's childhood album, the question "what do you want to be when you grow up?" was already answered. He wanted to create a space with lights and music, in which people could reach a state of bliss. The dream came true to a great extent, as through the spaces that he created along with his brother, Spyros, they have defined the trends and the style of entertainment and hospitality in Greece for the last three decades. 
The Athenian Riviera
The first bar was created within the Nautical Club of Vouliagmeni, when the two brothers were 20 and 22 years old. Chrysanthos Panas was studying at the time, while also working in the field of shipping. Just four years later, "Island" was created, a place in which they wanted to bring the atmosphere of the Greek islands. A project implemented by a group of friends was turned into a huge success. Plans for a career in shipping had already been thwarted.
Born and raised in Vouliagmeni, very close to the sea, he loved the area from a young age, due to its rare beauty and unique energy. He realised that he wanted to share that beauty with the whole world, especially with those who didn't know that Athens has a unique coastline that counts as a comparative advantage over other European capitals. And so he was inspired and over the years he introduced the term Athenian Riviera. 
Today, the international press features the Athenian Riviera very often, which has also become a luxury volume album by Assouline publications, that specialise in destination books and has become a favourite destination of great and famous personalities. 
Entertainment and culture
Obsession with perfection also belongs to the secrets of success, paying attention to every detail. It is characteristic that the menu of Island has been created by Oscar winner, Vassilis Fotopoulos. Actually, this is another example of how Chrysanthos Panas approaches food service and hospitality: as part of culture. As he says, it is no coincidence, after all, that Plato's "Symposium" was written around a table…
Deeply in love with the area of the Athenian Riviera, Chrysanthos Panas created a place of high aesthetics. He generously envisioned the upgrade of the centre of Athens, an area overflowed with great history and urban politeness. Under the watchful eye of Chrysanthos Panas, the historic Café Athénée at the junction of Panepistimiou and Voukourestiou streets was reborn and reopened in 2015. Salon de Bricolage, an artistic members' club, became a meeting point for Athens' intellectual elite and hosted various cultural events.
Making Greece famous overseas, not only for its history but mainly for its equivalent present, remains his great dream. Chrysanthos Panas is undoubtedly one of the most successful entrepreneurs in the field of entertainment and can be proud of the upgrade of the regulations applied to the industries of hospitality and food service in Greece.
 
The first Greek subscription platform
for learning and inspiration.
34 leaders + 77 experts + 120 stories of individual people and companies