Konstantinos Konstantinidis
"I see miracles in the surgery"
The internationally well-known surgeon that brought new methods of surgery in Greece, explains robotic surgery and what is the surgeon's role in it. He speaks passionately about the objective of doctors that consider diseases their enemy, about his philosophy towards the patients, the value of life and the miracle that he often sees in the operation room.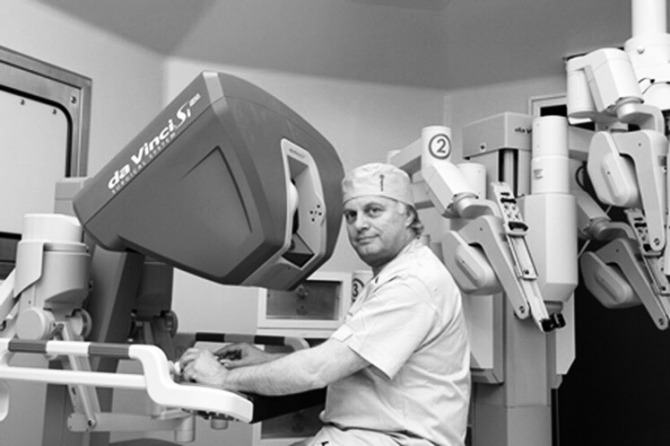 Konstantinos Konstantinidis
Surgeon, Professor of Robotic Surgery
A doctor that counts the stars
By Christina Katsantoni
Translated by Alexandros Theodoropoulos
As a child he used to see doctors as "little gods". While he was growing up he understood that doctors are not and shouldn't be considered close to god as long as they are close to humans…
Konstantinos Konstantinidis grew up in the island of Karpathos at a time when patients' salvation or alleviation was dependent on the island's doctor. For as long as he can remember, his future was always clear: he was going to be a doctor. 
He made his first life decision at the age of 12, when his parents decided to take their six children to America. He chose to stay in Rhodes with his grandparents in order to continue chasing the dream of becoming a doctor, which would then seem almost impossible to be achieved in a foreign country.
Studying was not a problem. He studied a lot, not only for school but he also read the books of doctor and writer A. J. Cronin. His role models were hero doctors fighting for their beliefs against the status quo but also his grandma who alleviated the pain of many fishermen from Kalymnos. 
His admission to the Medical School of the Aristotle University of Thessaloniki with flying colours didn't come by surprise. It was just the beginning of a great scientific career.
The Disease is the enemy
The incident that defined his life and philosophy took place during his fifth year at the university.  Bad news arrived from the US regarding his father's health. According to the doctors, his father had a really small possibility to stay alive. He managed to say goodbye to him a few weeks before his passing. The grief of his loss was accompanied by tenacity. He understood that the enemy is always the disease and there is only one way to fight: by becoming an excellent surgeon. And that's what he did.
He started his internship in Ohio Health Riverside Methodist Hospital in Columbus, where he became general surgeon in 1988. In parallel to his stunning academic career as assistant professor in General Surgery in Ohio University, he attended a great number of postgraduate seminars in all around the world, with emphasis on Laparoscopic Surgery and Robotic Surgery. 
Pioneer like the heroes of Cronin that he was enchanted by as a child, he followed the rule that says you don't reject knowledge before you tend to acquire it and use it in practice. 
And when he learned surgical methods that allow the surgeon to not split the patient's body in two, he was keen to get to know them and be a part of it, not just as an observer but as a leader of this progress. He fought against mistrust especially coming from a surgical audience and in 1991, he introduced laser for the first time in Greece, in the Medical Center of Athens. 
He saw the evolution of Robotic Surgery – which he had put into action for the first time in Greece and Southeast Europe in 2000 – as the only chance to make good use of the best tools so that he could dare to offer the maximum to people most in need.  After many thousands of surgeries since his first operation, he robustly states: "I have never regretted for being in the operation room". A place he's seen miracles being made at.
The Joy of Life
Today he gets pleasure from every moment in life - which he shares with his wife, Marilena Vlachou, his daughter, Sissy and his son, Michael - from the acts of love of his patients and from every moment of high responsibility in the operation room where he always sees the glass half-full. 
The road to science never ends, so his dreams of the future are yet undiscovered and identify themselves with verses by Kostis Palamas: 
"No matter how many mountains you climb, from their peaks you'll see other peaks, higher than these, a different enchantress existence. And the highest top you may reach, but still you'll see that you are, like at first, under of all the stars…".
The first Greek subscription platform
for learning and inspiration.
34 leaders + 77 experts + 120 stories of individual people and companies