Dimitris Itoudis
"We will fall, but never backwards"
The Greek coach that holds a record of European titles reveals the secrets of success that start from facing failures, managing sackings and the importance of "fall forward". He talks about life-long relationships developed through basketball, the difficult decisions, the first advice he gives to his players and the professional challenge out of the comfort zone.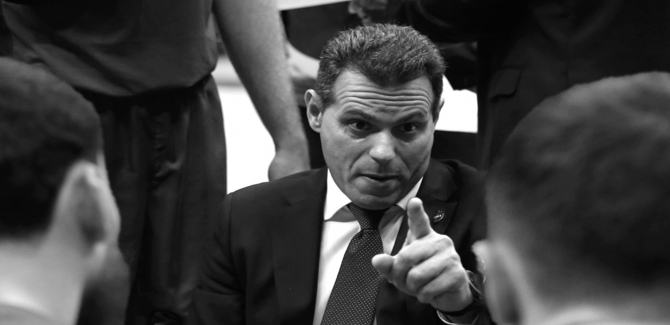 Dimitris Itoudis
Basketball Coach
The silent Leader of the game 
By Christina Katsantoni
Translated by Alexandros Theodoropoulos
He has been attracted to sports since he was a child. When he played basketball his attraction to it was so high that he tried to escape from farming work and take some time for his favourite sport. His mother was worried, so she urged him to engage with the farming business of the family, but that prediction was pessimistic: "That thing will never earn you your living". Her reservations were probably reasonable. Nobody could have imagined how wrong his mother's prediction would turn out to be for Dimitris Itoudis.
Son of a rural family, he grew up in the town of Trikala in the county of Imathia, where his family was trying to earn a living from farming. The initial future plan for Itoudis was that he would study agriculture. But when his love for basketball became a life dream his family supported each and every of his choices.
Studying in Zagreb
During his time at secondary school, he started basketball training in the team of Alketas Alexandrias. When his first coach told him about a book called "This is Basketball", Dimitris Itoudis took it and read it with passion. At the same time, he was studying the game through watching the big games of the time - the derbies between Aris and PAOK. After encouragement from his coach he tested his abilities when doing exercises to children. The basketball bug had been already caught. 
Although he had offers to play for teams of the second and third division, he saw that he couldn't reach the level of athletes that he admired, like Nikos Galis and Panagiotis Giannakis, so he decided to go to study in Zagreb and to be taught about his passion; to coach, detect and lead.
The choice of Zagreb was not by chance. He knew that there he would find one of the best educational organisations with expertise in basketball and that he would interact with some of the best in the business. His progress was rapid. Soon he became part of the academy of Mladost and later he continued as head coach at the age of 21 of the under-18 team of KK Zagreb and assistant coach in the men's team next to Bosko Bozic.
When Dimitris Itoudis was in KK Zagreb, he met by chance with another young man that had just accepted to coach Badalona. They exchanged phone numbers and decided to stay in touch. His name was Željko Obradović.
The Big Step
Upon his return to Greece, he worked as assistant and also as first coach in different teams such as PAOK, Panionios, MENT and Philippos Thessalonikis. He had stayed in contact with Obradovic and when the latter asked him to join Panathinaikos in the summer of '99, Itoudis knew that this opportunity was his first big step. 
The story of Dimitris Itoudis next to Obradovic in Panathinaikos is intertwined with the best era in the club's history. He won a total of 23 titles in 13 years, achieved to be trusted by the fans and built a fraternal relationship with his best man, Željko Obradović. And after collecting amazing experiences, knowledge and stories, he continued his journey believing that it comes a point in life when one should try to get out of the comfort zone. 
The Challenge of Moscow
His time at Panathinaikos came to an end in 2012. In 2014 and after a season in Turkey with Banvit, he decided to accept the offer from a team that carries a great history, CSKA Moscow, which at the time wasn't able to win the European title. The challenge is very big but Dimitris Itoudis loves challenges. 
And he proved that he was the one. His career there coincides with five Russian championships and two EuroLeague titles. Meanwhile, he is CSKA's record man of European victories in EuroLeague and the only Greek coach to have won the greatest European basketball title twice.
From faraway Moscow, where he has been settled along with his wife and daughter since 2014, he continues to do what he loves and he's eager for the next difficulty which he never sees as an obstacle but as another challenge. A rule that he follows says: if you change the way you see things, the things you see will change too…
30€ /6months or 40€ /year
Become a subscriber to access all of ImpacTalk content