Lefteris Lazarou
"Food means giving your soul"
The internationally renowned chef who has won the first and only Michelin star that has ever been awarded to a Greek restaurant, recounts moments of his great cooking life adventure, reveals successful secrets hidden in his famous dishes, highlights the merit of imagination and parthenogenesis, talks about the importance of taste and the function of a restaurant like "Varoulko", and clarifies the reasons that cooking requires truth above all.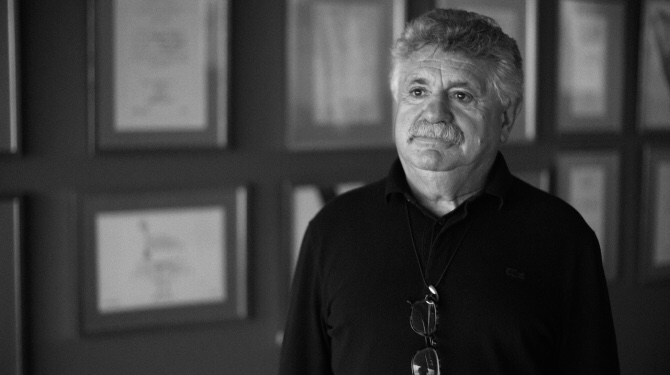 Lefteris Lazarou
Chef
The great cooking adventure of his life
By Christina Katsantoni
Translated by Alexandros Theodoropoulos
Since the day he was born, Lefteris Lazarou's future had always been predetermined. He grew up in a family that used to put an extra plate of food on the table for any neighbours or passers-by that couldn't resist the smell of the home pot. He lived in a house next to the sea in Piraeus, where along with his father, were scouring the seabed for any kind of goods using makeshift tools. In a neighborhood with delicious cheese pies from Mr. Nikos, Lefteris could buy a locum and two biscuits for only 50 cents to make his favourite food delight of his childhood: the "biscuitlocum"…
Lefteris Lazarou grew up between flavours and faces that got brightened in front of a steaming pot. His childhood hero was his father who was a ship cook and Lefteris used to open up date shells on Sundays discovering the secrets of sea food alongside him. He never thought of doing something else in his life. His future was defined by experiences and memories that marked his taste and his overall philosophy that starts with the notion that food is interaction. As his father taught him, food is exactly what the song says: put another plate on the table, someone aching may show up…
Travelling to flavours
The loss of his father before his 16th birthday was a serious jolt. He lost a parent, a buddy, a teacher, that shared with him valuable knowledge. When he turned 17 he went to Italy although he didn't speak Italian. He went there knowing only some Latin that he'd learned at school and carrying an inexhaustible cooking curiosity as his hope. He found a job in Napoli, hidden in the kitchen of a Cypriot restaurant. He didn't learn Italian but he collected useful knowledge and experiences.
Later, Lefteris Lazarou followed his father's steps and chose the sea. He got into ships and travelled to Morocco and Tunisia. Then, he worked in a company with boats and cruise ships. He soon became passengers' favourite chef as he started doing his own things: he used to wake them up with the smell of charcoaled octopus and waited for them late at night with freshly cooked and warm fish soup, faithful to the moral that food is solicitude and a way to communicate which opens all hearts.
The establishment of "Varoulko" restaurant
His next career challenge was his own restaurant, a place that would host his dreams and recipes. In October 1987, in a classic neighborhood of Piraeus with old traditional houses he opened "Varoulko restaurant".
The ground floor in Distomou street could barely hold 40 people. Soon, customers were more than the restaurant's tables. Lefteris Lazarou and his restaurant made a difference with a series of successful dishes – the most famous of all being the deprived angler dish that Lefteris brought on the spotlight accompanying it with celeriac, chilli pepper and wateronion from Zakynthos.
Later, Varoulko was transferred to Deligiorgi street with dishes that made their own history there like squid with pesto. Next, it was the Varoulko restaurant in Piraeus Boulevard where Lefteris employed recipes with meat, serving tripe in martini glasses and goat with chocolate. The journey ended in 2014 when Varoulko returned to his natural place next to the sea in Mikrolimano, Piraeus.
The reward
Throughout his journey, Lefteris Lazarou has launched a new sea cuisine which married creativity with top class cooking techniques and tastiness of pure raw material. And the reward has not only come from famous people and political leaders of Europe but from all the customers that have visited his restaurant and all the people involved. In 2002, he unexpectedly and effortlessly earned the greatest distinction of international gastronomy; the Michelin star, and his restaurant became the first ever Greek restaurant of Greek cuisine to have won this honour.
Nearly 60 years after his first cooking journey alongside his father, the great cooking adventure of Lefteris Lazarou continues with books, seminars, innumerous awards, active participation and support to "Shedia Home" and of course, with lots of cooking. He always stays loyal to the belief that food is, above all, the extra dish on the table; care and soul giving. 
30€ /6months or 40€ /year
Become a subscriber to access all of ImpacTalk content