Stelios Parliaros
"Listen to your intuition"
The "national pastry chef" recounts a life full of cinnamon scent and taste of sweet and bitter chocolate. He speaks about the need of constant study and experimentation, recollects successful moments but also some of his most negative life experiences, shares trade secrets of his art and gives advice, and explains the difference between pastry making and cooking and why the first one is not just a dessert.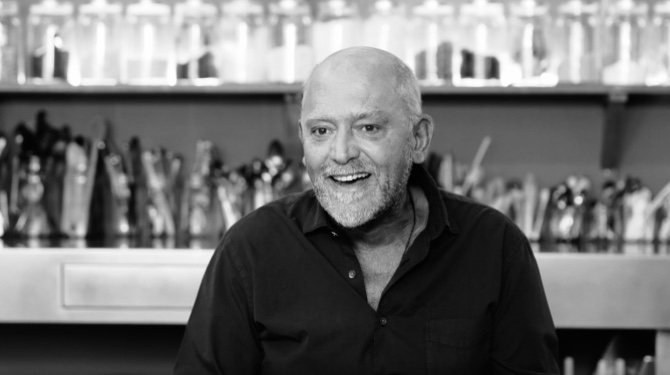 Stelios Parliaros
Pastry Chef
Life like Chocolate
By Christina Katsantoni
Translated by Alexandros Theodoropoulos
If Stelios Parliaros' life was a sweet, it would have the taste of a sweet and at the same time bitter chocolate. Sweet, like the fresh fruit that he first put in his tartlets, and bitter, like the economic difficulties that he faced for a decade but were not enough to defeat him. At the end, the desire to create and the bitterness of difficulties came out on top and that made his success even sweeter.
The first taste
The first years of his life had flavours of cinnamon and chocolate of his favourite profiterole which he used to buy in a patisserie in Pera. His recollections from Constantinople are nothing else than sweet. He grew up in a house full of love, food and many sweets. 
Language difficulties at school were the reason that his parents sent him at the age of 10 to finish school in Athens living in his godmother's house. He also loved architecture but pastry making was the art that came to his life by luck – or at least - luckily. 
He went to an evening technical high school due to his drawing skills, so in the mornings, since November 1977, he used to spend his time making cakes in Papaspirou pastry-making shop. He liked that because it had to do with "making", with "creating", and nine months later, when he heard that Hilton hotel needed a pastry chef he went there to try his luck.
The great school
His experience in making cakes secured him the vacancy. The fact that he gradually fell in love with his job and did his best in an attempt to discover the job secrets helped him to acquire a general knowledge of pastry making of the time. At the same time he learned how to work under pressing circumstances in a working environment where the phrase "I don't have time…" was forbidden. 
Supplied with all these "weapons", mainly with love for pastry making, Stelios Parliaros opened his own shop named "Fresh" in a basement in Kolonaki, in 1982. As such, and as it was later described from the press, a young 23-year-old man changed the flavour standards of Athens by pointing them to a sweeter direction. 
The two aspects of success
The patisserie was successful from day one, maybe due to its enterprising – for that time – aesthetics, but mainly due to its taste, its different philosophy and finesse. 
A great success of its first period was the tartlets made with fresh fruit like the then unknown in Greece kiwi fruit. Long queues were made outside that basement in Anagnostopolou street and orders started to line up too. Stelios Parliaros had everything under control and he wasn't only making the cakes but he was also delivering them with a taxi when necessary. 
It was just a natural consequence when franchise proposals came his way. Even if he didn't know much of economics, he decided to open other shops and move to a glamorous store in Sekeri where there was a gallery combined with the café – restaurant. After that, economic problems troubled him for a decade. 
He came through many difficult situations including debts to the tax office, intractable economic problems, closing of some of his shops, and disastrous relationships with people he trusted. He paid a high price for his unawareness in economics, but he didn't lose his optimism, nor his love in being creative. And after a lot of hard work and adventures, he came out on top and started from scratch – but this time being aware through the hard road of how to be a businessman. 
The national pastry chef
In the 1990s he started his engagement with the press through columns of pastry making in newspapers and magazines. Meanwhile, the sweet ideas of Stelios Parliaros became part of our lives through his engagement with television and books.
In 2008 he was established as the "National Pastry Chef of Greece" by starting his own TV show titled "Sweet Alchemies" which until today shows the audience the way to discover an art that requires aesthetics but is based on the science of chemistry. 
His famous sweets are now placed permanently in his shop in Kolonaki, a space representative of his philosophy towards sweets. A philosophy characterised by French elegance and eastern scent, that never stops wondering and experimenting. A philosophy that loves every sweet and knows that life is like chocolate; it can be bitter but it will also be sweet again.
30€ /6months or 40€ /year
Become a subscriber to access all of ImpacTalk content