Actors in the foreground
inspired by ImpacTalk
Behind what we see and what we feel, who are these actors? What being an actor means for an actor?  
Moderator:
Makis Provatas, Journalist
Experts:
Eleni Rantou, Actress
Thodoris Atheridis, Actor
Aliki Kakolyris, Actress
Konstantinos Aspiotis, Actor
To watch the full episode
Actors in the foreground
We watch them create worlds and eras on thetheatre stage, gripping us with a look or with a movement on the big screen and making us cry, laugh and ponder through the television screen. Behind what we see and what we feel, who are these actors? What being an actor means for an actor?
Acting is not just a spiritual art, as we may believe; it is above all an art of the nervous system. What kind of fears should a person overcome in order to dare to stand on the stage? What difficulties does one face every day in order to be able to convey everything that comes to save the soul of the spectator, but also his/her own? This job evolves into a personal commitment, capable of lasting forever; but in this difficult art, does one need a strong stomach?
How does one become a "born actor" and how does he/she manage to balance between art andharsh everyday life? Why does one decide to become an actor? To what extent did the pandemic affect the essence of acting? Will things go back to the way they were before the restrictions and the fear imposed by the spread of the coronavirus or will the communication between actors and audience change? Do heartbeat and stress ever stop before the curtain?
In this Experts Talk, journalist, Makis Provatas, welcomes Eleni Rantou, Thodoris Atheridis, Aliki Kakolyri and Konstantinos Aspiotis in a discussion about art, talent, what is difficult and what is magic; theatre, cinema, television, fans, avague Greek star system, and actors that stand as a presence at the centre.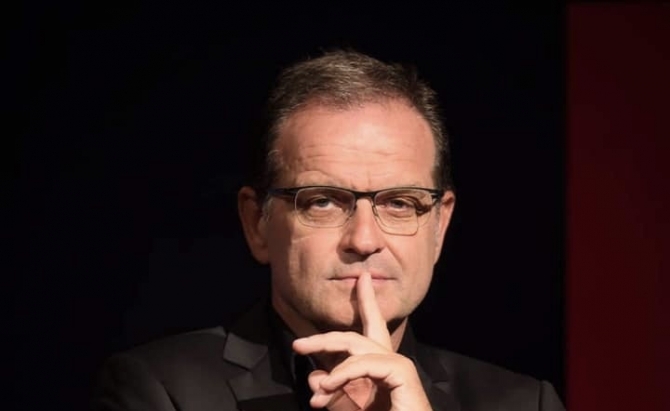 Makis Provatas
Journalist
Makis Provatas was born in Athens and graduated from the 3rd Lyceum of Ampelokipoi. He is a graduate of the Dental School of Thessaloniki. Since 1999 he has been producing radio shows (ERA, VIMA fm and Athens Voice Radio).
He has interviewed more than 350 foreign and Greek scientists, academics, politicians, writers and artists for VIMA, ViMagazino and Athens Voice. Among them are Stephen Hawking, Noam Chomsky, Richard Dawkins, Dario Fo, Eric Hobsbawm, Irvin Yalom, Yuval Noah Harari, John Cleese, Eduardo Galeano, Patti Smith, Eric Burdon, John Malcovich, Mikkhail Baryshnikov and Frank Serpico.
He collaborates with HISTORY magazine, for which he has written articles and interviewed politicians such as Konstantinos Mitsotakis. He has co-authored five books, with scientists and politicians including: "On the third rock from the Sun" with theoretical physicist Dimitris Nanopoulos, "Just a Few Kilometers, Stories for History", "Roots and Foundations" and "Milestones of the History of Hellenism" with historian Maria Efthimiou, "From Desevo to the Drone" with Network president Anna Diamantopoulou and "All in one life" with space scientist Stamatis Krimizis.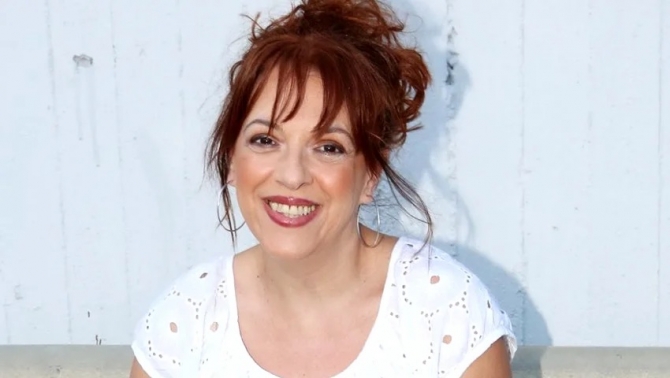 Eleni Rantou
Actress
Eleni Rantou was born on November 12, 1965 in Egaleo, Attica, where she grew up and has origins from Chania, Crete. When she finished school, she studied at the Department of French Language and Literature of the University of Athens and at the same time she was shortlisted in the Drama School of the National Theater of Greece, from where she graduated with honors. 
She made her television debut in 1983, at the age of 18, through the ERT series "Rainbow" (OuranioToxo), where she had one of the leading roles. In the same year she appeared in the series "Mrs. Doremi", with the role of Eleftheria. 
In 1984 she participated in the series "Fairy tales behind bars" and in 1985 in "Hail Tasso Karataso". In 1987, she appeared in "Escape" (Apodrasi) and the following year in the series "Crucifixion Without Resurrection". Her latest work for ERT was the series "Odos Antheon", "Who came to our house tonight?" and "The Repair Shop" (To Synergio) in 1989.
In 1991, following the establishment of the private channels in the Greek television, she presented the show "Not the news of ANT1'' on Ant1 channel, starred in the series "The Cat Game" and a year later, in 1992, starred in "Ah! Eleni", at MEGA Channel. In 1993 she did a guest appearance in the series "You decide", and played in two episodes of the police series "Department of Ethics" (Tmima Ithon), while in 1995, she starred in the series "Shampoo" of ANT1.
In 1998 came the role that made her widely famous and loved by the audience, namely the role of Eleni Vlachaki in the hit TV series "Konstantinou kai Elenis" (ANT1 Channel), where she starred alongside Haris Romas. Vasilis Koukouras, Maria Lekaki, Kallirroi Miriagou and Stergios Nenes also starred in the legendary series which ended with 68 episodes on June 30, 2000. It was followed by another very popular role in the series "Ti psyhi tha paradoseis mori?" which ended in 6 episodes. She also did some guest appearances in the police series "Kokkinos Kyklos" (Red Circle). In the 2003-2004 season, she collaborated with Giorgos Kapoutzidis for the series "Savvatogennimenes", in which Katiana Balanika, Rania Schiza and Sakis Boulas also starred. During the period 2009-2010 she starred in the series "Ergazomeni Gynaika" (Working Woman), which aired on ANT1 and had 20 episodes. In 2021, she starred in the ERT1 series "Zaketa na pareis", co-starring Dafni Labroyanni and Fotini Baxevani.
Eleni Rantou started her career in 1995 as a theatrical producer and a troupe impresario, staging performances in theaters "Ilisia" and "Dionysia". Since 2000 she has been working in the theater "Diana".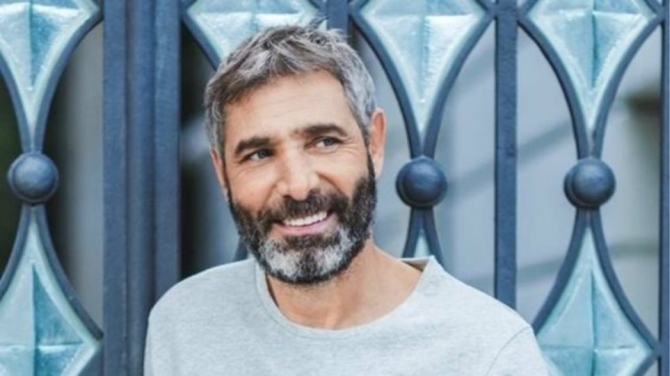 Thodoris Atheridis
Actor
Thodoris Atheridis is a Greek actor, writer and director of television, theatre and cinema. He was born in Thessaloniki on May 3, 1965. In 1987 he graduated from the drama school of the National Theatre of Northern Greece and in the late 90's he moved to Athens after he created, together with Ieroklis Michailidis, the musical group "Agami Thytai".
He has worked in television and cinema both as an actor and copywriter and as a director. He has written and directed the film "Mia melissa ton Avgousto" (A Bee in August), in which he starred with Smaragda Karydi, Antonis Loudaros and others. He has also written theatrical plays such as: "... Apo Erota" (From Love), "Sinevi kai opoios thelei to pisteuei" (It happened and whoever wants to believe it), "... Apo Makria" (From afar), "Agria Dysi" (Wild West). He has co-authored with Pantelis Kanarakis and Theodore Petropoulos the play: "Thelei i Ellada na kryftei" (Greece wants to hide). 
He has a daughter, Foteini, from his first marriage to Eleni Gasouka, while in recent years he has been in a relationship with actress, Smaragda Karydi.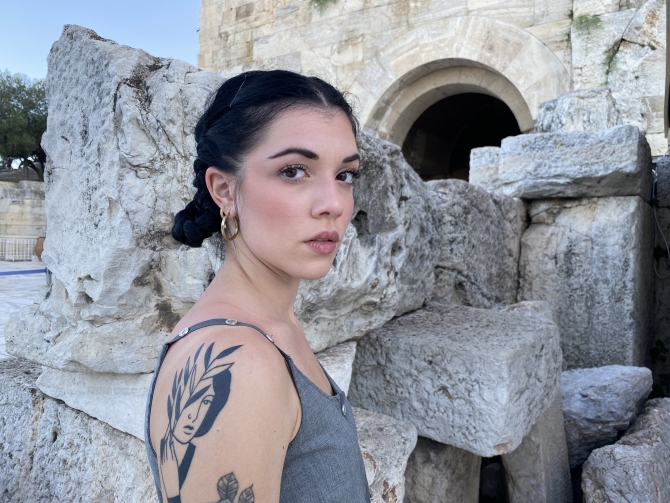 Aliki Kakolyri
Actress
From September 2006 to June 2013, Aliki Kakolyri studied at Arsakeio School and from 2013 to 2017 at the 26th High School of Athens (Marasleio). She has been studying at the Drama School of Athens Conservatory since November 2018 and she's currently in the third year of studies. She was a member of the Grasshopper Youth theatrical group by Sofia Vgenopoulou and Katerina Skourli, taking part in the Adolescent Theater Festival on the Small Stage of the House of Letters and Arts. 
August played a decisive role in her theatrical experience as she was honored to co-star with great actors and artists, who also helped her mature artistically, so in the Fall of 2018, she decided to take the exams of the Athens Conservatory which had been her initial goal. Every summer from 2018 onwards, as soon as the Drama School of the Athens Conservatory closes, she works as a waitress (Monsieur Cannibale Cocktail Bar), in order not to burden her family financially and to become independent. However, throughout that job she has developed additional skills such as patience, hard work, kindness, understanding and endurance. 
In the summer of 2020 she was involved for the first time in theatrical plays of ages 4-10, in the FARMA MOO Spectacular Park (Public forest of Rapentoza, Dionysos).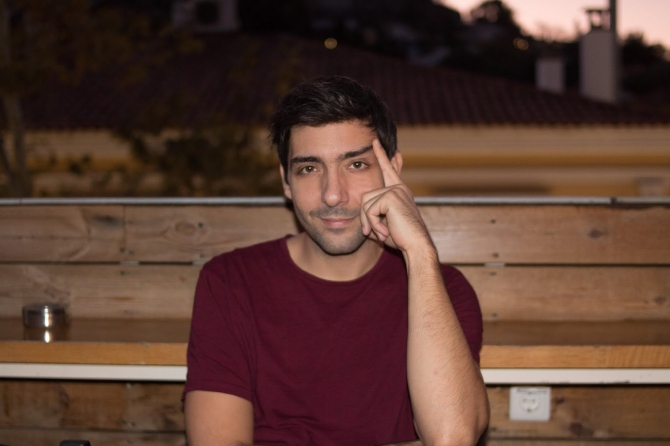 Konstantinos Aspiotis
Actor
Konstantinos Aspiotis was born in 1982, in Thessaloniki, where he grew up. At the age of 18 he started his studies in acting as he was shortlisted to the National Theatre of Northern Greece, graduating in 2004. In the same year he got the leading role in the film "Min Fevgeis" (Do not leave), directed by Alexandros Pantazoudis and produced by Lakis Lazopoulos, impersonating a student who studies with his friends in Thessaloniki. In that year, the film became a television youth series on Alpha Channel, entitled "504 km voreia tis Athinas" (504 km north of Athens) where he continued with the same role.    
The series was the occasion to settle in Athens in 2005. There he started his career in various television, theater and film projects. In 2005-2007 season he participated in the comedy series: "Erotas me epidotisi OGA" (Love with a subsidy from OGA) and starred in the film "Mia Zoi San Alli" (A life like another) in 2006. These projects were followed by television appearances in the series: "Eftyhismenoi Mazi" (Happy Together), "Singles 3", "10i entoli" and "Ou Foneusis". In cinema he played in the film "Strella" in 2009, "To Gala" (The milk) in 2011 and "PedroNoula" in 2016 where he played the homonymous role. 
In theatre, he has played in performances of the National Theatre of Northern Greece, National Theater of Greece, DIPETHE Patras, Dance Theater OKTANA, Athens Concert Hall, Thessaloniki Concert Hall, Angelus Nonus, New Theater of Thessaloniki, Highway productions, Terra Incognita, EL.THEA. and others. He has worked with many directors such as: Konstantinos Rigos (The Emperor's New Clothes, Titanic, Bossa Nova, Eleftheroi Poliorkimenoi – Sxediasma B, Poli Kako kai Tipota, etc.), Dimitris Lignadis (Vatra-X, Dr. Faustos), Nikos Mastorakis (The Awakening of Spring), Simos Kakkalas (The Pillows of Heaven), Dimitris Mavrikios (Andromachi), Giannis Iordanidis (Irini), Nikos Karathanos (Ioulios Kaisaras), Efi Theodorou (Electra), Themi Moumoulidi (Ornithes), Eutixia Giomela (Nostalgia), Alexandros Euclides (The Lady with the Strychnine), Nikolas Stravopodis (Looney Tunes), Nikolas Michas (White Nights), Stathis Livathinos (King Lear, The Death of Danton), Michael Marmarinos (Iraklis Mainomenos), Giannis Kakleas (The backyard of miracles) and Lefteris Vogiatzis (Amfitryon).  
He has directed the performances: "I kokkonai Maro" with Mina Adamaki, "An Argiso, koimisou" (If I'm late, sleep…)" by Akis Dimos together with Minos Theocharis, "Pomodoro superstar" with Minos Theocharis & Nadia Kontogeorgi, "Tageria live show - The weddings".
Discover other Experts Talk