Dimitri Mitropoulos, one of the greatest conductors in world history, touched God with his work.   
 
By Mia Kollia
Translated by Alexandros Theodoropoulos
"Let me tell you the black truth, if you take away the fact that I have a good orchestra in my hands, life here is completely unbearable for me, and if I stay for a while, even if I am busy, I will suffer from wilting. Despite all the admiration I have for this place, I cannot say that I managed to connect mentally and that makes my life unbearably lonely. I just wonder if it's worth suffering so much in my life to have some good performances in the orchestra… I lived so many years abroad and I did everything I could to develop my art and I think I have reached a pretty good point of maturity and even fame. So should I be condemned to die and wither away from my place? If I am to be the director of the Boston Symphony Orchestra or the New York Philharmonic in the future, when I get there, if I ever get there, there will be no more blood left in my veins."
From the book: "Dimitri Mitropoulos. His correspondence with Kaiti Katsogianni". Ikaros Publications, 1966.
We read that maestro Dimitri Mitropoulos was sure from a young age that one day he would become a monk. In fact, he actually wanted to become a missionary. That was his ideal. Finally, for some strange reason, he was won over by music (excerpt from an interview with NDR Hamburg in 1959).  
However, according to his friend, Kaiti Katsogianni, the composer was more of a simple Christian than a clearly religious person, of course he never thought of becoming a monk, as they said! This is also one of the myths that were created in America and that he never bothered to refute. Rarely has another human being tried to put the teaching of Jesus into practice, especially the love of others. Dimitri Mitropoulos admired Saint Francis of Assisi and believed that he paved the way for his life. 
Dimitri Mitropoulos was born in 1896 in Athens, to a priestly family. He studied at the Athens Conservatory and was taught piano by piano teacher, Ludwig Wassenhofen and advanced theory and composition by Belgian composer and violinist, Armando Marsik. He later took private lessons in composition with the great composer Paul Gilson, while Ferruccio Busoni significantly influenced his artistic development. 
He was a composer and pianist. Most of all, he was the Director of the Orchestra. He began his impressive career at the Berlin State Opera as an assistant conductor (1921-1924). He conducted the Orchestra of the Hellenic Conservatory from 1924 to 1925 and the orchestra of the Concert Association for two years, until 1927. Then, he conducted the orchestra of the Athens Conservatory until 1939 and later he moved permanently to the United States.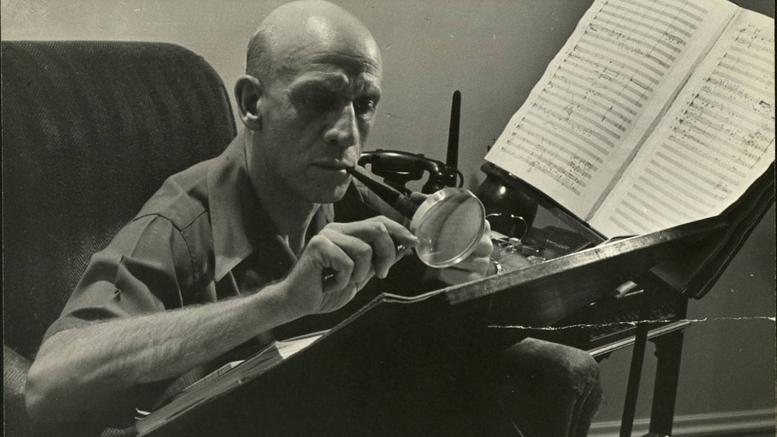 In February 1930 he made his first appearance and participated as a soloist in the 3rd Piano Concerto by Sergei Prokofiev. He has given concerts in Paris, London, Italy, France, Belgium, Poland and Russia.
 
He appeared at the invitation of Serge Kusewiczky with the Boston Orchestra in 1936 making great success. Next year he became conductor of the Minneapolis Symphony Orchestra. He has his ears open to the new music currents and promotes younger people and amateurs. He remained for 12 years - since 1938 - permanent director of the Minneapolis Symphony Orchestra. According to the biography of the maestro "The city is experiencing unprecedented prosperity and is slowly gaining the most music-loving audience in all of America".
Dimitri Mitropoulos became an American citizen in 1946. In 1949 and until 1957 he took over the direction of the New York Philharmonic. Somewhere there the difficulties began. As long as he remained in this position, friends and enemies united against him in a harsh way. A little of his modestly expressed homosexuality, a little of his humble character and his "anti-war" and calm temperament, helped to make the perfect attack on a noble opponent, all the way up to his extermination.  
Dimitri Mitropoulos had a passion for music! He was a genius, modernist, humble and lonely. He uniquely combined religious faith and spirituality with an earthly realism! He had an amazing memory and could conduct the orchestra without a score. He was loved by members of his orchestra. He supported his associates. He was educated. He was inherently noble. He knew who he was and he could forgive and be kind with his enemies.
 
His talent in memorizing works was not the result of a photographic memory but rather a strong proof that the conductor had the valuable ability to perceive and understand a work, thus succeeding in getting more freedom and taking the risk of a different performance.
During his stay at the New York Philharmonic, Dimitri Mitropoulos gave many concerts in America, Europe and Latin America.
Dimitri Mitropoulos was feeling the music that flowed in his veins. He was fortunate enough to converse with the notes and was able to convey the happiness he felt to his audience. That's why people loved him; because he was as honest as his love for music. 
With his phrase "Neither Christ nor the Ninth Symphony (by Beethoven) succeeded in making mankind better" he shows his admiration for God and music, essentially equating these two, and marvels at the weakness and harsh nature of man, which prevents him from becoming better after his "acquaintance" with them.
Dimitri Mitropoulos has been honored with the Excellence in Letters and Arts and is an honorary partner of the Academy of Athens. He was a Legion of Honor Officer, doctor of Fine Arts in Syracuse University, doctor of philosophy in Harvard University and doctor in Music in the University of Chicago. He has received many honorary diplomas, medals and distinctions.
When he passed away in 1960, at a rehearsal of Mahler's work in Teatro alla Scala, Milan, he may have felt happy both because he was on the podium and because the rehearsal was on the third concert of the composer he admired.
He was betrayed by his heart, as it happened to many people who he met throughout his life. 
 
#HisStory