Academic knowledge alone is no longer enough for professional success.
By Mia Kollia
Translated by Alexandros Theodoropoulos
In the modern work environment, technical and academic knowledge alone are no longer enough. Soft skills are the skills that will help us evolve, develop and change work environments more easily when we decide to do so.  
These are the skills that make the difference from one person to another. "Soft" skills are a set of behaviors and ways of resolving crises. Ethical approach, critical thinking, resilience, high ability to cooperate, clear and correct communication and creativity are some of them.
According to the Global Talent Trends 2019 survey of LinkedIn, but also as pointed out by Dr. Katerina Papoutsi, Program Leader in the Faculty of Business and Economics at the Metropolitan College, 89% of employers and recruiters admit that when a hiring in their workplace is not particularly successful, the reason is usually the absence of specific soft skills.
Continuing with similar thoughts, employers who took part in Monster's "The Future of Work 2021: Global Hiring Outlook" survey, when asked about the most important skills and characteristics they desire in their workforce, the majority cited soft skills such as reliability, collaboration, adaptability and problem solving.
Experts insist: soft skills can significantly extend the durability and time of a career. Studies show that employees with multiple skills like these have much more stable and long-term careers, which are constantly evolving.
Advantages for employees and employers
The emotional skills of empathy, understanding, acceptance and sensitivity are extremely important to the efficiency and productivity of employees.
Recent research from Yale University has shown that employees who work for supervisors with the above characteristics, say they are happier, more relaxed, get fewer sick leave and are more efficient at work. In contrast, 70% of employees who work for managers without these extremely soft skills, reported a negative connection to their workplace and recorded lower efficiency.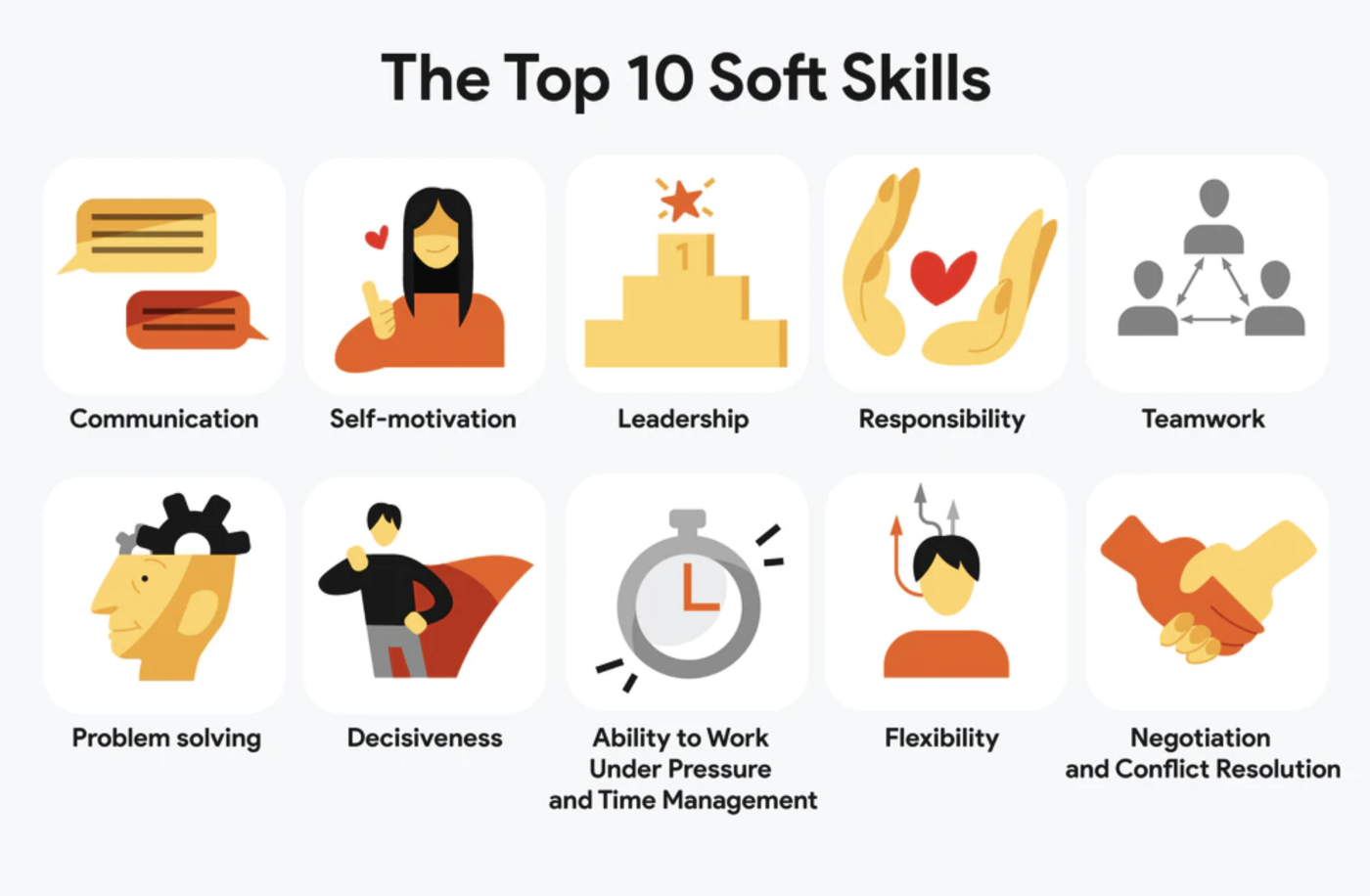 Top skills
The list of soft skills is as long as the characteristics of people and the requirements of a work environment. But let's look at the ones with the greatest demand and the most substantial efficiency in every field and work environment. 
1. Communication
Good communication is not just about how we talk. It includes non-verbal communication, the way we listen to colleagues or clients and the empathy with which we approach our interlocutors. Effective communication is based on respect for the others, self-confidence, clear written and verbal communication and the ability to give straightforward and constructive feedback, without diminishing the interlocutors. Communication skills belong to soft skills and signify professional success in the modern era. 
Experts Talk: The "soft skills" of success
2. Adaptability
Technical skills are not enough to survive in the workplace. Companies and organisations often change staff and production or operating conditions, thus ideal employees need to be flexible and adaptable in order to keep up with developments. Curiosity and an open mind are essential for developing this skill as well as calmness when facing new situations. It also helps to be organised so that one can easily make decisions within a short period of time. Thirst for knowledge is very important too.
3. Teamwork
Particularly sought-after is the ability to work well with others and to function flawlessly in groups that combine many other soft skills, such as communication and adaptability. The success of entire projects is often based on teamwork. Necessary sub-skills in this context are empathy, the ability to mediate and negotiate, good organisation and an increased sense of solidarity and cooperation.
4. Creativity
Regardless of the field of work, creativity is essential to achieving goals. Creativity defines employees who have insight, imagination, tend to wonder about every internal process and are accustomed to seeing everyday life through constantly changing aspects.
5. Leadership
No company or organisation can reach the top without dynamic and sensitive leadership. This important soft skill is not limited to executives or managers, but also to every employee. If the entire workforce operates by "leading" in everything that approaches, the result will be extremely impressive and of high standards. The essential characteristics of a leader are empathy, humility, developing trust with colleagues, discipline, active listening and ingenuity. 
Soft skills: Innate or can they be taught?
Although many of the skills we mentioned are inherent in many employees as a result of their upbringing, socialisation and workplace experience, soft skills can be instilled, taught and developed. 
Large organisations tend to monitor the development of their workforce skills through regular internal surveys and evaluations.
The C-suite executives of every big company create and inspire the culture of the work environment and this, in turn, highlights the top soft skills that are considered necessary for its workforce.
The lifelong learning approach and the offering of in-house workshops and programs by companies are proven to be a way to increase the expected skills. The field of coaches and speakers who undertake such programs has developed a lot recently and is extremely helpful in promoting the desired culture through learning the ideal soft skills.
Like any muscle, soft skills tend to weaken over time so regular meetings, skill-building programs and case-specific coaching are important tools for maintaining their effectiveness. Whether through mentoring, digital training, interactive workshops or the new technologies of gamification and VR, modern companies take care of the preservation of soft skills for their longevity and continued success.
#SoftSkills