"The ideal for me is neither to be rich, nor to live happily, but to work, to take action, to create and to do something worthy of an ethical and strong man"; that was said once by Giorgos Papanikolaou – and that's what he did. He gave us one of the most crucial medical examinations regarding prevention, the Pap Test, to which millions of women around the world owe their lives.     
By Mia kollia
Translated by Alexandros Theodoropoulos
Behind this great medical breakthrough there is a story of a Greek doctor who is considered a real legend of contemporary medicine.
He was born in Kymi, in the island of Evia, in 1883, where apart from his skills as student, he was also interested in music from a very young age and attended violin lessons for eight years. He'd studied medicine in Athens since the age of 15 and in 1907 he went to Germany to specialise in Biology. In 1910 he returned to Greece and married Machi Maurogenous who stayed with him and supported him throughout his life, playing a very important role in his research.
The couple moved to the US in 1913, where they faced serious economic difficulties during the first years. Both of them worked hard and in a lot of jobs. It is indeed incredible what a man can achieve if he's great and remarkable, even under the most difficult circumstances.
G. Papanikolaou earned a placement in the Anatomical Laboratory of Columbia University and later in Cornell University of New York, where he became completely devoted to his research. In 1928 he introduced for the first time a method to diagnose cervical cancer with vaginal smear.
"The first observation of cancer cells in the cervical smear gave me one of the greatest emotions that I've ever had during my scientific career".
Many of his then colleagues in America, like Dr. Charles Cameron, describe Papanikolaou's life as "a life devoted to mankind".
Georgios Papanikolaou received multiple awards and honours – the most notable being the Lasker award of 1950 from the American Public Health Union. In 1954, Papanikolaou published his book "Atlas of Exfoliative Cytology" and consolidated a new medical practice.
He was nominated two times for the Nobel Prize, in 1953 and in 1960. In both times, the Royal Academy of Stockholm denied him the ultimate recognition. The official theory claimed that the committee preferred to give the award to doctors that had discovered therapies and not to Papanikolaou who had been engaged in the prevention of cancer.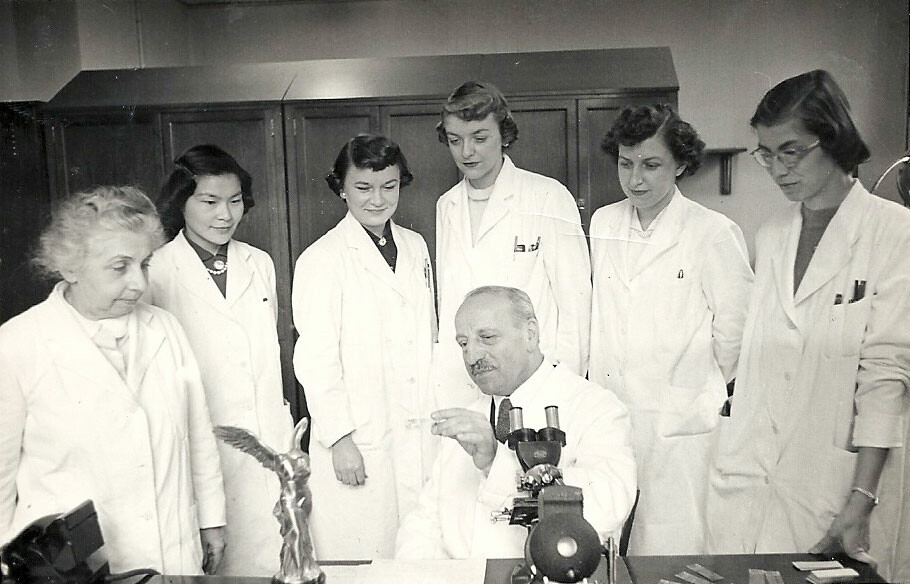 According to his student, Irena Korbovska, the committee was skeptical about his work because it was extremely innovative. Maybe the committee didn't believe in the importance of Papanikolaou's achievement which wasn't applied in a day but gradually became an integral part of medical practice.  
Humanity will always be grateful to Georgios Papanikolaou. His work carries along diachronic value as it has saved and continues to save millions of human lives. Papanikolaou denied a patent for his breakthrough just because he didn't want to be rewarded with money for his contribution to science and mankind.
In his long-lasting scientific journey, he passed from all levels to the top of the hierarchy in Cornell University and earned the title of professor in Clinical Anatomy as the highlight of his career. In 1961 he went to Miami and undertook the management of Cancer Research Institute which was named after him as "Georgios Papanikolaou Cancer Research Institute" following his death in 19 February 1962.
In a TV special regarding Georgios Papanikolaou and his life, his niece, Maria Kokkori, said that the great doctor and researcher was always enjoying music during his study. "When he returned home after 12 hours working at the lab he used to tell me to play him piano. He was even working at home".
#HISstory