The amazing shapes and colors that can speak for everything and tell you stories while they teach you aesthetics, will always be those of the late Yiannis Moralis.  
 
By Mia Kollia
Translated by Alexandros Theodoropoulos
Yiannis Moralis was one of the most popular artistic figures of the 20th century in Greece: a pioneering painter, a talented engraver, a gifted set designer and an important academic teacher. The last gentleman of Greek painting, as Manos Hadjidakis had called him, succeeded in pairing the classic with the modern and influenced with his work the field of post-war art in our country.
Yiannis Moralis was born in Arta on April 23, 1916, the second of four children of Konstantinos I. Moralis and Vasiliki Michali. The family settled in Preveza in 1922, where his father worked as a headmaster, and in 1927 he moved permanently to Pangrati, Athens.
A young Moralis had already made the decision to become a painter and so he started attending the "Sunday session" at the School of Fine Arts. After a period of preparation, he took exams and was accepted to the Athens School of Fine Arts. There he met Yiannis Tsarouchis and Christos Kapralos, while he was among the students that Konstantinos Parthenis chose for his workshop and a little later he apprenticed to Umberto Argyros. 
He graduated from the School of Fine Arts in 1936 and a little later participated in the Exhibition of Greek Engraving in Czechoslovakia. He continued his studies in Rome with a scholarship and then in Paris, where he was taught frescoes and mosaics. However, after the declaration of WWII, he was forced to return to Greece in a hurry. 
During the years of the Occupation, Moralis worked on portraiture, in order to secure some income by creating custom portraits, but at the same time he was also engaged with engraving. In 1947 he was appointed as a professor at the School of Fine Arts and two years later, together with several Greek painters, including Nikos Hadjikyriakos-Ghikas, Yiannis Tsarouchis, Nikos Nikolaou and Nikos Engonopoulos, founded the art group "Armos" and organised the first joint exhibition in Zappeion.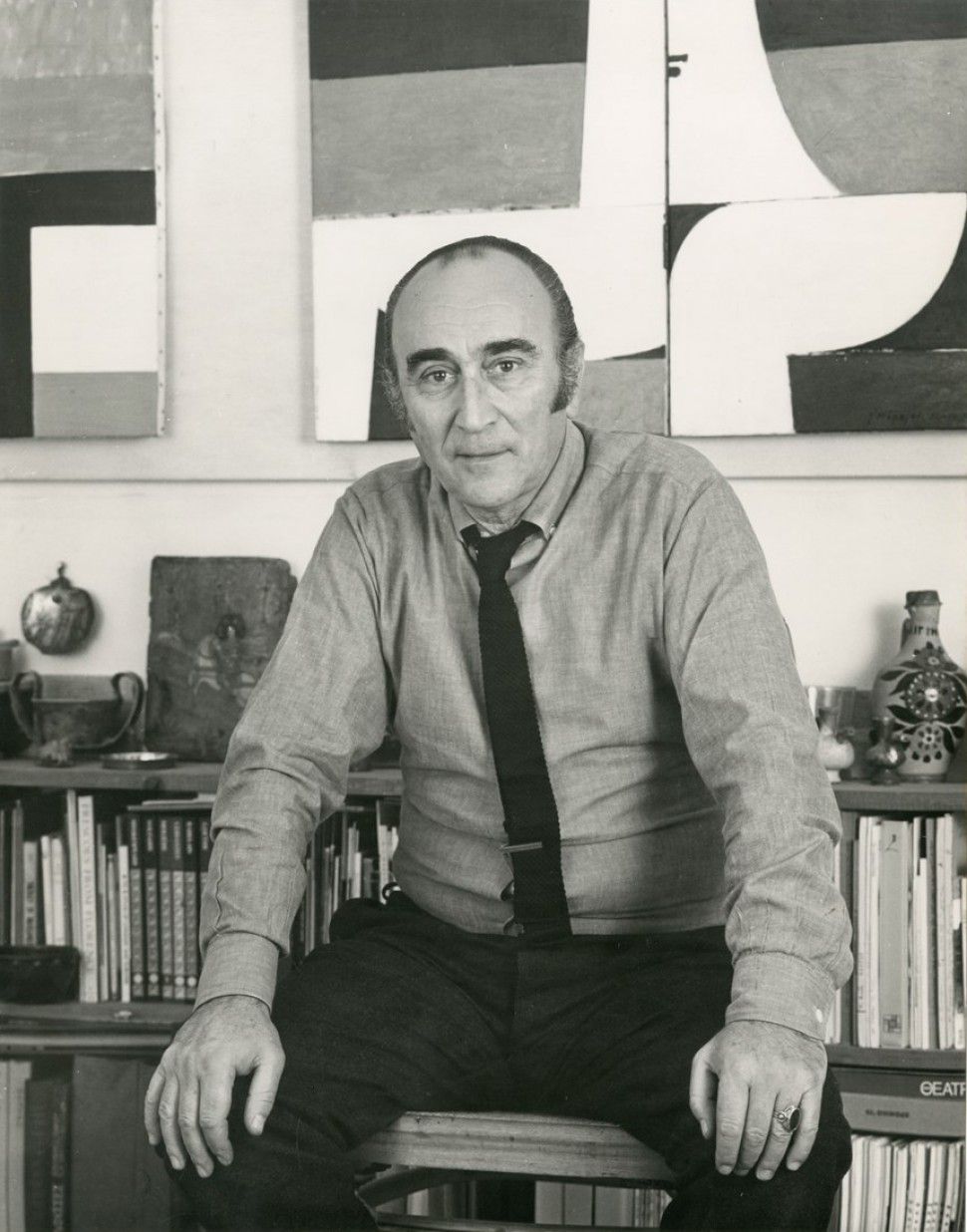 Since then, Yiannis Moralis participated in numerous exhibitions in Greece and abroad, while in 1959 he undertook the engraved decoration of the exterior walls of Hilton Hotel in Athens. Moralis has created covers for music records, illustrated books, set designs, and costumes for theatrical performances, collaborating with Art Theater Karolos Koun, the National Theater of Greece and the Greek Dance Drama School of Rallou Manou.  
He married three times: in 1941 with Maria Rousen, with whom he divorced in 1945 and in 1947 with sculptor Aglaia Lymperaki, with whom he had a son, but divorced in 1955. Many years later, in 1996, he married for a third time, with Ioanna Vassalou.  
Yiannis Moralis was a passionate painter. He was obsessed with his art and had a great love for his works. In fact, in an interview with "Kathimerini" he said that he didn't sell his works easily, because he didn't want to leave them. Nevertheless, he lived through periods of financial hardships and had no choice but to sell some of them. However, when he met the owner of one of his works, he asked him about their condition.  
Moralis' first works were more typical. But after the war, he started working on a kind of abstraction and the simplification of the figure. A special feature that cannot be found in any other Greek painter is the harmonious cooperation of the outline and the color in his figures. Female bodies are the usual protagonists of his works. Moralis didn't seem to like landscapes. "He didn't feel the need to face the light, as other colleagues did. Moralis' light doesn't shine, it's internal", said one of his students.  
"An artist is not judged by works but by his overall presence. And the presence of Moralis has a unique result. Each of his works completes his course. To me, all his works are equal. Moralis has a consistency to his formal destiny. To me, he is a painter who has remained steadfastly committed to his personal vision of art. And I must say that every time foreigners see his works, they are speechless", notes the art historian Marina Lampraki-Plaka.
Yiannis Moralis died in Athens on December 20, 2009, at the age of 93.
 
#HisStory