Ilias Poulias is a man who creates businesses with the ease with which others can walk. At the same time his life and soul are defined by his effort to contribute to the creation of a better world. 
 
By Mia Kollia
Translated by Alexandros Theodoropoulos
His offer to children in need in Guatemala through the Little Giants / Fundacion Poulias is huge but more important is the essence of the motivation: Ilias Poulias wants to give them the skills and tools to be able to cope with life and not to do another charity move that doesn't fundamentally solve the problem. Because as he says, education is the model he believes in, as well as empowerment, relationship and active kindness.
 
Life and course
A 15-year-old is too young to know what he/she wants to do with their lives. Just like that I studied mechanical engineering at Imperial College, with a master's degree in environmental engineering for no particular reason. But today, looking back, I don't regret anything. The analytical thinking of engineering gave me a lot, but I didn't pursue these studies because I had some passion. I was good at math so the conclusion was "you will become an engineer". 
I chose to go to London to finish school in three years and not four that would be in Greece, in order to follow my dreams faster. At that time, the stock market boom was evolving, in the late 80s, where one could easily multiply one's money and so I managed with various jobs to create good savings. From the first year of studies I made sure to be financially independent. I was really active. I was even dealing with auctions.
The sequel was somewhat expected but I always lacked something.
I completed my military service and then returned to London. I started working in a bank, because things were more profitable in the banking sector at the time, but I only endured one year. I was constantly restless, looking to find what I would really like to do. In 1997-2001 I was managing funds (investment banking) and I experienced all the crash of the Greek stock market.
During 9/11, my brother was at Harvard for his MBA. He had a fellow student from Guatemala, with whom they had made a business plan for a chain of outlet-style stores. They made the plan a reality and the first store opened in Guatemala. I also went there for a month, to help him set up the business. This month was never over. Before my first trip there, I opened a map to find out where Guatemala was. I was won over by its energy and the kindness of its inhabitants.
From business success to the acquaintance with children
From the outlets we moved to the field of telecommunications with Value Added Services while in 2010 we started * 123, which involved participation in tenders where we provided machines, cars and houses, in collaboration with telephony providers and the Greek company VoiceWeb. 
The model was successful and was developed in 17 countries throughout South America, Africa and Asia, with local partners and online guidance from our center. Doctor Online is a spin-off of this idea, a telemedicine company that already operates through our coordination in various countries with local doctors.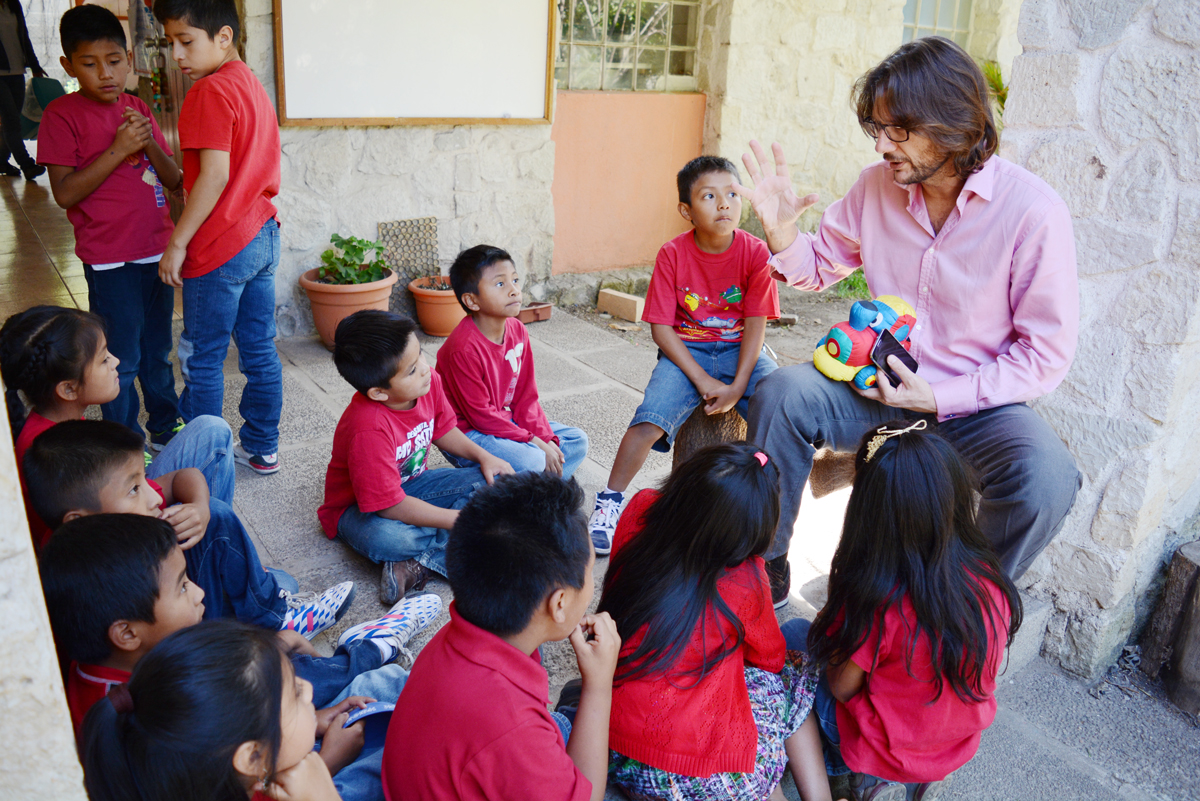 In the area where the company's offices are located, we met the local children. Poor families, with very low standard of living. We saw children who wanted to move forward, but their parents couldn't offer them the right opportunities. At first I helped them with math and Alexandros with language learning (Spanish). We turned a space into a study room, we sat with them after the employees had left and at some point we got a girl who could stay with them even later.
Our goal was and still remains to educate them so that they can progress on their own, keeping them away from the streets and crime. This is my passion. 
My dream is also my job: That is, for the children to be able to come to us after school and get the education they don't get from school. They come every afternoon, ages from 4 to 20, when they go to University. Older children sit with younger ones and help them read. They do crafts, painting and study. But we are not limited to the place of the Foundation. We go out on excursions, young and old children hand in hand. The children who come to Fundacion Poulias become an example for the rest who are exploited by drug dealers. 
In 2012 we bought a house, which was slowly equipped. We brought teachers and a daily program began. Since then, in addition to the purely educational program, we teach them how to develop their image, how to present themselves and how they can structure thinking and coherence in their expression.
Greece and its reality
In February 2020 we were ready to open our first space in Greece, in Fyli, but we finally decided not to move forward as the sense of family is very strong in our country and children return to an organised family after school.
The Little Giants model requires significant financial support to operate. It costs about 250 euros a month per child, but I am not concerned about money at all. The investment we make with my brother is not measurable. I have a great weakness. It is not easy for me to ask for money for this project. 
I consider it a gift for anyone to participate in something that will change their life and that is the relationship with these children. My own model is based on the values ​​I received from my family but also from my experiences in Tibet, India, China and South America: education, empowerment, relationship and active kindness. You can only treat these children with tenderness and sweetness - after all, aren't we all looking for these?
#HisStory