Spyros Syrmos, with great success overseas, acclaimed even from The Guardian which likened him to the great composer, pianist and conductor Benjamin Britten and ready to work with director Samuel R. Gibson for his new film, makes our country proud of him in a field as special as that of classical music and other genres, while creating a solo opera!  
 
By Mia Kollia
Translated by Alexandros Theodoropoulos
The most noteworthy moments for Spyros were his acquaintance with British composer Harrisson Birtwistle and his very encouraging opinion on his work as well as the distinction in the Flourish new Opera Competition against 4 finalists (Australia, China, Iceland and England) and the Off West End Award for best Opera for the work of The Blank Canvas in libretto by Fay Wrixon.
Currently, in addition to collaborating with Gibson, he is preparing a digital album with haiku, along with Vania Syrmou (translator - writer) Amalia Giannopoulou (cello) and Minos Mamagakis, a production manager who has also been a permanent collaborator. He is also creating a new solo opera with an existential subject matter and a deeply human-based true story. The libretto, which will be in English, is created by playwright and librettist Antigone Gaitana. 
Spyros lives in Koukaki - as an everyday ordinary person - and he likes to spend a lot of time with his friends, his wife and his two dogs. As he says: "I hope to return soon to my other great love, épée fencing. So let's meet on the track... " 
How does a young child decide to get involved with music and how did you realise your talent and your competence? 
The family and the wide environment in which a child grows up are important factors for the stimuli that he/she will receive. If there is talent, this is a gift. From there on, on the one hand it's like a flame which must be maintained, and on the other, like water which with its own momentum makes streams and crosses rivers until it reaches the ocean. In any case you need work and the right direction regardless of the level you will reach.
At the age of 7-8 I started playing melodies that I knew from records, radio, television, etc., on a harmonium used by my older sister. Then they gave me a small plastic guitar as a gift and I started playing with it. It may sound a bit cliché but that's the truth. Then I was very lucky that my parents supported with all their might the relationship I formed with music. My mother was born and raised in Rio de Janeiro and plays the accordion herself. It was inevitable that she would convey to me something of the rhythm and energy of Alma Brasileira. 
How easy or difficult is it for someone to excel in the music industry abroad? I guess that in addition to the opportunities given there is also meritocracy, but do you think that music is an industry where if you aren't good, you won't move forward? 
I would say it is at least more likely. There is a much more organised system, with a number of organisations, big and small, that create opportunities in a larger "market" and that is more linked to the concept of meritocracy in the sense that they aren't trapped in the same people, positions and assignments with the ultimate goal being domestic consumption.
Assuming that hard work, social network and luck are the three foundations that one must have, then, in a system with these characteristics of open logic, it will work positively and in a healthy way despite any personal or individual difficulties that may arise. It all starts from education and training. Personally, from day one at RWCMD (Royal Welsh College of Music and Drama) I started to realise that the common ground is to be treated "equally". We are all "colleagues" with respect for each other's work, despite any aesthetic disagreements and preferences.
The success of a colleague causes admiration and is perceived as a trigger for personal development through the whole. The opportunities that arise are addressed to everyone and the "competition" that is fatally created is an ongoing creative process since the beginning. It's not a perfectly made world, but it's a functional environment that helps you not to stand still. 
To get to the point of composing music, does one have to be open to all musical stimuli or focus on the specific type of music one wants to compose?
In my opinion, being open to all stimuli is good and should happen regardless of any direction he has chosen to follow even if this direction is a specific one. In this way one can achieve a more general understanding of music and a more developed sense of criterion to distinguish for example what he listens to, what he writes and consequently what he wants to write and why.
When one decides to compose music, from the simplest form to the most complex, in any style and with any technique, in addition to the instinct and talent that they might have, they should be in constant study and analysis regarding everything that has been preceded, created decades and perhaps centuries ago. We must always refer to the great Masters of music, old and modern, either to show us the way or to build our own. Sound is a living material. One must be in constant search in relation to this and if they want to evolve, there should be no rest. It's like an athlete who must be constantly in shape to bring a result.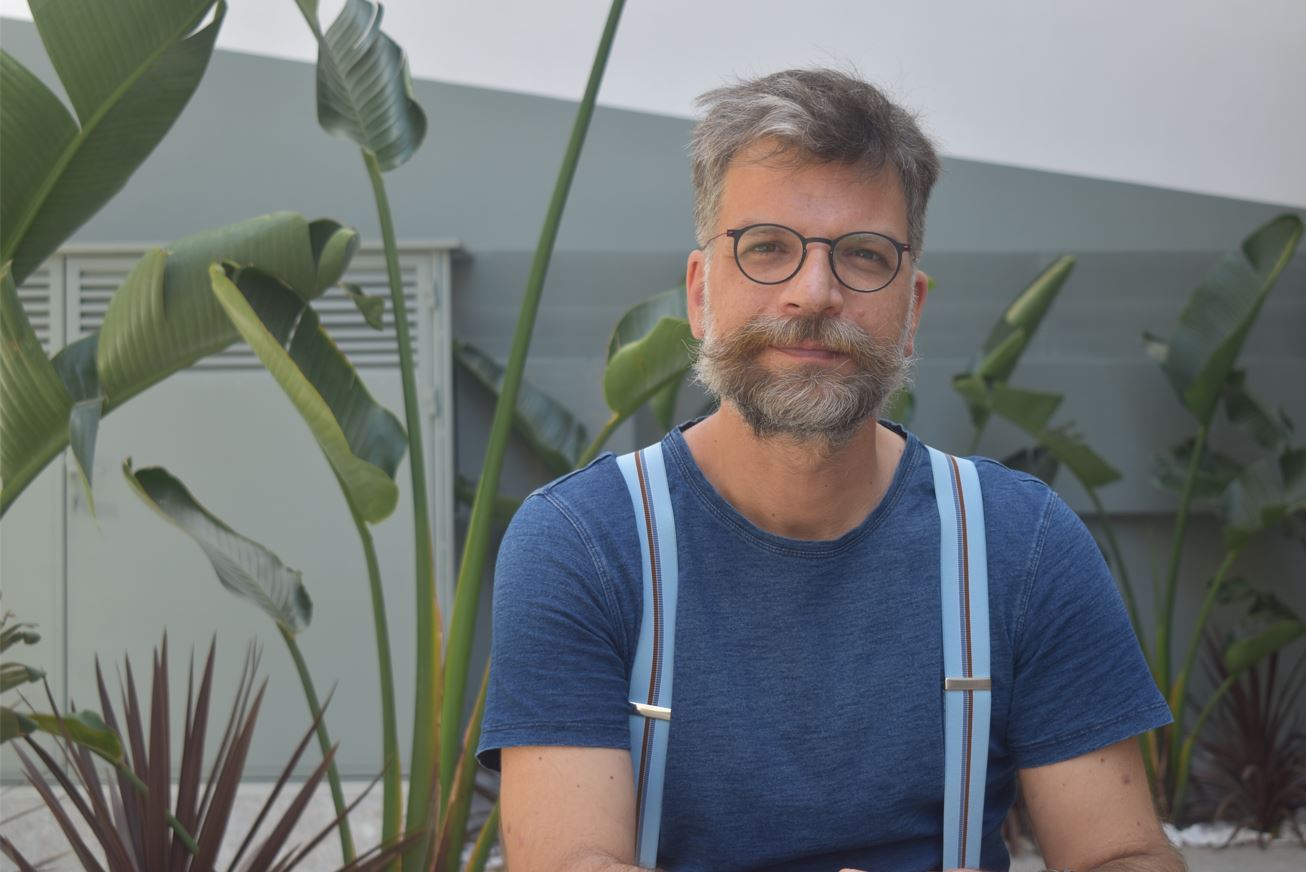 Is music education enough to get to the point of composing or one needs other parallel things to do?
Music education offers mainly technical benefits. It provides you with technical properties so that you have, for example, the ability to comfortably read works, to study their structure and way of development, or to "set up" a correct score so that you have the maximum possible comprehension and performance by musicians. You also gain the ability to convey what you want to say to musicians, not to demand, but to collaborate creatively and openly on technical and interpretive level for a better result. Beyond that, the sense in which one forms oneself is definitely related to a set of things.
Engaging in other arts such as literature, which I like very much, as well as in seemingly unrelated activities, contributes decisively to this formation. I think everything is connected. Any kind of experience can be utilized through the appropriate filter. With proper practice of perception and observation, you can, when there is a need, consciously or unconsciously, retrieve anything and translate it into sound. I insist on this, also because of personal experience. For several years I ran a commercial business in the field of liquid food packaging. In time I realised that "nothing is lost!" really. 
What excites you most about all the things you do?
Every new project I undertake excites me the same, regardless of its complexity or extent. I always work with the same enthusiasm as if it was my first time. My goal is to learn and conquer new things through everything I write. Of course the conditions may not always be the best but you learn to live with it, everything is part of the game. 
However, I single out opera as the epitome of music. Creating an opera is a very complex process because it's a meeting point of all the arts. Throughout the creation, from writing the libretto and the music to preparation of the play on stage, you live with the characters, you go to sleep and wake up with them almost obsessively, there is no other way. It's all so lively and it offers tremendous emotion. The same happens with film music to some degree. It is applied differently there. The difference is that characters, action and image are ready. You just have to get into the director's mind and highlight or emphasise his material according to the instructions and your own view as much as possible.
What is Greece for you?
It's a beautiful and complicated country with historical and cultural peculiarities and with wonderful, exuberant and resourceful people, who don't cease to have their weaknesses and shortcomings.  
Who is Spyros Syrmos
Spyros Syrmos studied classical guitar with Kostas Grigoreas at the National Conservatory of Athens (Diploma in classical guitar with distinction and 2nd Prize). He continued his postgraduate studies in classical guitar at the RWCMD (Royal Welsh College of Music and Drama) in Cardiff, with professors John Mills and Eleftheria Kotzia (Postgraduate Diploma in Guitar). At the same time he attended renaissance lute courses with Nikos Panagiotidis in Athens and Mathew Nisbet at RWCMD. He has studied advanced theory and composition with Giannis Metallinos at the National Conservatory of Athens (Diploma in composition with distinction). Later he continued his postgraduate studies in composition at RWCMD with Peter Reynolds (PGDip in Composition).  
 
#HisStory