Nikos Hadjikyriakos-Ghikas is undoubtedly the most renowned Greek painter; an artist who influenced not only modern Greek art and intellectual life but also the whole world.  
 
By Mia Kollia
Translated by Alexandros Theodoropoulos
"The synchronised eternal", as his personal friend Odysseas Elytis described him, has functioned as a link between European avant-garde and Greek modernism and has rightfully secured an important place in the history of Greek art.
He was born in Athens on February 26, 1906. His father was Alexandros Hadjikyriakos, an officer of the Royal Navy from Psara, and his mother was Elele Ghika, coming from the well-known Ghika family, who had settled in Hydra.
Little Nikos stayed on the island every summer and that influenced his artistic creation to a great extent. From a young age he had a special inclination for drawing and so his parents sent him to study initially with Vassilis Magiasis and later with Konstantinos Parthenis.
In 1922 he went to Paris, where, in addition to his studies in French Philology and Aesthetics at the Sorbonne, he took painting and engraving classes at the Académie Ranson. In France, Ghikas met the representatives of modern art - Matisse, Brancusi, Moore and others.
He participated in many group exhibitions and his first solo exhibition took place at the Percier Gallery in 1927, which was also visited by Picasso. Recognition came quickly. The French press was filled with great reviews of Ghikas and collectors rushed to buy his works as the great art critic Maurice Raynal used to praise him. 
In 1928 Ghikas returned to Greece and presented his works to the public of Athens. He became friends with architect Dimitris Pikionis, who influenced his work.
In April 1929, the artist married poet Tighi or Antigone Boumpouli, who was several years older than him, something that bothered his parents who objected to this marriage. Nevertheless, the marriage took place and they both left for France, where they settled until 1934, when they returned to Greece.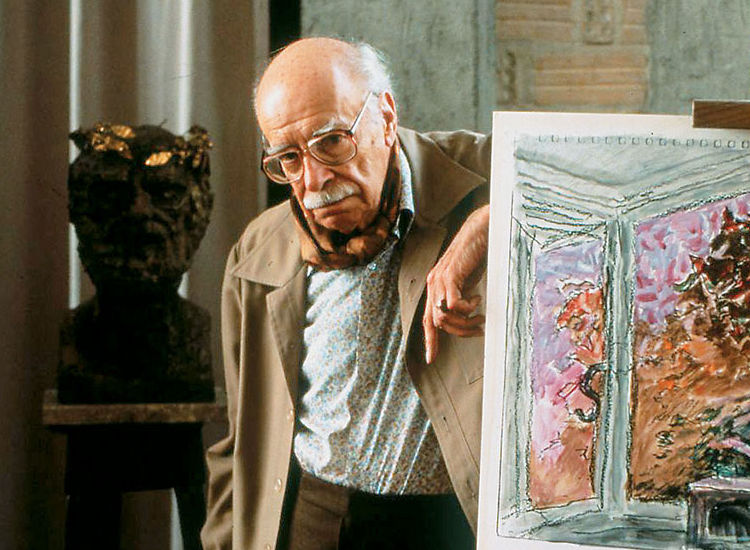 Ghikas had a pan-European reputation as he was included in albums along with Picasso, Kandinsky, Giorgio de Chirico, Giacometti and others. In our country, however, not only people were indifferent to modern art but they were also negative about it.
Gikas strived to make modern art famous in Greece and developed relationships with painters and poets. Palamas, Elytis, Theotokas, Embirikos and Seferis used to meet at his holiday home in Hydra and had endless discussions about ancient Greece, Byzantium and their influence on modern times.
At that time, he published the magazine "Trito Mati" together with Pikionis, Spyros Papaloukas, Stratis Doukas and Socrates Karantinos. In Hydra he also painted his first works in which he found his definite style, combining the teachings of Cubism with nature, light and architecture of Greece.
In 1937, the great artist won the silver medal at the World's Fair in Paris and at the same time worked as a set designer in plays such as "As You Like It" by Shakespeare at the Kotopouli Theater.
In 1940, with the declaration of the Greek-Italian war, he enlisted and served in the battalion of engineers. At the end of the war, the School of Architecture of NTUA announced a professor vacancy. Ghikas applied and in 1941 was elected professor of the School, where he remained until 1958. In 1972 he was elected a full member of the Academy of Athens and in 1986 an honorary member of the Royal Academy of Arts in London.
More than 50 exhibitions of the great artist have been held from time to time in Athens, Paris, London, Geneva, Berlin and New York. His works are included in many private collections in Greece and abroad, as well as in many museums.
In the mid-1950s, Ghikas decided to live permanently in the building at 3 Kriezotou Street, which belonged to his family. Already from that time, the house on Kriezotou Street aroused intense interest among architectural and artistic groups and was featured in Greek and foreign architecture magazines. On the specially designed roof of the sixth floor he installed his workshop and library, while he used the fifth floor for residence. 
He lived and created there for forty consecutive years, until his death in September 1994. These spaces are preserved to this day exactly as he had organised and decorated them. The building came to the Benaki Museum following a donation by the artist himself before he passed away. On the third floor of the N. Hadjikyriakou-Ghika Gallery are exhibited paintings, drawings, sculptures, sets, manuscripts, illustrated editions, photographs, as well as furniture from the house in Hydra and Kriezotou Street.
#HisStory