Marine Biologist and doctoral candidate in fishery management, Anastasia Miliou, is Greece's EU ambassador for matters of Sea policy and head researcher of the Sea Protection Institute "Archipelagos" which was founded by her husband, Thodoris Tsimpidis.
By Mia Kollia
Translated by Alexandros Theodoropoulos
"Archipelagos" institute is a Greek non-profit and non-governmental organisation that combines cross-curricular scientific research with effective action for the protection of sea biodiversity and promotes active participation of local communities since 1998. Researcher emeritus in Sea Protection, Thodoris Tsimpidis, is the founder and head of the institute.
"Archipelagos" institute features research stations and facilities in various islands of the Aegean Sea. Anastasia has lived 21 years in the sea and right now, in 2021, she is at Leipsoi along with a team of 35 members from different countries around the world. Her role as head researcher of the institute is to ensure that the employed research and action are effective towards the protection of the environment.
One example is listing the mapping of Posidonia fields which are sea fields that can later support management actions. This concerns the most productive ecosystem where fish are born and eskar is kept, leading to protection of beaches and shores.
But unfortunately, humanity, with uncontrollable usage of seabed fishing tools, expansion of ports, construction of hotels and anchoring of ships, has destroyed the ecosystem which needs lots of decades to bounce back. 
In the spring of 2020, due to the covid-19 pandemic human presence at sea was less compared to other years which resulted in the development of fish population and stock.
Usually, people wait for fish to come close to the shore where it's warmer during the spring and then they catch them when it's time for them to reproduce. That's the reason for the dramatic reduction of fish stock in the Mediterranean Sea. So, one of the good things about the pandemic concerns the environment, as suddenly, there is more freedom for species and for the sea ecosystem to recover and develop without human intervention.
The aim of the organisation is to contribute and save whatever can be saved.
In this process, Anastasia and the organisation have noticed that year by year more and more people want to help them. Help and support come usually from fishermen, island or shore residents, or companies that actually care about the environment and they don't aim only at commercial interest.
"Archipelagos", parallel to its actions, has also established the International Sea School which provides education in the Aegean Sea to young scientists and students from all over the world including top EU and US universities. School's responsibility is to educate hundreds of young people who have the desire, fresh ideas, impulsion and love for applied environmental protection.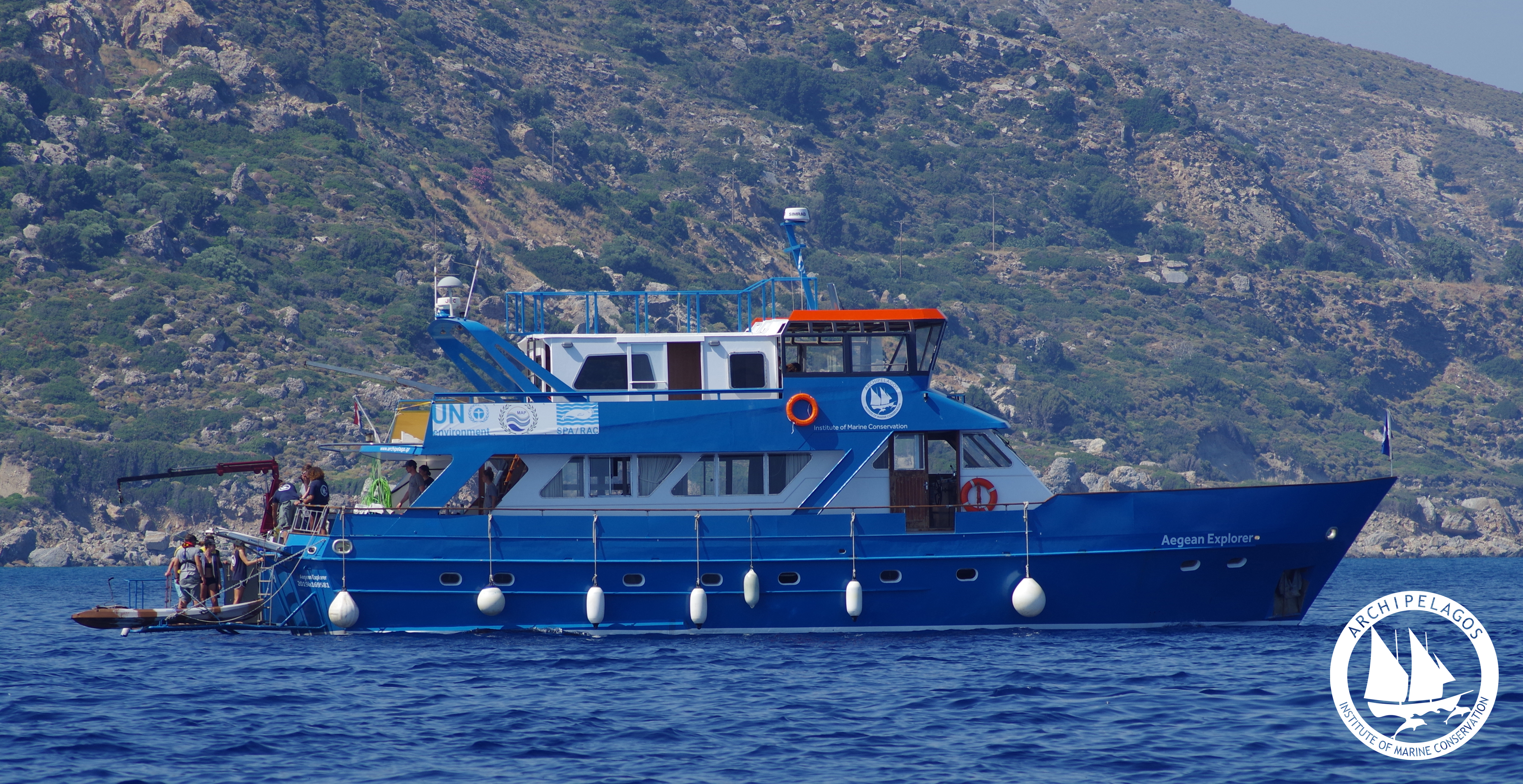 One of the most important projects is the Aegean Marine Life Shelter which was launched in 2016 after six years in the making and searching for a suitable location. The shelter is a large marine space with a big building on the land which will operate as care centre with high standards of animal welfare for dolphins, turtles, seals, etc.
Also the project is a total innovation. During a fall, for instance, they planted underwater gardens, namely Posidonia fields, and created experimental artificial reefs – a stunning research field.
At last, the shelter will provide housing in the future to dolphins that have left from closed dolphinariums. There, dolphins will be able to feel free within an enclosed sea area. Fortunately there is pressure for dolphinariums to close but in the meantime, there should be a solution for the animals that live there.
Lots of shelters should be created in order to accommodate more than 300 animals that are currently living captured across Europe.
The work of the Greek Organisation and its people is recognised internationally. There have been exceptional collaborations with international organisations in which they are part of and commonly share the same ideologies and aims. Therefore, the institution has built a great network of universities and helpful people with whom it keeps constant and constructive communication.      
The soul of the organisation, Anastasia Miliou, says:
"As the environment is not ours but it's actually for all of us, each and every one of us should do the best possible".
#HERstory