Evgenios Spatharis was the father of the Shadow Theater. His name is inextricably linked to Karagiozis plays and consequently to the history of modern Greece.    
 
By Mia Kollia
Translated by Alexandros Theodoropoulos
Evgenios Spatharis was a true shadow theater artist and puppeteer of a folk hero, but also a painter with a rich color palette. He was born in Kifissia in 1924. When he was young he wanted to become an architect. That's why his father, the famous puppeteer Sotiris Spatharis, hadn't initially introduced him to the secrets of his art. However, when his father fell ill in 1942, Evgenios was forced to replace him, thus taking a completely different path in his life. After all, the difficult conditions of the German occupation certainly didn't allow him to pursue architecture, which he loved. 
As a consequence, he started his career at the Shadow Theater and until 1950 he toured cities, giving performances in cinemas and theater. There is no Greek who doesn't know and doesn't love Karagiozis and his company. In 1953 Evgenios Spatharis started working abroad giving international plays and became one of our best ambassadors. He traveled all over the world and received great critiques and special honors. 
Yannis Tsarouchis was one of the biggest fans of Shadow Theater and used to attend Spatharis's performances in Platanos of Kifissia. During the winter, he used to play in Athenian houses along with Evgenios. Before the start of the shows, he gave a speech about the art of Karagiozis' plays. 
Widely known for just one phrase, Spatharis and Karagiozis became famous and cult heroes in 1966 Greece, when the Experimental Television Station was inaugurated and "Listen, listen!" as well as "We will eat, we will drink and we will sleep hungry" were first heard. Many say that Karagiozis gathered all the elements that allowed Greeks to survive over the centuries, characterising him with adjectives such as "smoothie", "diplomat", "philotimos" (loving honor), "honest" and more. 
Angelos Sikelianos has said about Evgenios Spatharis: "Spatharis' art is at the core of the popular soul and life and blessed is anyone who faces it with the seriousness it deserves. It not only boosts the pellucid wisdom of our people against the inconsistencies of the world, but also covers the source power that lies within it and with which it overcomes these inconsistencies with an incomparable mentality, ascending the steps of its divine intelligence to the peaks of heroism".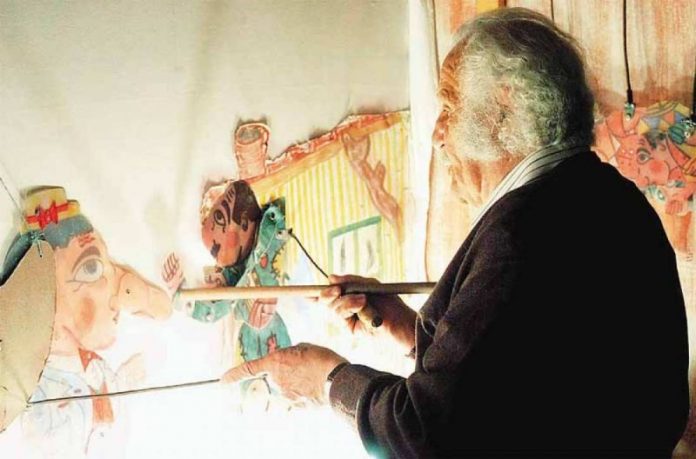 Evgenios Spatharis also offered remarkable contribution to the field of theater, where he staged and directed successful performances with the Greek Dance Drama and Sofia Vembo, like "Our big circus" by Iakovos Kampanellis, "Karagiozis paraligo Vezyris" by Giorgos Skourtis and more. Spatharis also appeared in cinema, in films such as "The Ark" alongside Melina Mercouri and Minos Argyrakis, "Lysistrata" by George Zervoulakos and in many documentaries dedicated to Greece.
Evgenios Spatharis was also distinguished as a painter, with more than 50 solo and group exhibitions in Greece and abroad. In his paintings he strongly preserved the characteristics of folk painting, combining them with great vivid color.
In an interview, Evgenios Spatharis expressed a wish: "They should make a statue of Karagiozis. All of Greece became part of that theater culture along with him. People learned to laugh and dream with him." 
In June 1995 the Municipality of Maroussi founded a permanent home for Karagiozis and his friends, the Spathario Museum of Shadow Theater named after the great puppeteer, while in February 2007 the Ministry of Culture honored the father of the Shadow Theater for his valuable contribution to art and Greek folk tradition.
Evgenios Spatharis died on May 9, 2009, at the age of 85, but Karagiozis will stay with us forever…
 
#HisStory