By Mia Kollia
Translated by Alexandros Theodoropoulos
#animation #art #cinema #culture #movies  
Eirini Vianelli has managed to conquer the world of animation with her creativity, imagination, amazing dedication and incredible results. Recognition, awards and acceptance do not deprive her of modesty, perseverance or dedication to this cinematic field in which she specializes. But above all, it is her works, the projects and the people she has collaborated with that have enriched her artistic and technological universe, a world full of movement, meaning and enchanting images. She has also been pretty close in qualifying for an Oscar nominee. It's never too late…  
 
- What studies preceded your noteworthy career?
After studying graphic design I decided that I wanted to work in cinema and I worked as an assistant in productions. Later, I did a summer course in Columbia for directing but in the end I didn't pursue this field because I found it difficult to tell the actors what to do - it was against my character and it was really stressful for me. 
My next move was to create a children's book called "Filo", because I always liked to draw. Then I slowly started doing experimental animation, realizing that my drawings could move. In fact, in 2011, came an opportunity to make an animation video for TEDxAthens, which went very well. 
So little by little I started to get working on this subject, which was a pleasant surprise for me. So I decided to enrich my knowledge of animation and went to CalArts in California for a master's degree. I attended the MFA Experimental Animation Program, which lasts three years, and found myself in an art field with awesome artists and innumerous stimuli. It was an incredible experience, which broadened my horizons and gave me confidence.
- Why did you decide not to stay abroad and work there?
If I wanted to do something more typical or commercial in animation, it would definitely make sense to stay there. But something like that didn't suit me, I always preferred an artistic approach. I'm not at all interested in being just a cog in a big company. I also haven't stopped communicating - I keep in touch with several friends from CalArts, with whom we zoom in every third Sunday of the month and talk about our personal projects!
Among other things, I like life in our country. I recently did a little work for the new film by Panos Koutras, who is one of my favorite directors worldwide, and I was very happy. The same goes for my collaboration with the Greek National Opera. So, I don't miss living abroad, because here I'm dealing with very interesting things. 
- What are the most important works you have done?
A very important work for me was definitely my collaboration with the National Opera, which came from an idea for Animasyros, the animation festival. They wanted to do an opera, where the sets would be animated and there would be interaction with the singers. So we staged a show that "dressed" the "Emperor's Nightingale" by Lena Platonos with animated images and it was really successful.      
Another important work of mine is the short animation "Icebergs", which was based on the book by Efthymis Filippou "Skines" (Scenes). I made this film all by myself and it managed to get many awards at festivals. One of them was in the San Francisco Film Festival and was even among the 71 films that claimed a place in the top five of the Oscars for Best Animated Short Film in 2019.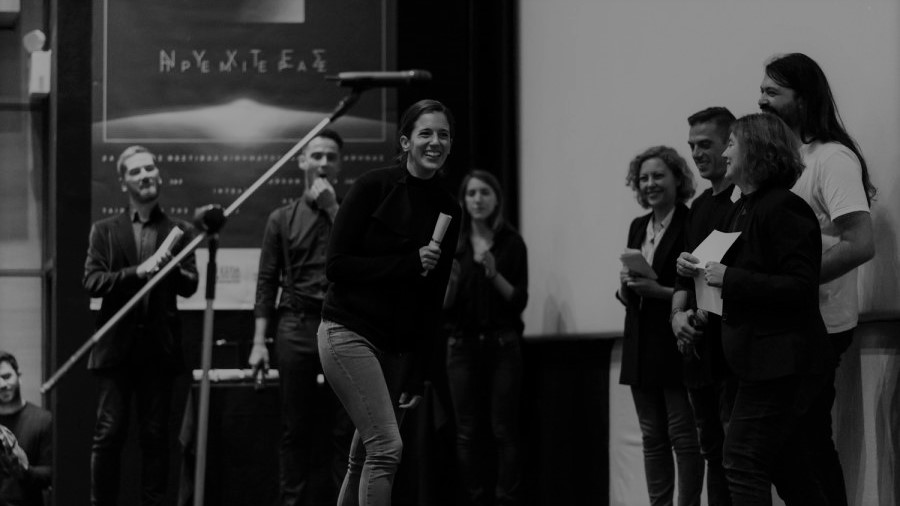 - How did your collaboration with fashion designer Mary Katrantzou happen?
That collaboration also emerged through the Greek National Opera. We met there, before the first quarantine, in March 2020. We both worked on a fantastic production for "Don Quixote", where she designed the costumes and I made the animations that were part of the stage of the great set designer Giorgos Souglidis. She liked my work and at one point she suggested that I make a video of her collaboration with Villeroy & Boch. It was a nice challenge for me.
- Do you work on any project these days?
I just finished an animation film titled "Etoimi" (Ready), with very good collaborators. The film is currently in the editing phase, it's going very well and we are all happy. The topic is a bit strange. It takes place in the Parliament, where we watch the people that are in there as if they are bored, while little by little all this ends up in a musical.
 
- What do you think is your strong asset which has led you to achieve so many beautiful things?
 
I really like what I do and I am not afraid of it. I don't have a specific way of doing animation, but every time I try to do something new with great appetite. I think I am flexible, but luck as a factor has definitely played a role.
 
- What would you advise young people who want to succeed in life?
 
First of all, find out what you like to do. When I started my studies in 2003, there was neither YouTube, nor Instagram, nor any of these things. If I wanted to do animation back then, I wouldn't know how this could be done. Today, with the great evolution of technology, many things have changed for the better. If you have patience and perseverance, you will definitely find a way to do what you want. It takes passion and needs chasing.
 
- Would you like to get involved with education, to teach your art to other people?
 
Yes, I've thought about it and at some point I did some lessons. I think it would be very nice to have an animation department in the Greek universities. On the other hand, I don't know if I have what it takes to work in education. But I could definitely do some seminars and present to other people the way I see animation. 
 
 - Do you have any specific plans for the future?
 
I don't walk according to a specific plan. I am open to everything, because I have seen that animation can be combined with many other arts and this is something I really like. Ideally I would like the idea of ​​an exhibition, which will have animation, sculpture, painting and where the visitors can see how all this can be combined.
 
- You have got quite a lot of recognition and fame in your sector. Is managing reputation and fame a difficult balance and a matter of character?
 
What I'm thinking is that I can be good at what I do, but luck also plays a big role. I can actually make a good film and send it to a festival, but maybe one of the committee judges there doesn't like it so it isn't accepted. There are no completely objective criteria in this art, it's not maths. I have cried of joy at the awards of a film of mine, but also I have cried of being unlucky. Success is not far away from failure. Although for me, it can be named as failure only when you give up and don't keep trying. Because there are solutions for everything but it takes time to achieve something great.  
 
 #HerStory