Time magazine has named Chryssa Kouveliotou among the 25 most influential people internationally in the field of space research.
 
By Mia Kollia
Translated by Alexandros Theodoropoulos
Dedicated - She considers every distinction of her a vindication for her devotion to her science. And for us, it is a great example that indeed devotion to what we do bear fruit, which at some point will flourish. 
Curious - Her curiosity led her to astrophysics to discover how the universe works. This thought that she made at the age of 18 may seem simplistic to her today, because as she says, "in the end, it is extremely difficult to be able to discover the laws of the universe", but curiosity and concern are definitely virtues that will help us evolve.
Persistent - As a distinguished scientist in a mainly male-dominated field, she shows us that if we want something very much, nothing can stop us and advises young children "to follow what they really want to study, to discover what makes them want to work for forty years of their lives, even if there is no immediate satisfaction, as is often the case in astronomy".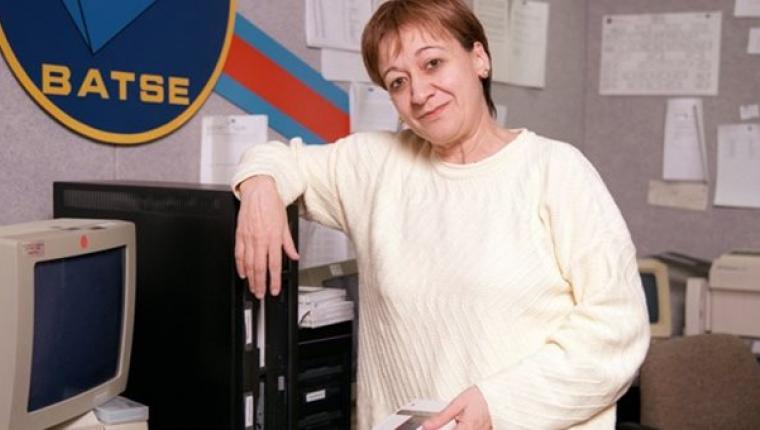 Chryssa Kouveliotou was born in 1953 to a middle-class family and grew up in Athens. Her father was a mathematician and her mother retired as director of the General Accounting Office. She followed her parents' urging to study, since, as she's said: "my father believed that education is a key component of self-sufficiency." 
Thus, she studied Physics at the University of Athens and continued with a master's degree in astrophysics in Britain and a doctorate in Germany. She also spent summers in the United States, where she did research on NASA programs. When she first got there, in 1978, she asked how she could become an astronaut, which was her childhood dream. However, she didn't have US citizenship at the time, which excluded her from the proceedings.
She is currently based in the United States, where she worked for many years as a researcher at NASA's Marshall Space Flight Center and is currently a professor and chair of the Department of Physics at George Washington University.
Chryssa Kouveliotou has received a number of high distinctions and awards for her work, while on June 9, 2016 she was elected a corresponding member of the Academy of Athens. She received her most recent award this year, when she won the International Shaw Prize in Astronomy for 2021, for her contribution to the study and understanding of magnets, neutron stars with very strong magnetic fields, associated with a wide range of high-energy astrophysical phenomena.  
Astrophysics as a science may not be directly related to human daily life, but, as Mrs. Kouveliotou says, the methodology of observation, which is a key part of astrophysics, can help at various levels of our daily lives.  
 
#HerStory