Curves, women, the constant flow of hollow shapes, the soil that takes oxygen and the earth that gives life; in the hands of Greek artist, Iosifina Kosma, such a difficult material as clay is impressively balanced and molded to large dimensions, creating unique and rare works of art.
By Mia Kollia
Translated by Alexandros Theodoropoulos
Iosifina studied architecture at the National Technical University of Athens, graduating in 1993. Her postgraduate studies at Middlesex University in London were completed with a distinction in ceramics in 1997. In 1999, she created her first studio and began to deal with ceramics and at the same time with her teaching. In 2017 she became a member of the International Academy of Ceramics IAC. Recently, the Benaki Museum presented the exhibition "Roes" in the shop of the Ghika Art Gallery, as part of the presentations "The Showcase of Kriezotou. An artist suggests."
- You studied Architecture. Architecture is a science that brings together many subjects: mathematics, economics, art, psychology. So how did you end up there?
I studied architecture because it "sounded" more serious. I wanted to go to Fine Arts, but the National Technical University had a more professional prestige. In retrospect I say that nothing better could have happened to me. I think it is one of the best schools out there and I am grateful to have studied there. Architecture is a science-art which includes a wide range of parameters. 
- What do you keep from those years of study? 
Aesthetic Education, undoubtedly. Architecture is very close to the three dimensions through which I see the world anyway. Apart from that, I also keep practicality, in the sense that when I want to build something I am intrigued by the concept of how I will build it, how it will be useful, if it will work, etc.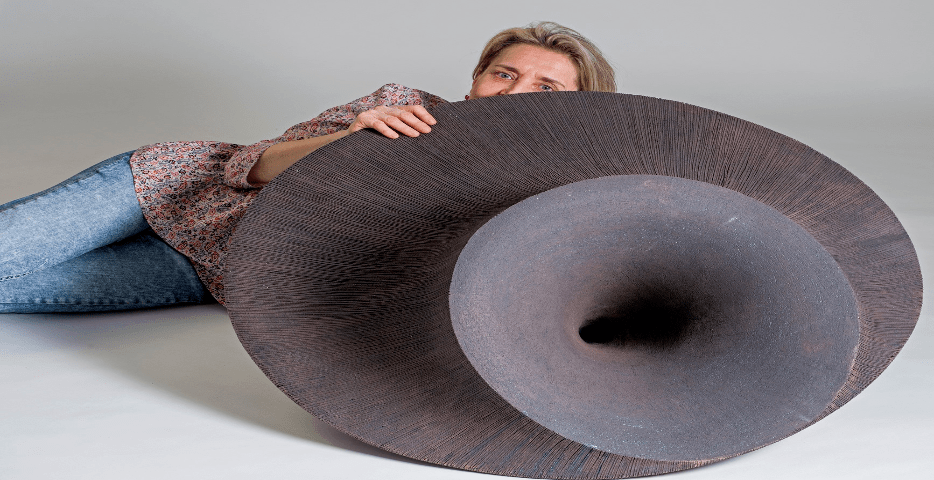 - How did the love for clay come about?
I have wanted to work with the soil since primary school. In high school I was in the school's Ceramics Club. It's amazing to have a passion early on, because inevitably if you follow it, you're sure to succeed somehow and you'll definitely be happier. Clay fascinates me with all its peculiarities. It is a natural and warm material of the earth and its plasticity makes it very direct, I would say it captures the feeling of the moment. It is an occupational therapy material. So, while I was studying, I started to meet people who worked with clay and I was really lucky to meet the best, like Maro Kerasioti who is an authority and I consider her as my second mother. Anyway, this work is learned in the workshop, as with all applied arts or crafts.
- Was it easy to become a profession?
Not at all. I started working as an architect to discover that the creative part of architecture was much smaller compared to all the procedures I had to deal with. And having a very small space of my own since then, I thought I should seriously turn to ceramics. I think you can't do everything at once and be successful, you can't hold many baskets together. You have to choose and commit to what you have chosen. So I did a master's degree in England, in order to gain more knowledge.
- What qualifications did you develop at the University in the UK?
While in Greece all the teachers are very close to you, with many tutorials and really amazing teaching, in England, where they leave you quite alone, you learn to do your own self-criticism. You are called to judge yourself, not having answers ready, you take more initiatives and responsibilities, in fact, you become a little more "adult". All these are truly important to the course of life. 
- How did the art world welcome you when you returned to Greece?
I worked a little more as an architect, as I had kept the studio from 1997 to 2001. Then I finally stopped working on architecture and decided to work exclusively on ceramics. At that time I lived a golden decade. I was creating large sizes, in sculptural forms that were about women and the female body. I never participated in commercial exhibitions and collaborated with galleries in Greece and the UK. I also took pottery classes.  
- What is the evolution and change in your creations?
Generally, there's an evolution from figurative to abstract forms. I was never interested in the realistic rendering of the female figures, but rather in their volume. I focused on volumes and curves, to make the forms organic and harmonious.
When I get my hands on clay, the first thing that comes to mind is a cavity. They may possibly mean nests or wombs, however it all starts with warmth. And now they have become more danceable, extroverted and more dynamic; they have evolved. The truth is that I don't think much when I work. I am a person who works a lot with emotion. When an inspiration comes to me I don't analyze it, I let the work take me. You know, it's a combination of fantasy and rules. And that's where architecture comes in. You can't compose large dimensions otherwise. Also, I compose first on a small scale and then go to large sizes. In general, I prefer to do something with my hands rather than pick up a pencil. And since the material isn't exactly where you want it to be, you need to have a mock-up.  
What about the absence of color?
I find the curves stand out better with monochrome.
Outstanding exhibitions of Iosifina Kosma
Skoufa Gallery: 2001
The first solo exhibition includes female figures which focus on the characteristics of female nature associated with fertility, warmth and strength. Works that come to life depict full figures in comfortable, everyday poses, conveying a sense of self-conscious confidence and empowered pride in the naked female body.  
 
Hermoupolis 2006
In the second solo exhibition, the female forms are different. Taking the female body as a starting point, they escape from the realistic rendering of human proportions and focus on the harmonious composition of volumes, with their movements and postures evolving in favor of sculptural composition.
Genesis Gallery 2018
In the third solo exhibition, the new section of works called "Flows" is presented. It is a series of abstract figures, which have an evolutionary relationship with the anthropomorphic sculptures of previous collections.
They are organic forms that "trap" the sense of entity and exude fullness and harmony. Depending on the ever-changing point of view, sometimes they welcome and accommodate, sometimes they expel, absorb and disappear.  
 
#HerStory