Antigone Metaxa was an inexhaustible educator who had found the "key" of communication and appropriate teaching through joy and deep knowledge, teaching us that "just to entertain children isn't enough, you must teach them something important for their lives, but without doing it by a typical lesson".
By Mia Kollia
Translated by Alexandros Theodoropoulos
The older ones used to "meet" the wonderful and calm aunt Lena in person when the radio was turned on at home. The younger ones would surely learn everything about Mrs. Antigone Metaxa, who had one of the most favourite children's radio shows, entitled "Aunt Lena on young children". 
This show that made history and had thousands of listeners, was both educational and entertaining, starting at 9:00 in the morning and was like the necessary vitamin for every child and -why not- for many parents throughout the years. That is why all those who have been her loyal listeners become nostalgic when they remember her. 
What was the quality that made Mrs. Antigone Metaxa so adorable and necessary in the eyes and ears of children? Aunt Lena had the gift of communication and the talent of teaching - basic characteristics of someone who wants to impart knowledge. She managed –although she was an aunt- to exert an enviable and rare charm on young children and make them keen to listen to her because she knew how to tell stories.
She made children confident and gave them joy. They were eager to listen to her telling them stories that revealed worlds that they couldn't imagine. They used to record her when they couldn't catch up with the show and sought to learn from her the treasures of knowledge. 
Aunt Lena was the one who taught the children to learn and have fun at the same time. She knew how to convey the meanings in her own words, using calm and tender words, full of love for children. She was educated, imaginative and was an inexhaustible source of findings and knowledge. She had the talent to combine fairy tale with truth, so that she could pass on to children the right values ​​of life and the basic principles they must acquire in order to be rightful adults.
When I grew up, I learned that around 1933, my beloved aunt Lena had created the first children's troupe, the "Children's Theater", which operated until 1941. Daughter of a teacher and educator herself having studied in Paris, what she wanted was to deal with the artistic and social behavior and education of children. She had even studied at the Drama School of the Hellenic Conservatory and for some years she taught recitation and acting. She also appeared in the theater and received many praises for her talent. She married Costas Krontiras, one of the first radio directors in Greece.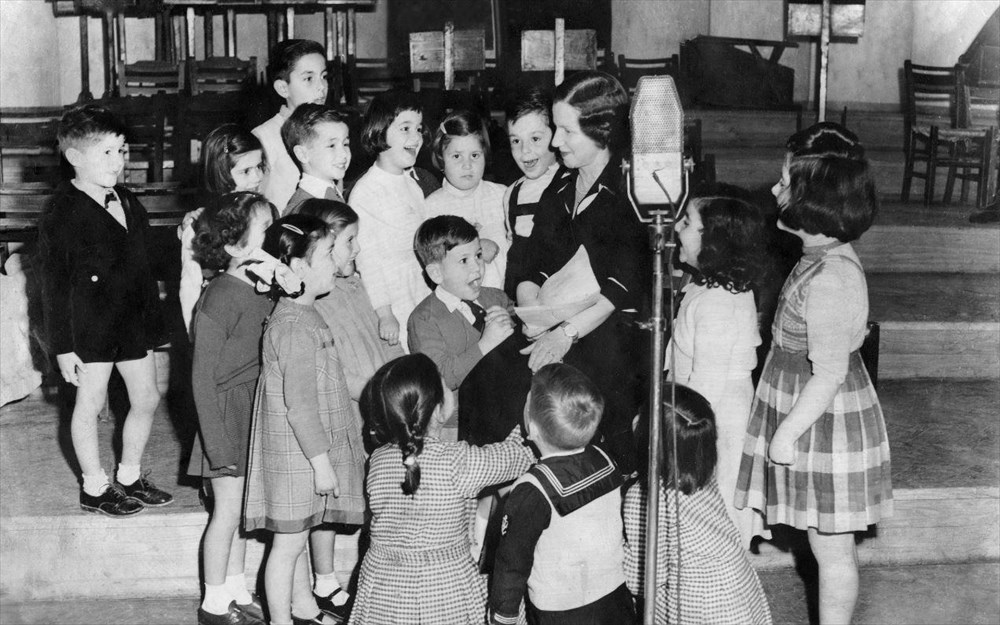 Before the war, she worked closely with the children's radio program "I Ora tou Paidiou" (Children's Hour) of the Athens Radio Station - together with her young daughter Lida Krontira - creating an ever-growing audience of young children, until she took over the responsibility of the show and became the "Aunt Lena" that we all know.
In 1940, the show "I Ora tou Paidiou" is broadcast every Tuesday, Thursday and Saturday at 7:00. The participation of children increases so much that in the summer months it changes time and goes to 8:00 in the morning, so people from province can listen to her too.
 
Since 1942, young and old people waited with great longing for the show "I Ora tou Paidiou", hosted by Mrs. Antigone Metaxa. Spyros Vassiliou also participated in the show, introducing the children to the history of painting. Many other well-known artists, musicians, child psychologists, theater critics, writers and artists collaborated with him. Adaptations of well-known works were made, aimed at children. Events and competitions were also held.
The show began to be broadcast in the afternoons, in order to inspire and strengthen the morale of the listeners with plays and voices of actors such as Manos Katrakis, Nikos Hatziskos, Thanos Kotsopoulos. It is worth to mention that all these took place in an occupied Greece. 
"I Ora tou Paidiou" continued daily until 1966 and reached 4,500 radio shows. A year later, "Aunt Lena" acquired her own TV show at YENED.
Antigone Metaxa wrote over 50 children's books and an encyclopedia, the "Children's Encyclopedia", which served as a supplement to the teaching material of elementary school and the first grades of junior high school.
She was a "life storyteller", who created stories and developed the imagination of children by instilling in them good feelings, teaching them the value of friendship and creativity, what is right and what is wrong, how we can live with dignity and honor the good things in our lives.
She was dynamic, having a pioneering thought and for her enviable work she was awarded by the Academy of Athens in 1965. In 1971 she was honored with a diploma with the Holy Cross by the Red Cross.
She passed away at the age of 66, in 1971. The time had passed…
#HerStory