#art #culture #gallery #artdealer #curator
By Mia Kollia
Translated by Alexandros Theodoropoulos
During the years of economic and social development in Greece, Rebecca Camhi decided to bring art to the forefront in order to play her part in changing the balance of the city, as it happens in all foreign countries. Places flourish where art flourishes. From Sophocleous Street in 1995, the art gallery Rebecca Camhi moved to Metaxourgeio where it continues to provide the visitors with ideas, challenges and suggestions for mental and psychic development. Many arts like painting, sculpture, engraving, video-making and photography are hosted there.
Nan Goldin, Ross Bleckner, Sean Landers and Rita Ackermann are some names that have been exhibited by the Art Gallery, which among other things represents Greek artists abroad, among them Konstantinos Kakanias, Diana Magania, Maurice Ganis, Takis and Nikos Alexiou.
Rebecca Camhi's aesthetics are defined by the persistence for a better urban environment, the special aesthetic approach to everything, her international look at everything and a daily battle for what she loves; first of all her daughter, the East, and then what will make our lives better, from the values of art to a clean pavement. 
What was the defining moment when you decided to get involved in art ?
Sculptor Takis helped me a lot and encouraged me to become an art dealer. The decisive moment may have been when he commissioned me to sell his works from his workshop, when I was still spending most of my time in Paris.
But deep down I'm more of a reporter than a marketer. I am more interested in setting up an exhibition, in the aesthetics of the exhibition place, in the atmosphere that the visitors and the collectors feel when they are here and in choosing artists and their works. Trade comes as an extension, as a continuation of all this.
What does New York mean to you? What are your most beautiful memories from there, your "own" places and the most special places of art?
When I first went to New York, the city was like a modern Alexandria; a mixture of nationalities, a fact that by definition creates cultural wealth, exchange of ideas and euphoria for creation. It has the most galleries in the world as well as some of the most beautiful museums. But it's not just that - it's the immediacy with which you start a conversation with everyone, the comfort with which you move around. But surely this has been largely lost since my time there.
Unfortunately now, along with the cultural wealth, the city has turned to the wealth of money and for this reason most people have been forced to move out of the center. Of course, there is still a sense of freedom, but it depends on which neighborhoods you move to. I remember going to the CBGB, a club on A and B Boulevards and a masquerade party by James and Alexandra Brown, where they spent the night in bed dressed as John Lennon and Yoko Ono like in the cover of the famous album.
I have incredible memories of New York and certainly the months I spent there from time to time affected me a lot as a person. They formed my elements that mainly concern the freedom of thought and expression but also the fast pace of responding to things and challenges.
 
Do you have any favourite places and memories of your most exciting journeys?
Paris is definitely the destination that has filled me with images of elegance, beauty, cleanliness, fashion, art and architecture. In a completely different style of aesthetics but equally important wealth and importance is India. I've been there several times and colors, jewelry, fabrics and food are also a source of endless inspiration.
But although I love traveling to new places, I would prefer to return for the hundredth time to Italy and in fact to the same places I have been to. I don't feel like a tourist there. I want to see again and again some museums and the masterpieces they hide, while I cultivate more and more the human relationships that I have built over the years.
Any artists that for you stand out from different areas of art, such as cinema?
My favourite film directors are David Lynch and Pedro Almodóvar. I believe that they both have an impressive freedom of thought while the plot and the stories they develop, with the symbolism and the choices of colors and images, dive into our deep unconscious.
Almodóvar usually analyses social issues, always guided by the rights and freedom of expression of each of us and I always bring it to my mind and burst into laughter when in real life scenes that could have come out of his films unfold. David Lynch creates enchanting atmospheres, with a more abstract form and subconscious approach, with the leading example being the film "Mulholland Drive".
One of my favourite sculptors is Walter de Maria. In New Mexico there is a shocking installation, where metal bars stand inside a huge field. When there is lightning, it strikes the metal. To be able to see this shocking spectacle, you have to stay in a wooden bell of the Dia Art Foundation, where you will be fed with fresh eggs and covered with characteristic plaid covers, living an overal unique experience. Also, my favourite architects are Le Corbusier, Frank Lloyd Wright, Mies van der Rohe and among the most modern, Tadao Ando and ​​Rem Koolhaas.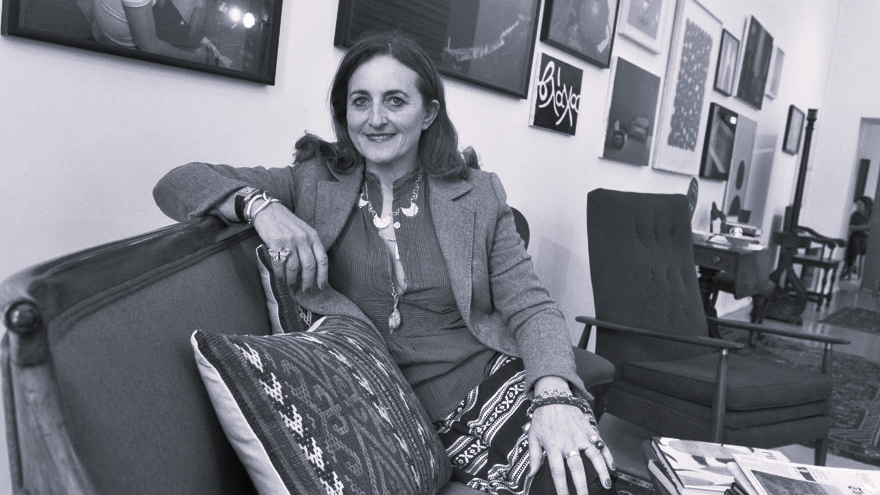 Do artists have elements in common (either positive or negative)? How does one manage them?
Yes, I think they have. When you give everything to create something and your whole life is your expression, I think you live in great anxiety. And it's a big challenge to choose this path - if you choose it and not the other way around. These people are admirable and I believe that the world would be nothing without art, architecture and music. There is no life without creation. Even a bone that someone would have hung around his neck thousands of years ago was art. But it's a difficult thing to manage artists. Many times they are like children in need of attention, they look like fragile glass objects.
What does a good gallerist/art marketer need? Is it a job that you learn and develop along the way? Apart from talent and knowledge, what else does it require?
You need to know how to behave with people, so that you can make them understand what you have in mind and help them appreciate the work you show them, without having the knowledge that you have. Ideally, I try to show anyone who is interested what suits them in combination with what they would like to see in their home, but also to see art through the experience of my own eyes and my approximately 30-year experience. I look for the same from people who have the expertise in their own field, that is, if my client knows of boats or of real estate, I will listen to them. So it makes sense to listen to the art consultant as well.
Is the role of the traditional mother in conflict with the progressive modern mother?
I don't know exactly the definition of the modern mother - I set limits and restrictions, because I believe that they help people to flourish better. I tried to raise my child with a very positive mindset and never said things like "people are bad" etc. but mainly I tried to show the positive side of situations as well as how lucky we are for what we have and what is happening to us. The most difficult thing for me in relation to motherhood has been to learn to leave some space for others. As I have a strong and persistent personality, I often forget that. The only sure thing is that one must know enough about oneself before becoming a parent.
 
What would you advise young people who want to succeed?
Aside from the fact that you need to wake up early in the morning, ideally just before sunrise, I would advise them before they start something, to think about what really fills them with joy and not be afraid to take any pathway that inspires them.
How do you manage the passage of time?
With a lot of exercise, a lot of reading, a lot of yoga, running, meditating, centering and building the strength we have. I read a lot of books and articles, watch a lot of speeches on YouTube and listen to podcasts by great philosophers and teachers. I feel stronger and calmer than ever before in my life and I believe that over time I will be more and more happy.
 
#HerStory