Professor, narrator, writer and consultant, Dimitris Bourantas is a person who knows and analyzes human needs, capabilities and development prospects in modern times, always connecting the mental peculiarities with the professional possibilities of development. His writings and thoughts reflect a "universal" man.
 
By Mia Kollia
Translated by Alexandros Theodoropoulos
#management #writer #academic #homouniversalis #leadership
- What were the most important and touching moments in your long journey and in each different field you were involved in?
In my professional career many moments were very critical and at the same time very moving. But I can single out three. The first was at the age of sixteen when I decided out of necessity to take an exam and succeed in the School of Aviation Technical Officers to make a career as a permanent officer. The second was two years later, when a few days before my oath I resigned after borrowing a large amount of money to pay the school fees, passed the exams successfully and became a student of the Athens University of Economics and Business.
The third great and shocking moment of my life was the great and unexpected success I experienced with my novel "Ola sou ta ematha ma ksexasa mia leksi (I taught everything to you but I forgot a word)" that no one, myself included, expected to exceed 3000 copies and finally reached 200,000 and was honored with the National Book Center Readers' Award.
In my personal life, as for all parents, I experienced touching moments with the coming into life of my two children. Apart from these, however, my professional, personal and social life is full of many important moments of success and failure, including strong positive and negative emotions or feelings. For example, I give a lot of talks to high school kids for free. Each of them is very important and very moving for me. My point is that a "rich life" doesn't consist only of some critical big moments but of many small and seemingly typical moments which are actually very important.
- Can you tell us about three difficult decisions and how did you manage them?
A first strategic decision I made when I was very young was my choice to pursue an academic career and at the same time a career as a trainer and consultant in private companies. I made this decision following the rational decision-making process, that is, I correctly defined the problem, looked for alternatives, evaluated them and chose the best one.
A second major failed decision for me was when I built my first house which after three years I sold at a loss because I didn't want to live in it. I made this decision intuitively and without a rational evaluation of all the data. In the same way I decided to trust a friend and lost a lot of money. My new book "Apofasizo (I Decide)" analyzes the ways we make decisions as well as the pitfalls we often fall into if we don't follow a rational process or a right thinking.
- What do you consider or proved to be your most important charisma in the course of your life?
I do not believe much in charisma but mainly in our personal development through experiences that we live from a young age. I believe that what I have achieved in my life is due to three things. Firstly, due to a core of clear values, secondly, due to the will to make my big and small dreams come true and thirdly due to my belief that success is a product of hard work and right thinking. 
- How would you define a modern leader and what are their characteristics?
A leader is one who passes on a vision, inspires, leads, mobilizes, speaks to the minds, souls and hearts of his/her people, makes them achieve results and progress in the sense of the common good and in accordance with universal values. Being a leader requires critical skills such as decision making, communication and persuasion, foresight and versatility.
But beyond that, some virtues are crucial, such as the integrity required to build trust, a sense of mission to serve the common good, self-knowledge, empathy, humility, courage, bravery, resilience and wisdom. . Both the skills and the virtues of a leader are developed mainly through practice. After all, Aristotle was the first to claim that "virtue is a habit".
- What are the differences between a male and a female leader? In general, what important differences do you spot between the two genders in terms of functioning?
There has been a lot of research on the differences between male and female leaders. I have also published scientific articles on this topic. In short, women, due to socialization and their roles in society, are distinguished by more sensitivity, empathy, teamwork and prudence. But many women are forced to imitate men because in societies and organizations the "male" culture still prevails.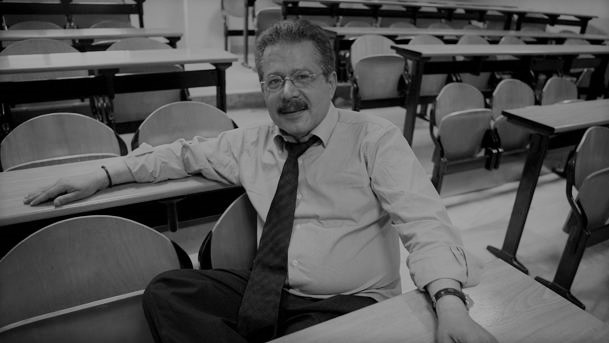 - What is the relationship between emotion and technology?
I haven't read research on the relationship between emotions and technology. My feeling is that the effects of technology on emotions and human relationships depend on how we use it. For example, on the one hand it can facilitate communication but on the other it can reduce personal contact and emotional interaction which is especially important for human relationships and positive emotions.
- What is the way for young people to realise what they would like to do in their life - if they haven't decided since they graduated and what do you advise them to do to achieve their dreams?
First, they have to clarify what is the content of the work they would like to do. Second, to evaluate what a profession can offer them such as, confidence, money, free time, continuous personal development, creation, social contacts, peace of mind etc. Third, to think about what they expect from a profession to contribute to their desired personal life. These questions require knowledge, information and as much rational decision making as possible. It is important here that the child listens to the information, knowledge, but also advice from reliable people.
It is also important for someone to be exposed to experiences of alternative occupations that he believes he would like to do. I also find it important that children think about how they would like their professional life to be when they reach their forties or fifties. To achieve a dream, we need to have it first, secondly to set short-term and long-term goals based on it, thirdly, to have plans for how and with what skills we will achieve them. After all, a wish if not being set as a goal does not lead to satisfaction and a goal without a plan is just a wish.
- Do you think that we learn from our mistakes as individuals but also as a society?
Learning from mistakes and failures is common sense, but unfortunately it is not a common practice. Learning means changing the way you think and behave. But it does require willpower, self-reflection, and commitment, rational thinking, and effort. Undoubtedly the progress of societies arises both from the new knowledge gained from research but also from mistakes and failures. Also, learning and education in general should not be just about technology and science. It concerns at the same time the existential, emotional and social intelligence.
- From a psychological perspective can you outline man's dependence on money? 
Money is the means by which we acquire goods to meet our needs. Hence the dependence on money arises from the model of consumption of material and intangible goods. I think the current model is wrong because the consumption of material goods predominates. Schopenhauer argued that the mania for acquiring and consuming material goods was like seawater. The more you drink the more you get thirsty. Unfortunately, with the current model of consumption we underestimate the pleasures of life that contribute to happiness as defined by the ancient philosophers. Thus, we become more dependent on money, we lose kindness and we destroy the planet.
- Is power and dominion the strongest energy?
Power, the constant pursuit of it and the exercise of it is clearly motivating and enhancing energy but I think it can lead to greed and become an end in itself. Of course, Freud could give us a more correct answer.
- In the book "Apofasizo (I decide)" it is written: "Life is the sum of our choices". Can the challenge of luck be a choice? And why is it so difficult to finally take responsibility?
I think my new book "Apofasizo (I decide)" is very useful for everyone as it concerns the most important ability to make choices and find solutions to problems using methods, techniques and tools from different sciences. When we make a choice we have the responsibility of its consequences. Many people for reasons of selfishness, fear of failure, convenience, lack of confidence and procrastination either do not choose, or let others choose for them.
Indeed, taking responsibility for our choices requires adulthood in the sense of self-confidence, self-esteem, action taking, calculated risk, and recognizing our freedom and ability to take our lives in our hands and not let go of it.
Who is Dimitris Bourantas
 
Dimitris Bourantas is the Rector of New York College, Professor of Management and Director of the Executive MBA program and the MSc Program in Human Resources Management at the Athens University of Economics and Business. He has published a large number of articles in the most prestigious international scientific journals. He has authored 10 books, of which the following have become best sellers: "Management" (BENOS), "Human Resource Management" (BENOS), "Leadership: The Road to Continuous Success" (KRITIKI). The novel "I taught you everything but I forgot a word", (PATAKIS) won the Readers' Award (EKEVI 2008) and was on the bestseller lists for four years. In addition, his books "On stage without rehearsal" (PATAKIS), "The Letter of Hope" (LIVANIS), "Talking to my children about a truly successful professional and personal life", "The great philosophers and personal management" ( PATAKIS), "Silence Cry", (poetry collection, Patakis publications), "If you let me teach you the word" (Patakis) were on the lists of Best Sellers for several months. Additionally, the book "Leadership meta-competencies", Ashgate-Gower Publications, which was found on Amazon's bestseller lists, has now been published. His book "I decide" (Psychogios) was recently published.
He has collaborated with a large number of Greek and multinational companies as an instructor, trainer, consultant and board member. He is currently the Chairman of the Board of Endlees-Eurochartiki.
He specialises in leadership, Human Resource Management and change.
 
#HisStory