By Mia Kollia
Translated by Alexandros Theodoropoulos
#design #fashion #style #creation #globetrotter #shoedesigner
The new Off-White Consultant Shoe Designer - who continues Di Gaia's brand and collaboration with Callista Crafts - is a charismatic Greek woman who has achieved great success by working with the biggest names of the fashion industry. She is defined by perseverance, endurance, deep kindness and a particularly remarkable and rare adaptability at all levels - aesthetic, artistic, social. Elvira Panagiotopoulou can change her place of residence and work with the same ease and comfort that someone else talks and walks. 
"My mother worked at the Ministry of Foreign Affairs and was at UNESCO. We lived in France and I spent my first school years there. When we returned to Greece, I went on to a French school, so I'm basically French. Also, my grandmother and her sister had grown up in Egypt, they spoke French and for me these two women were my role models. They were beautiful, extremely elegant and I think they were my aesthetic stimuli".
- Did you want to be involved in fashion from a young age?
No, I used to paint and I liked art, but I wasn't thinking about that. When I finished school, I didn't know exactly what I wanted to do, but I certainly didn't want to go abroad to study at that time. I spoke French, English and Spanish and decided to go to Deree to study Marketing. In the process, however, I saw that I wasn't interested in that and so I did Communication. But yet, I was feeling that something was wrong with me.
A bracelet of my mother, which I dismantled and remade, was the reason for me to realise that I wanted to get involved with the arts. So I went to the Veloudaki School and built a small workshop at home, where I created jewelry.  At some point, a sandal was made by my hands and that was just the beginning. 
At the same time, I was working in the store of the Museum of Cycladic Art and little by little I started to give some jewelry there. In the meantime, when I was walking down the street one day, I was wearing the sandals and I was asked where I got them from. I responded that I actually made them myself and by answering that I had already secured my first customers! Everything seemed to follow a smooth, natural evolution. In a short period of time I started selling in stores and set up my own company.
At some point I decided to go to study in the London College of Fashion and I was enchanted there - I realised that I had finally found my way. I continued my studies with a Master's in Accessories Design at the Marangoni Fashion Institute in Milan and after completing it, I moved to Paris within a weekend to work with artistic designer Roger Vivier. I stayed there for three years; it was my first big experience and it taught me a lot.
 
I continued working for another two years in a fast fashion company, but it didn't suit me as much in terms of my philosophy on the industry - I clearly wanted to deal with the luxury side again. So I went back to Italy to Sergio Rossi's school. I stayed nine months there and learned very interesting things about the heels, the soles and the smallest detail of a shoe.
 
- Apart from inspiration, what do you have to remember from these years of intensive study and work?
 
Each school gave me different experiences. Marangoni opened my mind and helped me understand how I can be inspired. The school aimed mainly at creativity and through the projects we did for various companies, it taught us how to adapt each time to the different image of each brand. At Sergio Rossi's school, I learned what shoemaking means from the beginning, in terms of the purely technical part. I learned that even a millimeter makes a difference.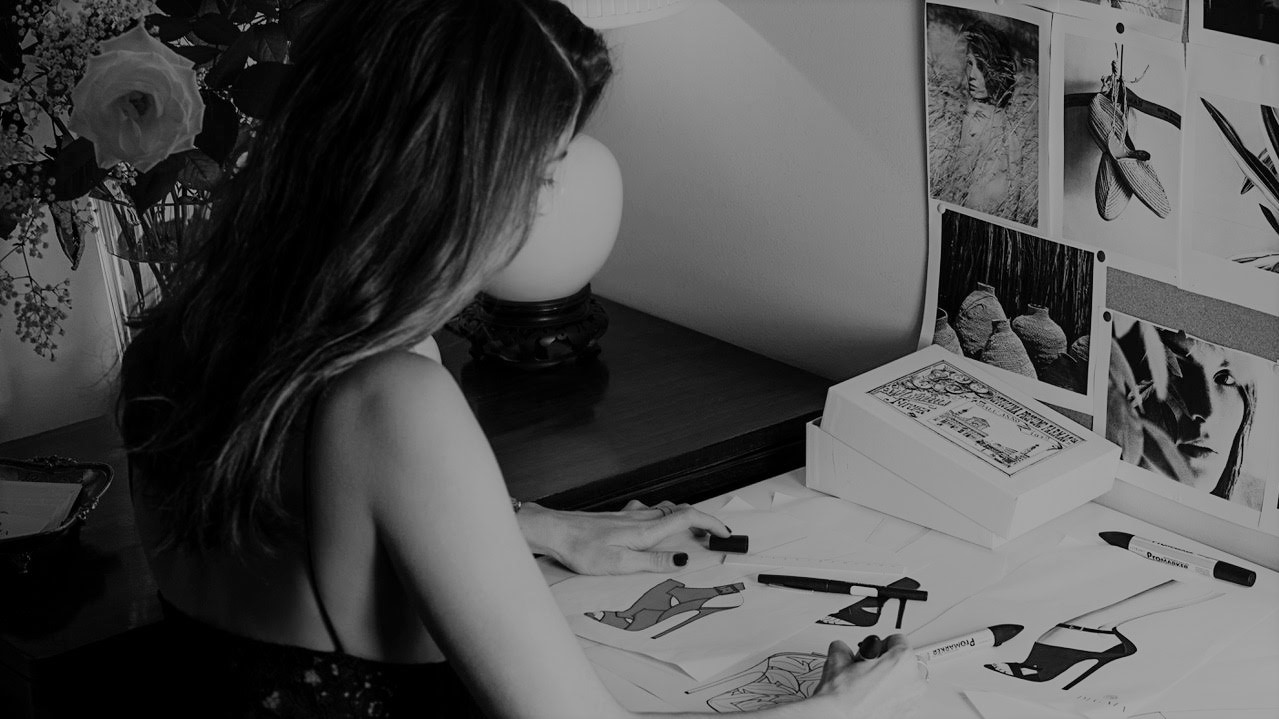 - And after the schools, how did other doors open?
 
Throughout our obligations at school, but also through guidance, we had to do various tasks but also a specific stage - I was sent to Diego Dolcini in Bologna, who made me his right hand in his own brand! So, through Diego, I also worked for Narciso Rodriguez. I was very lucky – he used to take me with him on many trips and I met a wonderful and magical world next to him. I learned so many things about our industry mainly from the factories that we visited.
 
Later we went to Milan, because we took over Vionnet, where I stayed for about a year. My next step was at Dolce & Gabbana, where to my great surprise I was hired right after the interview. It was also a great experience for me in a highly competitive and not at all friendly work environment. It was then that I made the decision to return to Greece and make my own collection, which the Greek public embraced even though the year was 2014 and the financial crisis had influenced every sector.
 
- You're unstoppable. You seem like a person who dives deep into challenges and doesn't fear change.
 
Quite! I often traveled abroad and in 2016 I finally met Dolcini, my old boss, in Paris, who suggested that I work with him on the Balmain accessories he would undertake. I accepted and left Greece again. I worked hard and was constantly with a suitcase in hand going to Florence, Milan, Paris and Athens, where I still maintained my company.
 
For two years I had no home as a base, no personal life, no program. It was very difficult. The 15 minutes of a catwalk that people see has at least three days of overnight preparation and work behind them. That was a great effort for me, I was constantly mentally and physically exhausted. So I decided to return to Greece and dedicate myself to my own brand, Di Gaia, while at the same time I started working with Callista Crafts, as creative director.
 
- What about the great collaboration with the Off-White brand?
 
Paris was again the connecting link, where I had gone to an exhibition for the presentation of Di Gaia. At a dinner with old acquaintances from the house of Balmain, they asked me for my CV and in January they offered me a collaboration from Off-White, after I presented to them a sample of work. At the moment I have the position of Shoe Designer Consultant for the collections of women's formal shoes of the brand, something that I   consider a great responsibility and for which I feel incredibly grateful!
 
- You have worked with the biggest names in the field of fashion and you have taken part in amazing projects. Nevertheless, you are a very down-to-earth and discreet person aren't you?
 
I put my job above all and I'm not interested in anything else. After I make a collection, I instantly want to make a better one - that's my way of thinking and I consider that as evolution. The rest doesn't concern me much.
 
- Out of all the houses you have mentioned, which is closer to you aesthetically?
 
I would say the house of Vionnet; it had this classy touch that I like but also several Greek references. Eventually, however, I realised that I have obtained different things from every brand that I have worked with and now my aesthetic approach is defined as elegant, feminine and minimal. Just to mention that I can't work for a company that doesn't suit me.
 
- Are you worried about the usual notion according to which "everything has become fashionable, what else to do now"?
 
Definitely so, but, on the other hand, it has always worked that way - you take something and make it a little different. You cannot do a reproduction, but the matter of discussion here is how you do it to leave your own personal footprint and not just copy. 
 
- What do you think are the main characteristics that one must have to succeed in your field?
 
Passion, knowledge, a lot of work, to be a professional in what you do, that is, being consistent and accurate; kindness, to be down to earth, to listen and be always ready to learn. For example, I think it's very nice to learn the technique of making a shoe from the old craftsmen, who transfer the knowledge to the younger ones.
 
- Italy or France?
 
Definitely Italy! People there are easier to deal with and more open and when it comes to fashion, I think they have a special finesse, an elegance which suits my own temperament. 
 
#HerStory