…apart from what we perceive concerning his great personality with a predominance of perseverance and modesty.
By Mia Kollia
Translated by Alexandros Theodoropoulos
1.  Charles and Veronica Antetokounmpo immigrated to Athens from Lagos, Nigeria in the 1990s. Giannis' parents come from different ethnic groups in Nigeria (Charles was Yoruba and Veronica is Igbo). The eldest son of the family, Francis, was born in Nigeria, while the other children (in order of age) Thanasis, Giannis, Kostas and Alexis, were born in Greece. 
2.  After his birth, on December 6, 1994, Giannis (like 3 of his brothers) lived without any citizenship, as Greece uses the jus sanguinis system (blood citizenship). Giannis, who grew up in Sepolia, from the age of 6-7 worked in the streets of Athens selling various items like watches, CDs, etc. All members of his family worked non-stop, as their living conditions were difficult and the money earned was infinitesimal. Unfortunately, in 2017, his father, Charles, died of a heart attack, just 57 years old, without having the chance to see Giannis being a champion.
3.  On May 9, 2013 he acquired the Greek citizenship and managed to move with his family to Milwaukee in 2014, having earned a place on the Milwaukee Bucks team. He was selected 15th in the team's squad, as the managers decided to give him an opportunity because they saw something different in Giannis. His nickname is "The Greek Freak", which he uses proudly, and plays in international matches with the Greek National Basketball Team. In every game he plays, he is supported by regular fans and many Greek Americans who adore him.  
 
4.  Giannis Ugo Antetokounmpo cultivated a very strong relationship with Kobe Bryant, who was for many years his mentor for matters on and off the court. Like other basketball superstars, young Giannis chose a legend as his mentor and learned the secret tricks of Bryant - tricks that gave him 5 championships - but, above all, an intense love to work hard and always with a smile. After the tragic and untimely death of Kobe Bryant in 2020, Giannis said: "How did Kobe inspire me? He taught me that I have to work hard, not be afraid, not be interested in what people say about me. He just taught me to do my job with a smile on my face. He taught me that I should sacrifice a lot of things, especially time with my family, but that my own people would understand because they know why I exist, they know why I play this game, which is a way for us all to be well. Kobe means greatness. He always had that smile, he always had that gift he was carrying with him. I think he touched many people in the world."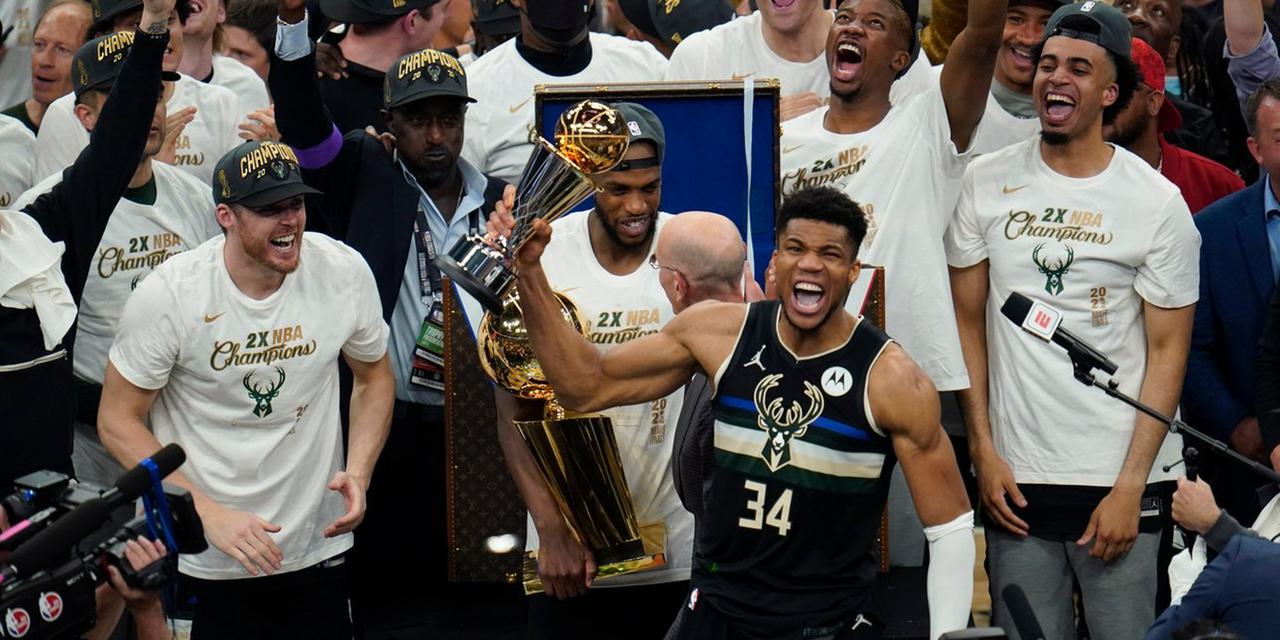 5.  The 2020 season ended for Giannis after headbutting Moritz Wagner of Washington Wizards. Since his first season, it became clear that Giannis was lively and touchy, especially when he needed to defend himself and his teammates. In the 2015 playoffs he clashed with Mike Dunleavy Jr. because he was behaving badly towards a teammate and they ended up in the front row, with a foul.  
6.  During the 2019-2020 season, Giannis impressively managed to win  Kia MVP and Kia Defensive Player of the Year, something that had been done only twice in the history of the NBA, by Michael Jordan (1987-88 ) and Hakeem Olajuwon (1993-94). This season, Giannis responded to criticism he had received earlier regarding his inability in free throws, managing to score 17 out of 19 shots! Thanks to the hard work of the whole team and the special talent of Giannis, Milwaukee Bucks managed to win the NBA championship after 50 years, when Kareem Abdul-Jabbar and his team brought the trophy to Milwaukee in 1971. 
7.  On February 10, 2020, Giannis became a father for the first time. Liam Charles Antetokounmpo came into this world just in time to see a great season for his father. His mother, Mariah Riddlesprigger, is a former professional volleyball player with a degree in Sports Management. 
8.  During the 2020 NBA All-Star Weekend that took place in Chicago, former president Barack Obama spoke directly to him, saying: "Giannis, I would like you to speak more publicly, because I believe you have a lot to give to the world and I believe you can be an example for others to follow".
9.  Loved by everyone for his abilities, his athleticism and his authentic childish smile, Giannis has really won the hearts of Bucks' fans but also of the residents of Milwaukee in general (and not only). One of the most beautiful stories told is one set during his first season (2014-2015), when Giannis took a taxi to a Western Union store to send money to his family. Out of excitement, he sent all his money, and he had no choice but to take a taxi to go to the stadium where he had a match. So what did Giannis do? He started running! Fortunately, in the middle of the road some fans recognised him and gave him a ride to the stadium - luckily he made it! 
10.  Among the things that people love about him are his disarmingly naive twitter posts, in which he praises America as soon as he tries a snack, the (completely Greek) jokes he tells to reporters in interviews before and after the games, the pranks he does on others, the fact that even Lil Wayne mentioned him in his song, his wonderful dog, Mila, the incomprehensible appearances in Milko and Aegean ads, the non-stop cuts on Steph Curry, how sweet and kind he is to the youngest fans, and finally, how much he seems to love Milwaukee. 
 
#HisStory