In the contemporary work environment it's advisable to try to understand how important the digital literacy of company executives is.
 
By Mia Kollia
Translated by Alexandros Theodoropoulos
#digitalsavvy #digitalliteracy #CEO #success #corporation #training #executives #digitaltransformation
Moving in an ever-changing field of digital demands, all the leaders and executives of C-Suite always aim to be one step ahead of the developments, in order to be able to claim their position in the markets in the best possible way and build their way up to success. But what does this mean in the context of digital transformations?
Companies and organisations of different sizes and from different places tend to approach the digital transformations they are planning as something that concerns only their workforce. Depending on the company, a position of CIO (Chief Information Officer) or CDTO (Chief Digital Transformation Officer) may be established, on which all hopes as well as requirements are placed. 
But it's becoming increasingly clear that as our fields are transformed into digital data fields, every leader / CEO should personally lead the digital transformation of his/her company. Nothing could turn a company's course from the wrong approach to this crucial confrontation.
The largest companies in the world, usually those of technology, are already staffed by people who have been raised in Silicon Valley, while the boards are made up of people who are fluent in digital language. But what about companies which don't belong to this field? 
All the organisations of the conventional sectors that want to survive in the modern market have already made or are currently making digital transformations for all their procedures and functions. Digital transformation is, after all, much more than a mere adoption of new technologies; at its core it has to do with overcoming distancing and resisting change in the way people think and work.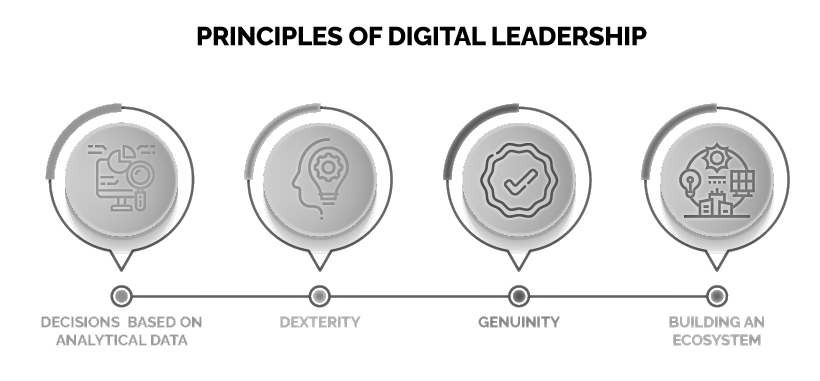 Although, as leaders, we can hire qualified staff to organise all the changes we seek, we must at least be able to comprehend each step and adopt a supervisory role.
According to an MIT study, most C-Suite executives don't have a basic knowledge of the digital sector, so that even those who implement some type of digital transformation do not see an increase in efficiency or profits, proving how uncertain the result is for organisations that aren't fully prepared for the next step.
Of course, none of us is born with some ready-made digital knowledge. It is knowledge that can be studied and developed gradually, so that we can better understand in time the impact of technology in our field of work.
Over the last decade, it has become clear that every company with a steady rise and dominance in its field is based on a specific frame of executives: Product Head, User Design Chief and Chief Technology Officer. But above these three executives, the CEO is the one who should have the final say and play an active role in defining product features, designing user experiences and making technological decisions.
It's therefore evident how the digital literacy of the leaders of these positions is a key element for successful decisions that will ultimately lead to the revitalisation and growth of an organisation.
Apart from the knowledge that we need to have, as CEOs, we are at the core of change of every digital transformation. The knowledge and the approaches we decide, enable us to strategically organise the plan for digital transformation, to supervise its implementation and to monitor the way it will work daily within our companies and organisations.
In the past, more conventional executives may have justified their lack of knowledge by proposing a lack of time or by hiring indeed competent executives to design and implement the digital transformation. But this is an approach that belongs to the past.
The most successful "digital" leaders are obsessed with products, user experiences and technology and rely on their personal knowledge and the support of capable executives to chart the future of their business.
After all, if the CEOs of the most successful companies in the world find it appropriate to spend time studying the features of their products, the experience of their users / customers and the incorporation of new technologies, then the CEOs of smaller companies who wish to have a future in the modern market, they can hardly afford not to do the same.