The Greek doctor who won the first prize of Intensive Care in Germany and Austria really managed to exceed all expectations at a very young age. Still, these would be other people's expectations mainly because his own do not seem to be easily satisfied.   
 
By Mia Kollia
Translated by Alexandros Theodoropoulos
Can you explain to us in detail what your specialisation is and what you are currently working on?
After completing my medical studies at the Aristotle University of Thessaloniki, I moved to Germany and in early 2013, I started my specialty in general pathology at a regional hospital in a town near Düsseldorf. At the same time I started and completed with honors a master's in general pathology at the University of Edinburgh in Scotland. In order to further specialise and be able to engage in research, I decided, in 2015, to continue my specialisation in nephrology at the University Hospital of Münster. In parallel with the clinical practice, I joined the research team of Prof. Kümpers and completed my doctoral dissertation. 
In both my postgraduate and doctoral studies, I have dealt with the measurement and importance of the microcirculation and the endothelium - a thin membrane that lines the inside of the heart and blood vessels - in emergency medicine and intensive care. I am currently in the intensive care unit for one year, completing my specialty in nephrology in order to later specialise in pre-hospital and in-hospital emergency medicine. At the same time, I continue my research as a post-doc on emergency medicine, mainly on the dysfunction of the microcirculation and the endothelium in sepsis.
Simply put, we study the destruction of the smaller vessels (diameter <10 µm) and the endothelial glycocalyx, a thin protective coating of the interior surface of the vessels, in patients with severe infection. Our ultimate research goals are not only to be able to predict a potential development of the infection into sepsis in its early stages, but also to finally be able to intervene by correcting the damage to the microcirculation.  
What does the award given to you mean? Reputation and responsibility, joy and optimism? Does it mean anything to your development from now on?
The German company of Intensive Care and Emergency Medicine (DGIIN) highlights and awards a research project in the field of intensive care every year. This award is certainly a great honour as well as a recognition of my efforts and work, especially in the German academic community. In addition, it greatly facilitates future efforts to obtain research funding.
What was your dream job as a teenager and how hard and difficult was it to get to your first job?
I can say that I live my childhood / adolescent dream. As far as I can remember, I wanted to become a clinician, but also a researcher. The first applications I sent to big hospitals resulted in rejections, so I temporarily compromised and started working in a regional hospital, without the opportunity to do research. After gaining experience and qualifications for about two years, I tried again and submitted applications. Within a week I had secured 5 interviews at various university clinics, finally choosing my current position at the University Clinic of Münster (UKM).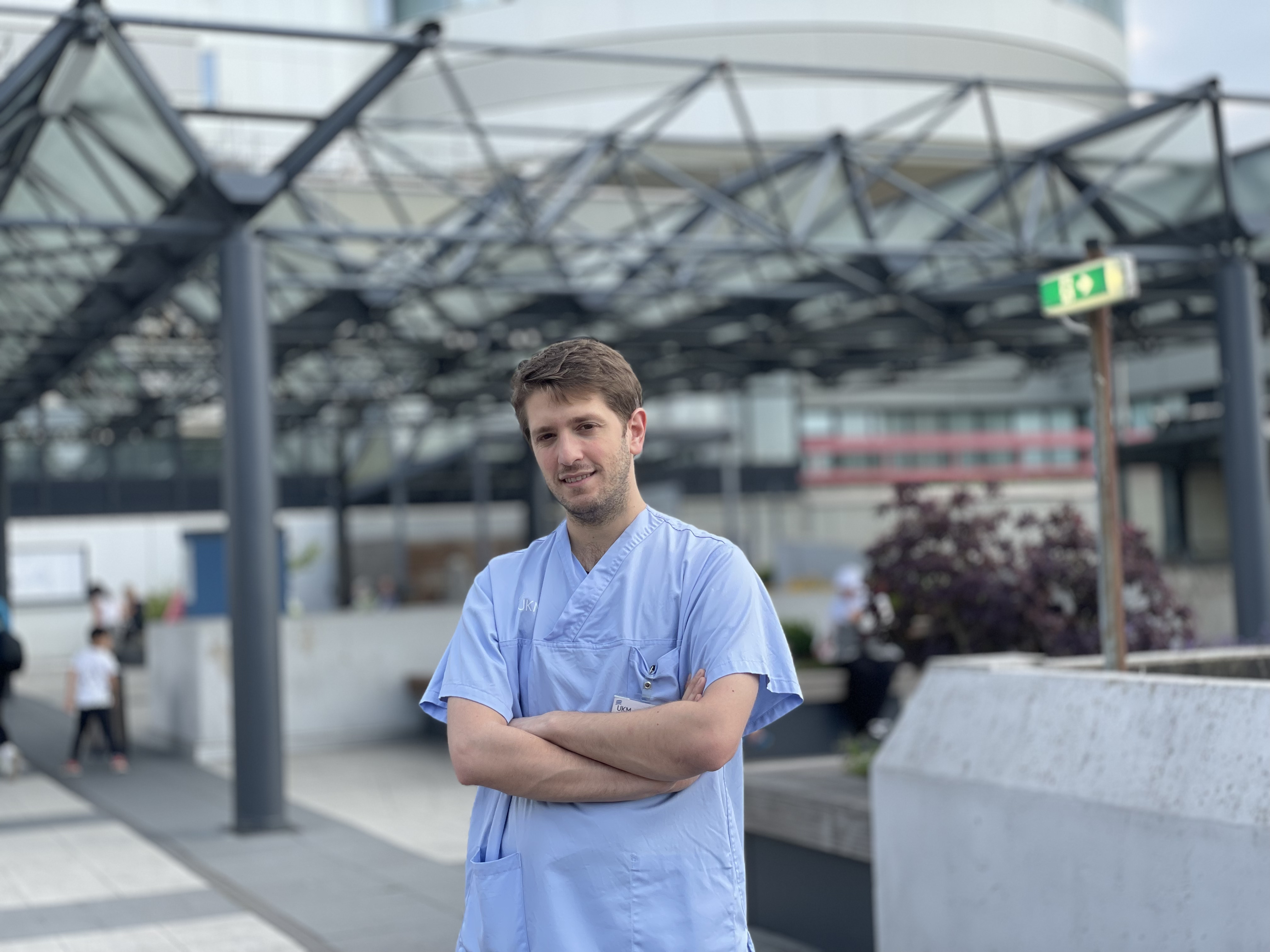 According to you, what are the differences of the professional development of a doctor in Germany and Greece? Is research funding a great difference for example?
Although there are certainly more funds and funding opportunities in Germany than in Greece, I personally believe that the biggest problem is the lack of meritocracy, which unfortunately - from what I hear from my colleagues - still greatly plagues academic life and is often a barrier to the professional development and dreams of young doctors.
What bends you?
The realisation that medicine and our capabilities have limits, which unfortunately cannot always be exceeded.
How do you manage medical malpractice?
Although we all make mistakes in our daily lives, the peculiarity of medical error is that it can have serious consequences for the patient. For this very reason, medical protocols and standard operating procedures (SOP) have been developed internationally, nationally and locally by various certified bodies. However, in medicine it is not possible to standardize all possible cases, so it is the doctors' responsibility to their patients, but also to themselves, to have excellent knowledge of both their field and their limits.
Nevertheless, mistakes continue and will unfortunately continue to happen. The most important thing at this point is to deal with them transparently and honestly by drawing useful conclusions that will help us to deal more effectively with similar incidents in the future. 
What would you say that you would never forget from the pandemic period and what kind of experiences enriched you?
I don't think I will be able to forget the anxiety in the face and eyes of COVID-19 patients and their relatives. But beyond the difficulties, I think the pandemic has reminded us that we need to value today and not take even the simplest and everyday things for granted. 
How much time and how much mind do you have for other things in your life?
It is necessary to have both time and mind for other things. I believe that the right balance between work and leisure is a basic condition for good mental health. Personally, I escape by traveling, although in the coronavirus years I do so more mentally, with movies and books.
Do you have any near or far future dreams?
In my immediate dreams, I hope that our research efforts in emergency medicine will be successful and that a better comprehension of microcirculation will allow us not only to predict the patient's possible clinical deterioration before it even occurs, but also to be able to prevent it. In my most distant dreams, I hope to return to Greece at some point and to contribute to our country providing equal opportunities for young scientists to make their own dreams come true.  
 
#HisStory