People today talk a lot about Theodoros Kourentzis; the Greek conductor who preferred to live in cold Russia rather than in sunny Greece. Yes, we are talking about this incredible guy with the black clothes, the "rebellious" style, the boots, the carefully dishevelled hairstyle and in general all these that compose the image of an enfant terrible in the field of music.
By Mia Kollia 
Translated by Alexandros Theodoropoulos
But in this case, when we say music we mean classical. In fact, here are some notes about the conductor who looks like a leader of a rock band while currently holding the position of chief conductor in the Symphony Orchestra of the Radio of Southwest Germany. 
His course is probably known to everyone, through the countless interviews he has given and the many articles that have been written about him in Greek and foreign media. 
His mother was a piano teacher and his father a police officer. He touched the piano keys for the first time at the age of 4, when other kids were playing with their Lego. A few years later he stroked the strings of a violin and felt the sweeping charm of music penetrating his skin.
He started attending classes at the Hellenic Conservatory, at the Department of Theoretical Music and at the Department of Strings, with professor George Hatzinikos, and what finally felt like winning him over was "the total"; the full musical sense created by a musical ensemble, an orchestra along with its size and members and by musical instruments that are in complete ecstasy. He knew that perhaps this was the only thing that suits him. 
As the conductor says:  "my true talent was composition", something that was evident from his first lessons at the Conservatory. He rejected a scholarship to New York Metropolitan Opera to continue his studies in St. Petersburg, Russia, because he believed that this was the place where the spirit of Romanticism could survive. 
Thus, he studied at the State Conservatory of St. Petersburg. One of his teachers there described him as an intellect. That was the great conductor and teacher Ilya Musin: the one who taught Valery Gergiev and Semyon Bychkov. 
In 2004, he became the conductor of Novosibirsk Opera and Ballet, and in 2010 he dropped out. In those years he formed the orchestra and choir MusicAeterna. In 2011 he took over the direction of the orchestra and the artistic direction of Perm Opera and Ballet. An icy city, a little more than 2 times the Athens-Thessaloniki distance from Moscow. 
As he says: "Many people come to our concerts in Moscow and St. Petersburg. Our concerts are sold out many months before the date of our appearance. People from all over Russia and even Europe are coming to hear us." (Interview at theaderks.wordpress.com).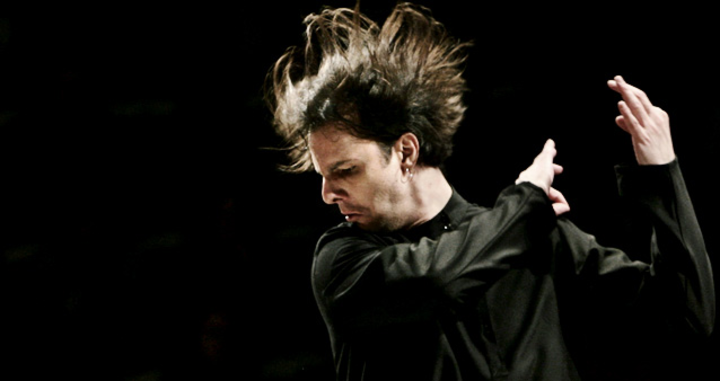 In some night gatherings that he organizes, his guests recite poetry, play music and stay up late. All this approach to music and the way he behaves create a strange aura around his personality. There is a myth around him saying that the musicians of MusicAeterna and his collaborators in general, work tirelessly and persistently and never look at the clock. Their rehearsals are exhausting, with no schedule. 
According to the Guardian, he requires full dedication from every collaborator - maybe even a few weeks of isolation - in order to achieve the excellent result he seeks in his works. The speed of the orchestra, its vocal techniques and finally the performances he achieves make many critics and the opera audience wondering about everything they had thought they knew until now. 
In an interview with Peter Quantrill in the online magazine Gramophone.co. uk, Kourentzis admits: "I will say one thing: in my opinion the most important thing is the language. It is not that you were born in Greece. It is to know Sophocles and Homer and that poetry has a very close relationship with music". 
He is a perfectionist and likes recordings. He feels that the studio space suits him very well. Concert halls are not his best because he also suffers from a slight agoraphobia.
"Art is possible," he says, "only when you see the eyes of the people in front of you." 
He is the artistic director of Diaghilev International Festival. He staged Mozart's "Cosi fan tutte" with unparalleled success in 2006 and recorded the great composer's masterpiece Verdi's "Requiem", as well as works by Shostakovich, Ramo, Stravinsky, Tchaikovsky, Artyomov and Mahler. 
He has been nominated for an Emmy Award, and has received many awards and medals. He has won numerous awards at the Golden Mask competition and the Opernwelt magazine named him "Maestro of the Year" in 2016. He is also very tall and conducts the orchestra without a baguette. 
As he says: "Music is not funny. It can change us, teach us to love, to forgive, to help, to show our pity and compassion, to keep hope".
He has toured all over Europe with his band MusicAeterna. He has been deified in France, Italy, Germany, Austria and the Netherlands. The concerts have been many, as have the fans and the applause. He has appeared in Asia, New York and Japan, Tokyo and Osaka.
In 2021 he will also visit Greece to present along with MusicAeterna "The Symphony No. 7 in A major, Op. 92", by Beethoven, invited by the Concert Hall as part of the pan-European celebration: "Europe celebrates Beethoven", at the ancient theatre of Delphi. 
римите наши искренние поздравления!
Maesto, please accept our congratulations!
 
#HisStory