The Greek pioneer of the art of photography signed all her works with the nickname "Nelly's" and became famous by that. Her photographs were her property and she donated a large part of them to the Benaki Museum. 
 
By Mia Kollia
Translated by Alexandros Theodoropoulos
Thanks to her love and admiration for Greek culture, the Greek ideals, the Greek countryside, her passion for photography and her beautiful look at people of all social backgrounds, Elli Sougioultzoglou-Seraidari was perhaps the first Greek photographer who exported modern images of Greece abroad and marked the future of Greek tourism.  
She was an internationally recognised figure in her field and a leader in commercial photography. For many years she also collaborated with the then Press and Tourism Office. Even today she would comfortably lead any state campaign for tourism. 
With her special talent in capturing the inner world of her model, she managed in the interwar period, to capture politicians, artists, prominent and ordinary people, famous and obscure, creating their portraits with her own style thanks to her knowledge in painting.
She had a special ability to depict her model with a fine and aesthetically pleasing look, so greatly that acquaintances and strangers were looking for her to photograph them. The gaze of Venizelos, Plastiras, Makarios, Dimitris Mitropoulos, Kostis Palamas and Katina Paxinou truly reflect their souls. This is what characterises Nelly's portraits: the imprint of the soul. 
Elli Sougioultzoglou-Seraidari was from Asia Minor. She was born in Aydin, modern day Turkey, to an affluent family and finished school in Smyrna. In Dresden, Germany, she studied music and painting and later photography because she was convinced that with this art she would be able to make a living on her own. Her teachers were two German photographers, masters of their kind, Hugo Erfurt, a famous portrait painter, and Franz Fiedler, a free-spirited modernist. In 1922 her family moved to Greece and as she was deeply wounded by the disaster – even though she was in Germany at the time - she never visited Turkey again. 
After she returned to Greece, in 1924, she made her first studio on Ermou Street. She photographed Athenian people, houses and neighborhoods, refugees in their camps, ancient Greek monuments, caryatids (and even their backs), statues, the Acropolis, the Parthenon; everything about ancient Greece that fascinated her.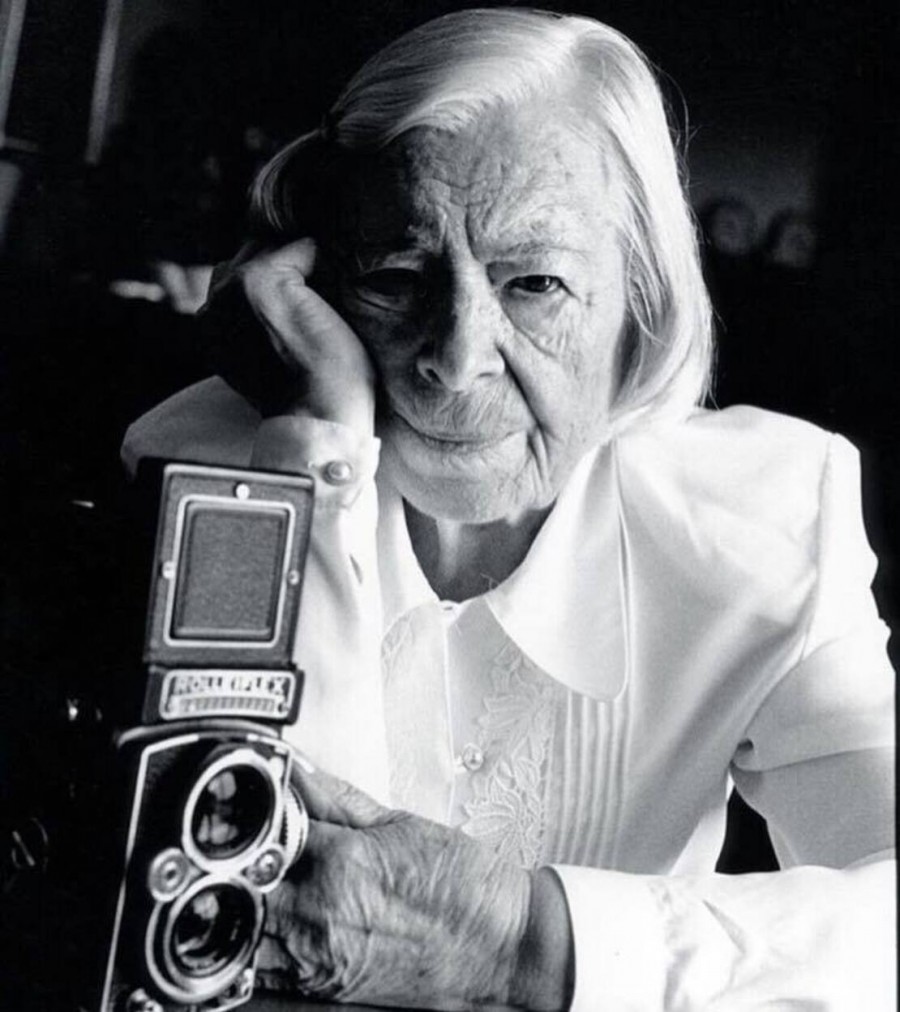 As a photographer, Elli Sougioultzoglou-Seraidari, combined organisation with consistency. She was open to new ideas and had really high aesthetics. She was perhaps "conservatively unconventional". She worked and asked to learn the art next to photography professionals. 
Later she became interested in photojournalism. She was always restless and was looking for new styles and methods and she knew how to learn. She was a special talent in both photography and education because education also requires talent.
Long before the sewing houses, Elli Sougioultzoglou-Seraidari conceived the idea of ​​photographing the famous ballerina of Opera Comique, Mona Paiva, on the Acropolis, and made her idea a reality. At some point, these photos were published in a well-known French magazine, causing backlash. After strong debate, Pavlos Nirvanas supported her and the reactions subsided. 
Without a second thought and despite the disruption of the first subversive venture, she proceeded to other similar photographs with the Hungarian ballerina Nikolska as her model, but this time, covering her "slightly". She also worked with other well-known artists in the theater of Dionysus. The photographs of Nikolska were displayed at the Paris Photography Exhibition in 1936. Nudity was never repeated. 
She also collaborated as a photographer with Angelos Sikelianos and Eva Palmer at the Delphic festivals and was in fact the exclusive photographer of the second part of the festival in 1930, a job that suited her ideologically as she herself loved the ancient Greek culture.  
Elli Sougioultzoglou-Seraidari was completely devoted to the art of photography and perhaps that is why she excelled in her field. She had a modern look, she was looking for anything new, she was weird!
She collaborated with the Press and Tourism Office and made many trips throughout Greece promoting the country and depicting farmers in their villages and workers at work, along with their habits, customs, traditions and clothing. In a few words, she captured with images, perhaps unprecedented for many, the Greek countryside from end to end. Consequently, her photographs are an artistic treasure, a unique legacy and a photographic journey to Greece near the end of the 1930s.
The war forced her to make the decision to stay in America where she had moved shortly before it began. She lived there with her husband until 1966. At first, life in New York was difficult, but she made it. She started collaborating with Life magazine, shooting weddings and Greek celebrations, as she was also connected to the Greek community. Thanks to her great education and knowledge of foreign languages, she became part of the cosmopolitans and the upper class of the city.
Katerina Koskina writes about Elli Sougioultzoglou-Seraidari:
 "The city of New York also gave Nelly the opportunity to capture important moments of its construction and snapshots of the movement of its streets and squares. Thus, with two very important photo series, "Easter Parade" and "Streets", she surprised her new teacher and proved that in addition to fixed sets, she is able to give a new opportunity to the study of architecture".
Elli Sougioultzoglou-Seraidari will always be remembered by the Greeks, as a wonderful portrait of a photographer who painted Greece with her lens. 
Greece is no more the Greece of "Nelly's", but that's a different story. 
Mrs. Elli Sougioultzoglou-Seraidari was pretty lucky too… She managed to turn her hobby into a profession and made a living from it. Clear, with zoom and without blur. And of course, using her permanent signature, "Nelly's".
 
#HerStory