An award-winning photojournalist, a warm man, a passionate professional, a charismatic personality with many sensibilities that made many people cry when he left us.  
By Mia Kollia
Translated by Alexandros Theodoropoulos
Yannis Behrakis was born in Athens in 1960. He studied photography at the Athens School of Arts and Technology, and at Middlesex University in London. In 1988 he joined the Reuters staff and covered shocking events around the world - from the crisis in Libya in 1989, the conflicts in Afghanistan, in Africa, in Chechnya, until the catastrophic earthquake in Kashmir and the uprising in Egypt, in 2011. 
He believed that a photograph could change the world. And his photographs have definitely made history. 
Yannis Behrakis experienced first-hand the events he photographed. In the late 1990s he stayed in Kosovo for years during the Yugoslav civil war. 
But in 2008, he moved with his wife and his 11-month-old daughter, for a year, to Jerusalem, as director of Reuters for Israel and Palestine. In 2016, the iconic photojournalist and his team were honoured with the Pulitzer Prize for their coverage of the European refugee crisis. 
One of the shocking photos engraved on his memory from that period was taken in Idomeni during the winter of 2015, featuring a father carrying his daughter in his arms, in the rain, on the road to "freedom". 
"There were so many moments that moved me, that made me feel part of the whole thing. Because there is also something else that I will never forget. I, like many other people, have refugee blood in me. My grandmother was a refugee from Smyrna and she told me what her family had been through. So, I understand very well what the refugees are going through", he has said adding:
"My mission is to tell you the history, so you decide what you want to do with it. My mission is to ensure that no one can say, 'I didn't know'."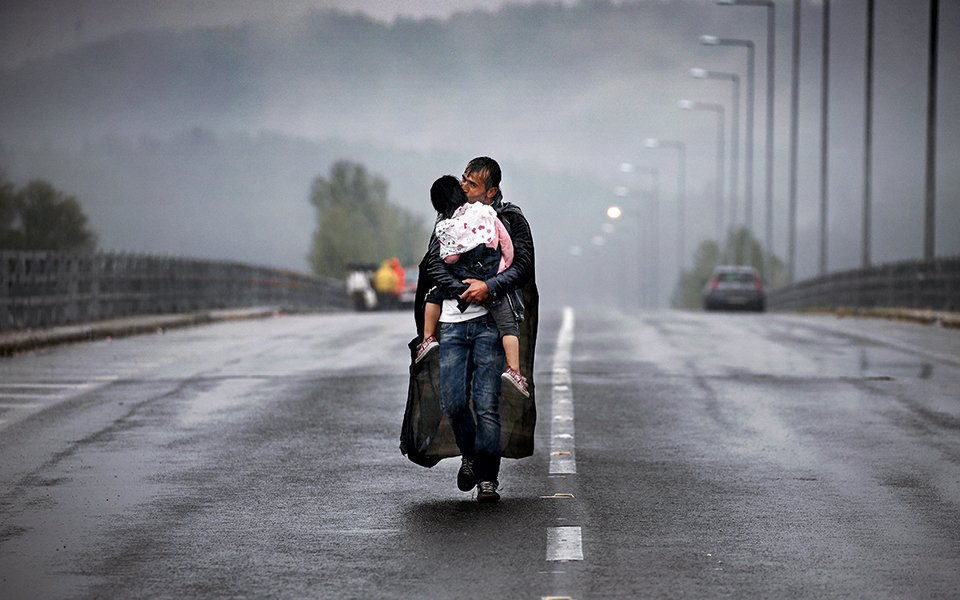 These words by Yannis Behrakis reveal his purpose; his determination to reveal to the world what has happened in war-torn and crisis-ridden countries. He believed in the power of image that could attract the attention of the world and even change its behavior. He was the man who awakened, sensitized and shook souls and consciences. 
One of the most important moments in his life, he said, was his first mission to Libya during the Gaddafi era in 1989. When the Libyan military visited a hotel where journalists were staying, Behrakis managed to capture unique images which the next day appeared on the front pages of newspapers around the world. 
Another shocking experience was when he came close to death in Sierra Leone in 2000, as he covered the civil war. Going through the jungle with convoys of government soldiers along with colleagues from Reuters, they were attacked by the insurgents. Two of his colleagues were killed, while Behrakis and another man managed to escape as they dragged and hid in the jungle until the gunmen left. 
"I photograph pain and violence, but also hope. Because always through these photos and in these topics that I do, hope never dies. There is always that man who helps, tries for the best, gets sacrificed, and that keeps the hope alive", Yannis Behrakis has said. 
He died of cancer in March 2019, at the age of 58. His colleagues who worked alongside him in the field have said: "You will not find anyone so devoted and focused. Yannis was someone who would sacrifice everything to capture the most important image." 
He was awarded many times for his work in Greece and abroad, while in 2015, he was named best photographer of the year for the Guardian and, in 2016, he won the Pulitzer for the way he covered the refugee crisis. 
 
#HisStory