The award-winning sculptor, creator and teacher of miniature sculpture, Michael Kontraros, shows us the unknown world of miniature sculpting in Greece, which hides beautiful creations that stem from a demanding and at the same time very interesting art.  
 
#sculpting #sculpture #miniatures #art #culture
By Alexandros Theodoropoulos
- At the moment you are the most famous creator of miniatures in Greece and one of the most awarded in the world. How did it all start? What was your first motivation to get involved with miniature sculpture?
I think the beginning was when I was very young and I was walking outside a store and I saw in a window a miniature airplane that impressed me. Later in school, I was quite influenced by my art teacher, who suggested that we pursue this field as a hobby. And so I started by going to a modeling / miniature shop for the first time to see what I would buy.
In that shop the clerk completely changed my way of thinking and my later course. He carved miniatures himself and suggested that I start making them myself instead of buying them and just painting them. And that's how it happened. I took the clay that he gave me as material and so I made my first miniature.
Since then I have always had it as a hobby and made various miniatures such as airplanes. I didn't make my living from that in the beginning. After school I went to Vakalo College to study graphic design. So there I did my bachelor's degree as a graphic designer and then I opened a graphic design office. I did postgraduate studies in Graphic Design and Interactive Media & Graphic Design and so I lived initially as a graphic designer.
-When did you first get your creations abroad and what followed?
My first experience abroad happened when I was still considered an amateur doing his hobby. It was at the Expo (World Model Expo Contest), the international miniatures/modeling competition where that year, in 2011, took place in Switzerland. I was 31 years old then. And that was it! We won the world prize in the first time. I carved some miniatures after I had first thought of the concept, I made the composition and my collaborator, Christos Panagiotopoulos, painted them. That's how we won the world prize, the so-called Best of Show award, really out of nowhere. And 30 more such awards followed.
-When did fame and recognition come and how did you manage it?
After our first big victory I saw on different forums people asking who Kontraros was and where he came from and won such an award. And so I was stubborn. I wanted to prove that it didn't happen by chance and that I deserved to be there. I immediately booked a place for the next exhibition in Italy two months later, where I also won the Best of Fantasy award. From then on, I was invited to various exhibitions and seminars in Europe and America. 
When I started seeing recognition, I chased it. I was spending a lot more time on it and I started to be more focused there. It was also something I really liked.
I reached the top with the three big titles I won. The title of GrandMaster awarded at the oldest miniature competition, the Miniatures Figures Collectors of America (MFCA) in Philadelphia, the title of World Master given at the Expo and the title of Grand Maestro awarded in Italy at the Monte San Savino Show of Tuscany. These titles are given to someone for their overall contribution to the field of modeling and miniature sculpture.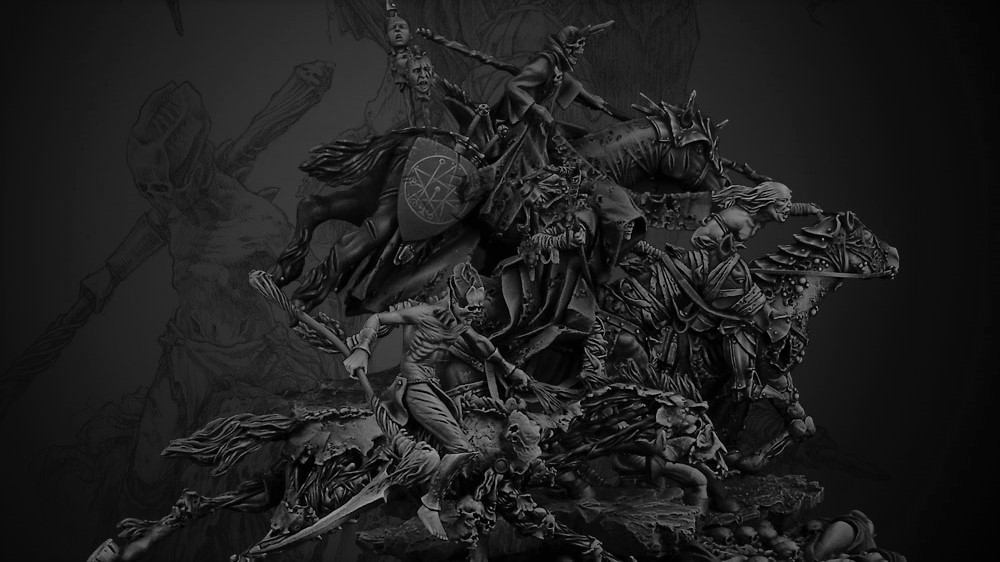 - And little by little you left graphic design and devoted yourself completely and professionally to the production of miniatures, sculpture and modeling?
In 2011 when all this happened we were amidst the crisis and as a profession graphic design had begun to decline, so then I made the transition and made this company here, where at first I carved figures and made miniatures and put them into production. As time went on, I put aside graphic design more and more to dedicate myself to what turned from a hobby into something semi-professional and later completely professional.
Around 2016 or 2017 I saw that the sculpture and production of miniatures I did was now entirely economically viable. In essence, I have my workshop which also functions as a store and the e-shop where I accept orders from collectors and modelers. Mostly my clientele is from abroad.
- For a few years now you have had a workshop for teaching miniature sculpture. How did you start teaching your art and having student classes?
At first it started as a joke mostly, because some friends asked me to start teaching them the art of miniature sculpture. And so little by little my first class was created in 2016 and since then we continue dynamically.
- How is the lesson and sculpture done in the class?
Now we have a class that isn't defined by age, that is, we do not have such restrictions at all. In the beginning we start from scratch. I show students what materials we use, what are the basic carving techniques, etc. Later, each student works more individually because he/she is focused on what he/she is going to create. Everyone has a specific project and proceeds at their own pace. I think I am on top of everyone to help and give instructions. Everyone has their own office, their own space in the laboratory and sometimes I stop them to talk to them about something that concerns them all, for example anatomy.
-You are tired of counting awards! What else do you want to do in this field that you haven't yet achieved?
What I haven't yet managed to do and I would really like to do is to get involved with cinema. That is, to use my art in cinema as well. More specifically, I would like to deal with concept sculpting for fantasy films, that is, the creation of figures or characters in miniatures, which a film director examines and decides that he/she wants to use in building the characters of a film.
This of course concerns fantasy films such as Avengers, Spiderman, Star Wars, Pirates of the Caribbean, etc., where experienced sculptors undertake to carve into miniatures the possible versions of the characters and present them to the production and the director.
-What would you advise a young person who wants to deal with miniature sculpture and modeling?
Hard work, patience and attention to detail. Consider that a relatively complex miniature in great detail needs about 4-5 months to be completed. Carving only takes at least 2 months with an average of 6 hours of work per day. It's a difficult but also a very beautiful art.
 
#HisStory