It is certain that someone with talent has got what it takes to reach success anywhere, but without hard work, unfortunately, talent will always remain just talent. Leading sommelier, Lefteris Kandylis, always tries to follow the advice of legendary Greek philosopher, Aristotle: "We are what we do repeatedly. Perfection is not an act but a habit."
 
By Mia Kollia
Translated by Alexandros Theodoropoulos
How does a young child decide to engage in something so specific? Can you recall any early stimulus for wine?  
The first contact I had with wine may not have been the best. I remember being around 14 when I first tasted wine from my father's glass; homemade wine, in bulk, made by the grandfather who bought grape must every year and made wine in his precious old barrel. A wine that had neither a particularly aromatic intensity nor a pleasant taste in the mouth, left me clearly indifferent and puzzled about how adults can enjoy it. But some years later, my cousin gave me a wine that would completely change my mind. And then came the first great lesson. How can a Pouilly Fumé be so different in taste from a Pouilly Fuissé? But they are different varieties! What; Varieties; Are there different varieties? That was it, I was fascinated by the world of wine and then I wanted to know as much as I could. I imagine that this world is not for everyone, it is for those who have the passion of gastronomy. These people like games of taste, contact with people, discovering different cultures and people. Food service and wine are interconnected worlds. And that was the greatest attraction for me. I wanted to discover the world and travel - and I do it through my love of wine.
 
What have been the biggest difficulties throughout your journey?
The biggest difficulties have to do with long working days which unfortunately were not well paid, at least in the beginning. It is well known that working in the restaurant and wine industry doesn't make you rich, at least financially. It makes you mentally rich though; full of memories of wonderful and generous people who just want to have a good time and show you what they produce and how they grow grapes from scratch into a bottle of wine which can be the occasion for great discussions and the most essential moments. It's not accidental that the Western culture and philosophy that was actually born in our country, was expressed through wine drinks and symposia. But I always have in mind that difficulties are the ones that make you stronger and produce your best result. Like a vine; when it feels stress, devotes itself to its fruit. 
How competitive is your field and how is a Greek in your field treated abroad?  
Every field is competitive but I believe that in the field of Oenology and gastronomy in general, things are somewhat different. There is sportsmanship among us and a sense of understanding. Maybe because we all know what it takes to succeed - hard work and extra hours, the sacrifices you have to make. In the wine competitions I have participated in, I've made some great friends, maybe because the actual competition is not with the rest of the participants but with your bad self. First you have to defeat your bad self and then show the world who you are.
Going back to the question about my origin, I am lucky because I haven't felt underestimated due to the fact that I am Greek. There is meritocracy in Britain and if you are good at what you do, you are given all the opportunities you need to go ahead and take bigger steps. Most companies actually invest in staff training and put a lot of emphasis on this. But the truth is that recent events on the other side of the Atlantic have shown us that we definitely need an even greater effort in terms of women's equality in the field and the acceptance of people from different ethnic groups. It is up to us to accept and welcome multiculturalism into the field and to make the profession more diverse and open to everyone regardless of race, colour and gender.  
Are Greek wines really that good? What makes a wine good?
Really big steps have been taken in our country in the last 30-40 years in relation to the field. The image that our country had abroad was not the best. But today we can talk about the dynamics of Santorini, the uniqueness of Xinomavro, the multidimensional character of Agiorgitiko and many other areas of Greece with their unique varieties that have become the best ambassadors abroad. Now there is great interest in indigenous varieties and what Greece offers is value for money. And to be better understood, we don't have really low prices nor the quantities to flood every super market in the world, but we offer wines that are worth consuming in the best restaurants that will have them on the list of the most attractive prices for their customers. And there I think we are now very competitive.  
Unfortunately, in many areas prices have skyrocketed in the last decade and perhaps this is an opportunity to fill this gap.
What are your favourite varieties? What do you have to say about organic production?
My favourite varieties are Riesling and Pinot Noir. Give me good Burgundy and take my soul as we say. But, I also love Chenin Blanc, Syrah and Nebbiolo. Of the Greek varieties, I especially appreciate Assyrtiko of course and Robola from the white ones, while from red ones I would say that Xinomavro, Agiorgitiko and Limniona are probably my go to reds. However, I like to see more and more vinifications lately from lesser known varieties such as Kidonitsa, Zakynthos or Vlachiko and others that need special attention. Greece has a powerful advantage and that is our indigenous varieties.
A good wine is like a good concert. There is harmony and balance. And the more intensity, richness and duration it has, the more seductive it can become, to the point where your mind wanders and recalls different flavors and memories.
Finally, I'm really glad to see even more organic productions. As human beings we have reached an incredibly critical point. We need to think about our actions and do the best for the planet. By taking care of our soils and the aquatic environment, we are essentially protecting ourselves and our existence. Organic and biodynamic productions are the future. It is no coincidence that some of the best wines in the world are products of such a philosophy.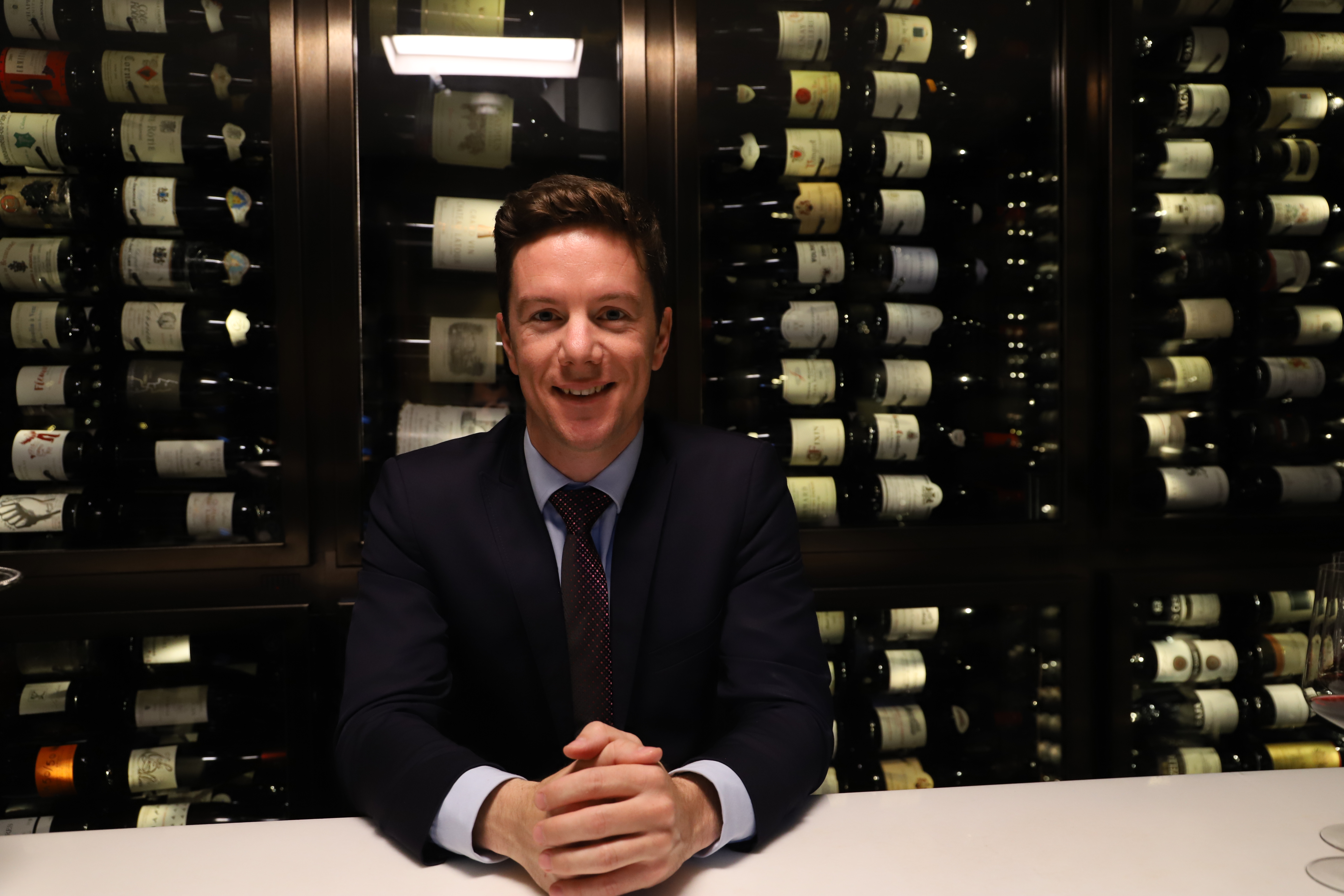 Awards and distinctions; can you tell us the highlights of your career? 
Winning the competition for the best winemaker in the UK, in 2016, was definitely one of the most important moments in my career. Also, my participation in the European competition and my qualification to the semifinals, which is the best Greek place so far in an international competition, is something that makes me very proud. I hope more will follow.   
Favourite destinations for work? Is your job also fun?
There is no wine-producing area that doesn't have natural beauty. And I really feel lucky that I made my hobby a profession. I go quite often to France, Spain and Austria, countries where I have several friends.
I have also visited California and Australia several times. But I will never forget the first time I went to Burgundy. "A little wine, and a little sea", as Marinela sang and these lyrics show that often our work includes fun. But many times, some of the trips are full of appointments and long distances to be covered, which can become very tedious.
To give an example, in the most recent trip to Australia, in 14 days we covered over 16 wine production zones, with at least 3 visits a day, tasting over 1000 wines in total! "Tough, but someone has to do it", as we say here. Definitely one of the best trips of my life.
Do you need to constantly update your knowledge? Do you attend seminars or lectures? Do you teach and give lectures?
"Live and Learn", said Solon, something that fully represents the philosophy that one must have in our field. If you don't refresh knowledge and keep up with developments or even trends, then you risk being stuck in the past in a world that is moving really fast.
The wine map is much larger than it was 30 years ago. There is also a great deal of research being done by universities around the world, with significant improvements in many areas, from cultivation and winemaking to bottling and business.
The role of the teacher is present on a daily basis regarding the colleagues in the team. This can range from ten-minute presentations of a new wine on the list to an all-day discussion around a wine-producing area.
I have also made several presentations and speeches, many times as a guest, to talk about the Greek vineyard. The two most recent were in Texas and London, where the most exciting seminar (over 350 people on the waiting list) was held with 80 guests and famous names of the field who wanted to learn more about Greek wine.
In 2015 Lefteris Kandylis won the award for best sommelier in Greece in the Panhellenic Wine Competition, while in 2016, he was named the best sommelier in Great Britain in the Moët UK Sommelier.
 
#HisStory