Nikos Engonopoulos, the painter of dreams and the elusive poet was one of the two main exponents of surrealism in our country, along with Andreas Embirikos. 
 
By Mia Kollia
Translated by Alexandros Theodoropoulos
Nikos Engonopoulos was born in October 1907 in Athens and completed his basic studies at a Lyceum in Paris. He returned to Greece in 1927 to complete his military service and later he worked as a bank translator and clerk at the university, while in 1930 he was appointed to the Ministry of Public Works as a designer in the Cities Planning Directorate.
Engonopoulos and the people of the arts
In 1932, Engonopoulos enrolled in the School of Fine Arts under the tutelage of Konstantinos Parthenis and studied in the laboratory of Fotis Kontoglou, meeting Yannis Tsarouchis and Dimitris Pikionis. He also studied as a free and independent student in Paris, Vienna, Munich and Italy.
He taught painting, art history and scenography at the School of Architecture of the Technical University of Athens from 1938. At the same time, he met other important artists, including Andreas Embirikos, Yiannis Moralis and Giorgio de Chirico.
Paintings with colors, shapes and words
In 1939, Engonopoulos held his first solo exhibition. With influences from the metaphysical world of De Chirico and the transcendence of Byzantine art, he tried to express the universality of Hellenism. A year earlier he had published his first collection of poems entitled "Do not talk to the driver", which provoked strong reactions. Some critics ridiculed him, believing that his writing had no deeper meaning.
His only defender was Andreas Embirikos, who wrote to him: "Nikolas Engonopoulos, in this world, two are the greatest and most valuable elements, Eros and the Sword. Everything else just follows and last of all follows criticism. You are a really great poet, so let others say whatever they want". The two of them have since formed a strong friendship.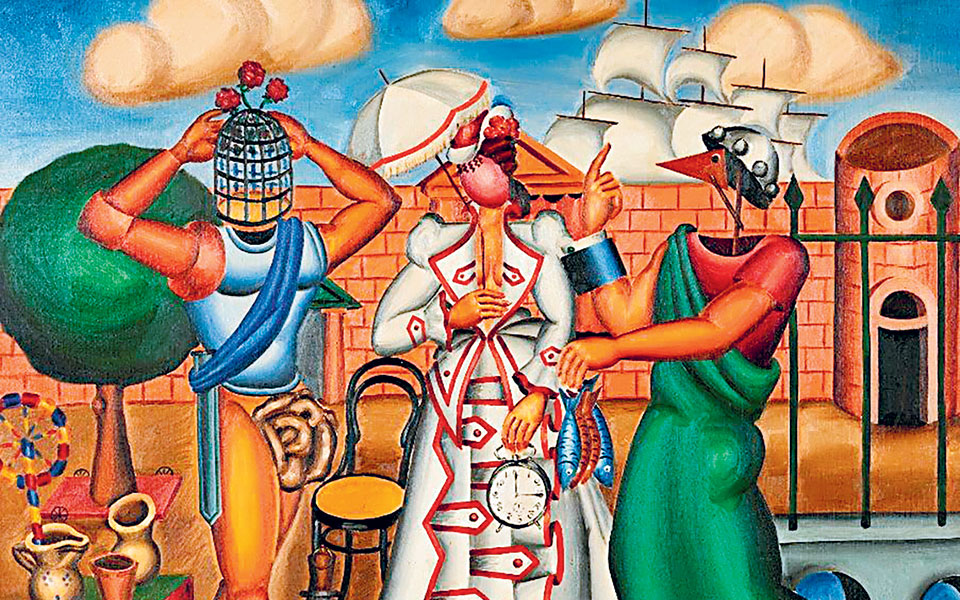 Bolivar, academic years and awards
In 1941, Engonopoulos fought in WWII, in the Albanian front and was captured by the Germans. He was taken to a labor camp, from where he escaped and returned to Athens on foot. In 1944, with fresh memories of the war, he presented "Bolivar", the peak moment of his poetry. For this poem, however, Engonopoulos was chased by the Germans and found refuge in the house of Embirikos, where he stayed in the basement until the end of the war.
In 1945 Engonopoulos started a university career in NTUA as an assistant in the Department of Decorative and Free Design and in 1969 he became a professor. His academic career ended five years later after his retirement. In 1958 he was awarded the first State Poetry Prize for his poetry collection "En Anthiro Ellini Logo", while in 1966 he was honored for his painting with the Golden Cross of George I.
"I am a painter by profession": With this phrase Engonopoulos began his autobiographical notes in the first edition of his collections, in 1966. The main elements of his painting were Greek mythology, the Byzantine tradition, the uprising including "fustaneloforoi" and "armatoloi" - elements of Greek tradition and history. Following the course of surrealism in Europe, the Greek painter was fascinated by De Chirico and appreciated Dali.
"I've never joined surrealism because I had surrealism in me, as I had the passion of painting in me, from the time I was born", he said at the opening of one of his exhibitions. 
Nikos Engonopoulos loved books very much. When he didn't like a book, he would go to a park and leave it on a bench, because he believed that many people would come to pick up the book and love it.
During the last years of his life he experienced new honors as a painter, with retrospective exhibitions of his works, while he also saw his poetic work translated and set to music. He died in 1985 after a heart attack and his funeral was held at public expense in the First Cemetery of Athens.