Daphne Karaiskaki is an internationally acclaimed architect with deep knowledge, charisma and complete dedication to her passion. And she is just 36 years old.  
By Mia Kollia
Translated by Alexandros Theodoropoulos
#art #culture #architecture
"I haven't had time to implement many projects so that I can choose the most important ones. Theoretically I am too young to have a great project to show. The production of architectural work is a slow process. The study of the school that we are now building in Switzerland started at the end of 2019, the construction site started a few days ago and we hope to complete it in September 2023. In 2015, as a lead architect for the Renzo Piano Building Workshop, I started studying a large Center for Arts and Culture in Russia, which was completed just two months ago. "These two works, although very different from each other, have one thing in common that I stand out in particular: they express and symbolise the community that asked for them without the architect having to move away from his/her values."
What were your dreams as a teenager? Did you know what profession you want to pursue in your life?
From a young age, I was dreamy to an extreme degree. I created a world of my own and painted well. So in adolescence, my teachers used to tell me, stereotypically, to get involved in painting. Growing up I developed a strongly pragmatic side but also a need to solve problems based on specific data and context. Then, came to me the romantic idea that by implementing the space in which we live, we shape life itself. So, I realised that the mind wandering is a key creative asset for an architect and not a brake. From that moment on, I didn't want to do anything else. My desire to become an architect became an obsession.
What do you think is the main role of an architect and what skills should he/she meet in order to properly achieve his/her goals?
The main role of the architect is to create social, cultural, economic and environmental value added through the design of the space. Our role as architects is to give meaning to the work as well as the coordination and management of the many special factors, in order for the "meaning" we have chosen to give, to survive until the implementation of the project and possibly to shape and change social, economic, cultural and environmental data. 
             
Every architect is different and their goals do not necessarily coincide with the goals of their colleagues. My goal was first to turn my dream into a goal, to bring it closer to reality, to take it away from fantasy. This dream, quite traditional and somewhat authoritarian, has been to be able to bring to life the buildings and structures that I envision in the way that I envision them, not on behalf of someone else.
What were the biggest difficulties you faced, how did you overcome them and what did they teach you?
The biggest difficulty and at the same time challenge I have ever faced, was my admission to the school of architecture. As a dreamy teenager I was often absent from class. This absence brought unstable performance and misunderstandings with my teachers. My desire to become an architect was determined, strong and unwavering. Almost my whole family environment was trying to stop me and direct me elsewhere, as my dream "required more discipline, ability, stability and intelligence than I had." I gathered as much inner strength as I had, I believed in myself, I went against the flow and gained access to a subject I love and that makes me fulfilled.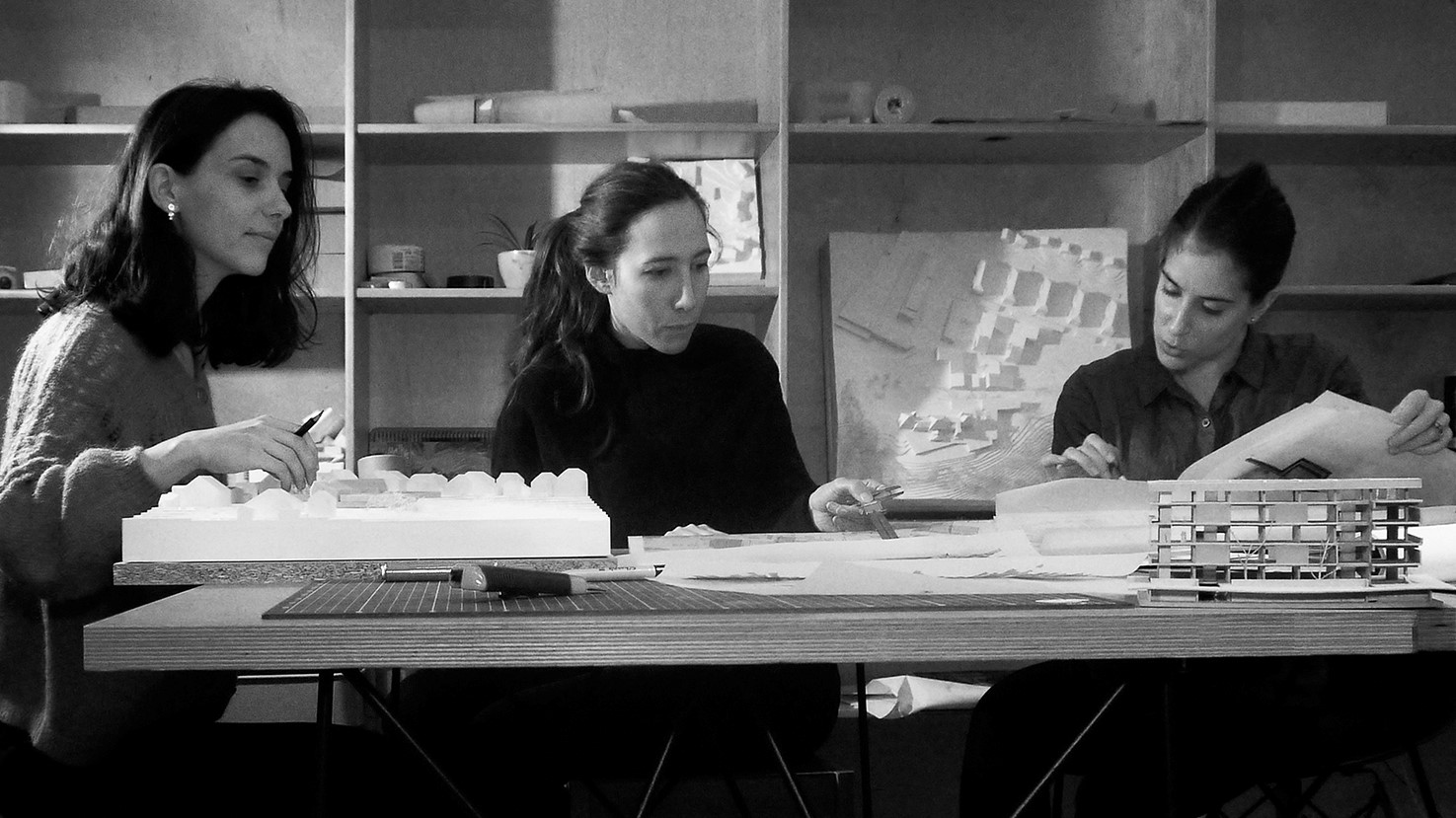 How did you manage acceptance and recognition in such a demanding sector?
I am at the beginning of my career and for me recognition is not an end in itself. It's a tool that, as a communication element, will give me a job, and therefore the opportunity to have an active object of study, to produce and to evolve. My ambition has more to do with the object itself and not with how it is perceived by an audience. This doesn't mean that I don't need acceptance but that is covered by colleagues, family and friends.
What is the secret to good team management?
I will be completely honest. Managing people and teams is one of my biggest weaknesses. But we can work on our weaknesses and possibly if I am asked the same question in a few years I will have a better answer to provide. However, I have the impression that the secret has to do with empathy, strategic thinking, composure and a lot of patience. 
Does knowledge of history and art history play an important role in your work?  
Knowledge mainly of history but also of art history is a necessary condition to understand the context in which we are called to intervene. Without this knowledge it is difficult to understand in depth the needs of the community we serve. Many times we are almost in danger of offending the community and the standards we serve. So in this case, the intervention and the operation won't be integrated properly and will die quickly.
Which schools of architecture and which architects have inspired you?
I was shaped by the education I received at the polytechnic school but also by my complaints about the shortcomings I identified. This was also one of the many reasons I left Greece. 
My references are to the adoption of small pieces of a school or trend and my purpose is their creative composition. Architects who have influenced me are Takis Zenetos, whose work expresses many of the values ​​that are important to me: vision, excellent scientific training, prediction of future conditions, flexibility, functionality, morphological purity, the participation of the customer in the design and more. Zenetos hardly joins a specific movement. Was he a modernist? Was he a constructivist? A High-Tech? It matters little to me. 
What excites you about the school project?
I happened to win an architectural competition for a school compound. And the truth is that the subject of school moves me and motivates me a lot. When architecture is addressed to children, which are the most flexible group of users, the possibility of influence is multiplied and, accordingly, the responsibility of its management is multiplied.
Next, a school, both as an institution and as a building, concerns a very well-defined community. Through the design of a school we automatically express a proposal and an opinion about the values ​​of this community, the relations between its members and their needs.
I guess you are never complacent. How do you reach a balance between modesty and self-confidence?
If we consider that the antonym of modesty is arrogance and the antonym of self-confidence is insecurity, I would say that modesty is a product of self-confidence while arrogance is a product of insecurity. Therefore, modesty and self-confidence are not opposite concepts; they are associated with a mutual connection. Self-confidence is the result of so many components (mostly environmental), which I could hardly name, as psychology isn't my field. 
Regardless of the environmental influences and the personal history of each person, the basic tools for gaining self-confidence and modesty are the correct assessment of our strengths and weaknesses, the investment in our skills and especially the knowledge of our limits. These are exactly the elements I am trying to develop.  
 
#HerStory