Passion for what he does is his driving force and it seems that by using that passion and dedication to his art, he manages to succeed internationally in such a competitive field as that of film editing. 
 
By Mia Kollia
Translated by Alexandros Theodoropoulos
"In the 20 years I have been doing this art, I have devoted so much energy and so much time that if I didn't succeed, it would mean that something very wrong is happening to me", he says.
Yorgos Lamprinos is the Greek film editor who was nominated for an Oscar for best film editing at the 2021 Academy Awards, for the film "The Father" by Florian Zeller, starring Anthony Hopkins. This is a special case. In a field like editing, where Hollywood is full of the best and most experienced film editors, with talent and knowledge on this ever-evolving art, you have to be very special to reach the top five of the Academy Award nominations, let alone being an unknown artist in America. And yet, Yorgos Lamprinos managed to find his way there.
His father Fotos Lamprinos was a producer of historical documentaries, his mother was a writer and his grandfather, journalist and writer, was lost in the Civil War. His family certainly influenced him in the course he would take, but as a child he didn't want to follow in their footsteps. 
Yet, life somewhere there changed his course - nothing is accidental. His first love was music. When he was around twelve, he played the trumpet and later the electric bass and loved playing music with his friends. Around the age of 19, Yorgos happened to be in an editing room and as he said, although he didn't know exactly what was happening, he felt as if he was at home and saw the connection that editing can have with music.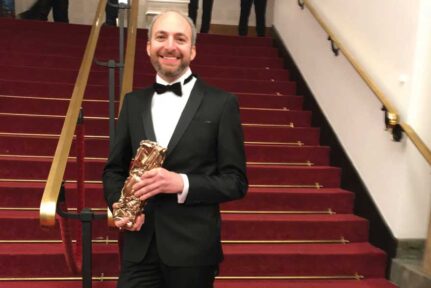 He left Greece at the age of 23 and went to Paris to find a job, even though he didn't know the language. In the area where he lived, there was a production studio and so, one morning he went to ask for a job, ending up staying there for twelve years! 
He did everything, from editing and sound editing to visual effects and much more. Without underestimating the value of studying at a film school, Yorgos had the opportunity to meet amazing technicians and artists and learned this way. As he says: "in this job it is really important to be in the right place at the right time and to work hard. Above all, you should feel passionate about what you do otherwise you won't succeed because there is huge competition". 
Many people think that film editing is not a big deal, as you just have to bring some scenes together. On the contrary, the opinion of Yorgos Lamprinos, deriving from his experience, is very different: "It is extremely complex. There is a technical part, there is a creative part that is important and there is also the emotional part, which is extremely important. Cinema is a team sport that requires all the energy of the people you work with. It's not something you can perfect one day, but you are definitely constantly evolving, because it's an art that offers you a lot. It helped me to distance myself from things and especially from stress. Editing is something so complicated but also so exciting that you will definitely never get bored!"
Yorgos Lamprinos lives permanently in Paris. He has collaborated with Costas Gavras in "Capital". In 2015 he won an Iris award for best Editing by the Hellenic Film Academy for "Xenia" by Panos Koutras and in February 2019 he won a Cesar for Best Editing for the film " Jusqu'à la garde" by Xavier Legrand.  He has collaborated with Evangelia Kranioti in the excellent documentaries of "Exotica, Erotica, Etc." (2015) and "Obscuro Barroco" (2018). He is currently editing "Broadway", a feature film debut by Christos Massalas.  
#HisStory