Marilita Hatzivasiliou can see up to one million views on one of her videos.
She may manage restaurant chains in London. And she can raise children
while working with dedication her passion.
By Mia Kollia
From fashion to taste – what steps were taken on this journey?
I studied fashion design in Athens and textile design in London. Then I got involved in the clothing trade in Kolonaki, Kifissia, and Mykonos. I closed the business when I had my first child and decided to devote myself to him. A year after my second child, I started the cooking blog Gourmelita. In 2016 I moved to London. For the last seven years, I have been working at the Fulham Shore group as Marketing & Social Media Executive for The Real Greek, the only chain of Greek restaurants in England, opening its 26th restaurant in Edinburgh in a few days. In addition to my daily involvement with The Real Greek, I am involved with @gourmelita on Instagram and Tiktok, my favorite social media platform!
What was the moment you realized your love for your subject, and how?
I've always loved cooking, and it played a role that I grew up in a family where cooking, feeding others, and eating well was essential. From a young age, I was excited to discover new cuisines and flavors on our family trips. Food blogging was the logical evolution since, after my sister's urging, I started to record my recipes and the family recipes so that I could remember them and give them to anyone who asked me, a relative, or a friend.
Have you chosen a professional space that embodies all your love and gifts?
I am artistic in nature, and my childhood talents were corresponding painting, drawing, and photography, which gave me incredible joy. All this and my love for creation combined, and I became a food blogger. This profession combines many talents - from creating new, original recipes to photography, writing texts, and creating content for social media. The field of restaurant marketing combines all of the above - art - but also realism because you are called upon to deal with a completely different, organized, and corporate mindset.
What does it take to make one's dream come true?
To believe in himself and persevere, despite all the difficulties and adverse conditions, he will be called upon to face.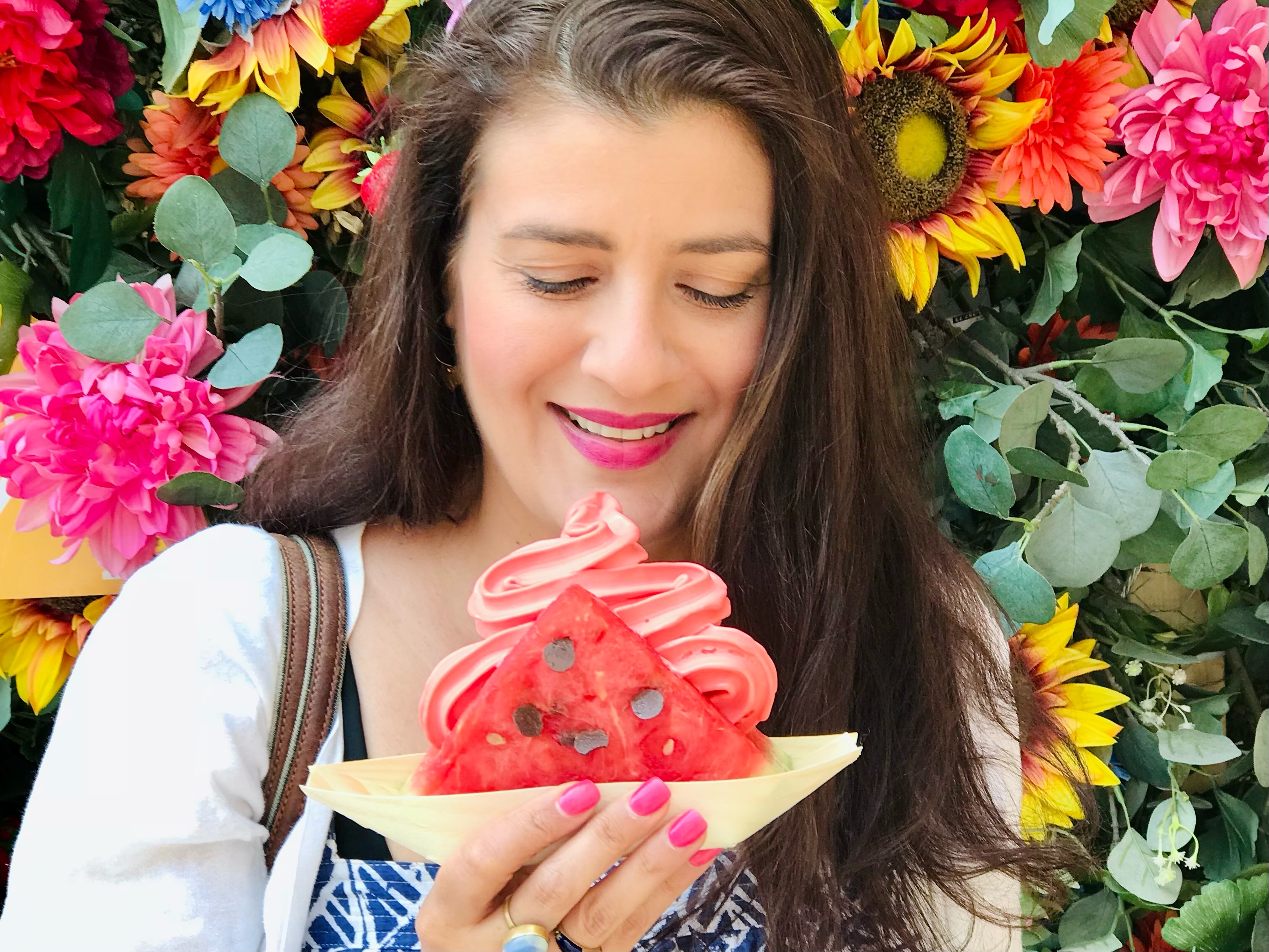 What were the most significant challenges, how did you overcome them, and what did they teach you?
Apart from the life change when I moved to London alone with two young children, it took me around three years to adjust to the English way of life. I learned to think differently and see things from different perspectives. You work in a field with immense competition and even abroad.
What do you think keeps you going, apart from talent, and how do you handle the constant pressure to succeed?
The competition is enormous in my field in London, and I feel very fortunate for the circumstances that have come my way and brought me to this position. But as far as the pressure to "succeed" is concerned, it's not something I count on. For me, any force is primarily about my children - the bet is whether their life here in London is advantageous over Greece. The success for me professionally is that at The Real Greek, we function like a big Greek family, and in my seven years at the company, I can now feel like an integral and necessary member of our team.
Greek cuisine and its course abroad. Myths and reality.
Greek and Mediterranean cuisine is in the foreground. I feel thrilled that through our 26 restaurants, we allow the British public to discover our cuisine's abundance of excellent flavors in recipes made entirely by us, with Greek ingredients - olive oil, feta cheese, and pulses. We constantly try to inform the public about our culinary customs by offering, for example, lagan on Shrove Monday, cod and garlic on March 25, and honey macaroni on Christmas, and we adapt our seasonal menus - Christmas Menu, Veganuary Menu - with unique recipes curated by the double awarded Michelin star chef, Nikos Karathanos. The myth in our case, while we make everything in-house, is that we are a "chain," and therefore, our food is not authentic. The funny thing is that, unfortunately, I have eaten in Greek restaurants in London where we were served dolmades and giants from a can - if you are Greek, you recognize the taste immediately... The improvement of our image abroad,
It has 100% to do with the recipes' use of "real" ingredients, authenticity, and originality. Fortunately, today in London, there are also some Greek restaurant gems!
How do you manage your reputation and success?
It took a few years before I established myself in England as a food blogger, and fortunately, I have made brotherly friendships with colleagues here and in Greece. There are few Greek food bloggers here, and I work in a very authentic Greek environment with tasty food, which has played a significant role in them trusting my opinion and suggestions. Also, my Mediterranean background has brought me collaborations with several food companies since there is always a demand for delicious Mediterranean recipes.
What is lifelike elsewhere, what do you gain, and what experiences do you stand out?
Life in London is magical for anyone who loves food. You can easily find authentic food from all cuisines, from award-winning street food to Michelin-starred restaurants. On the other hand, London can get very rough. Life runs at a fast pace. But this experience is a gain because you are forced to adapt, and eventually, you move forward! It takes a few years to make it here, but the reward is great.
Are there beacons in your life?
Some people stand by me when I need them, whom I know to love unconditionally and rejoice in my successes. My family and friends are in Greece, but also here in London. I feel fortunate to have a new "family," that of my work, and new dear friends.
What is missing from Greece for a professional, and what do you miss from Greece?
On the professional side, organization - for example, the ease of doing your tax return through an app in a few minutes. Transparency. Unfortunately, I understand the full acceptance of everyone in all jobs, and equality still does not exist in Greece. From Greece - apart from my loved ones - I only miss its climate, fish, greens, and pumpkins! I am lucky to taste them every summer on my favorite island of origin, Kasos.