Lili Zografou was a journalist, writer, essayist, playwright, political activist and ardent fighter of women's rights.
By Mia Kollia
Translated by Alexandros Theodoropoulos
"If you are young and unimportant, humility is servility; if you are great, it's hypocrisy. Be proud. Pride suits all heights".
Literary critic Demosthenes Kourtovik, commenting on Lili Zografou's autobiography entitled "I Syvaritissa" (The Sybarite), described her as "the dark goddess Hecate of our literature".
Lili Zografou was born on June 17, 1922 in Heraklion, Crete, where she spent her early childhood. She studied at the Catholic Gymnasium of Ursulines and at the Korai Lyceum and later, she studied philology in Greece and abroad. Her father, journalist and publisher Andreas Zografos, played a key role in her pursuing a similar professional career. 
During the Nazi occupation and while she was pregnant, Zografou was imprisoned for resistance activities at the age of 21, giving birth to her daughter, later poet Rena Hatzidaki, in prison. After the liberation of Greece in 1944, she worked as a journalist in many newspapers and magazines.
When the military junta took control of the country in 1967, Lili Zografou worked in the Recruitment Protocol, in the political staff of the Ministry of Defense. At the same time, she wrote articles for "Woman" magazine, promoting progressive ideas regarding women's rights.
In 1971 she published a study on the poetry of Odysseus Elytis, entitled "O iliopotis Elytis" (Elytis the sun-drinker). Although the great poet did not approve of the manuscript that Zografou gave him to read before publishing it, she boldly proceeded to publish it normally. 
In 1974, another of her works was published, entitled "17 Noemvri 1973 – I nichta tis megalis sfagis" (17 November 1973; the night of the great slaughter), which concerned the events of the Polytechnic uprising, in which she was an eyewitness.
At that time, she was living opposite the EAT-ESA building and hid every page of her manuscript in various parts of the house, so that the police wouldn't find it in any of the usual invasions.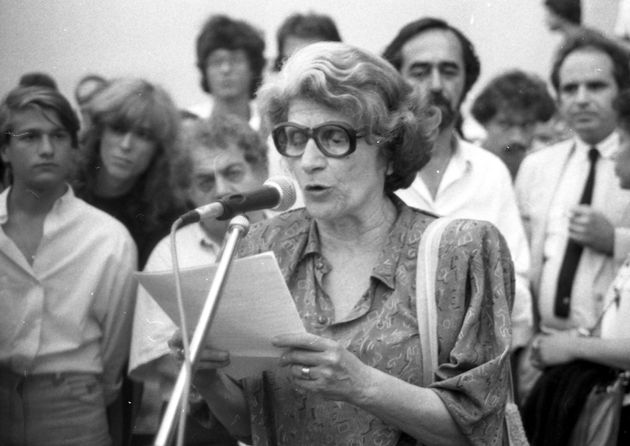 "If I was twenty years old again, I would start from the tops of the mountains, as a guerrilla, a robber, a pirate, to open the eyes of those who accept their fate without protest, as well as those who go blind. No, my revolution wouldn't be directed against the status quo and its system, but against those who tolerate it. I would kill, I would crush misfortune, submission and humility", writes Lili Zografou in her book "Epangelma porni" (Occupation Whore). It is a collection of autobiographical stories, describing the harsh personal experiences she had during the seven-year junta.
After the fall of the junta, she continued working as a columnist, writing articles for various media such as "Eleftherotypia". In fact, many of her works were published during that period, such as "I agapi arghise mia mera" (Love arrived a day late), "Nichtose agapi mou ine chtes" (The night has come my love, it's yesterday) as well as her autobiography "I Syvaritissa" (The Sybarite).  
Lili Zografou's literary work focuses mainly on women's struggle for independence, although she herself avoided adopting a feminist perspective. She addresses women not as a liberator but as a companion and calls on them to claim their personal freedom.
She was an unconventional writer and a special chapter in Greek Letters, because she dared to write her opinion without fear, either through her books or through her articles in newspapers and magazines.
In 1998, while on holiday in Heraklion, Lili Zografou suffered an acute stroke. She died a few days later, at the General Hospital of Heraklion "Venizelio".  
#HerStory