Aris Konstantinidis was one of the most significant figures of modern Greek architecture; an unusual architect who couldn't be compared with others. He could also be a writer or a poet but instead of words, he used stone, iron and concrete, building his vision in his own unique way.
 
#architecture #inmemoriam 
By Mia Kollia
Translated by Alexandros Theodoropoulos
Aris Konstantinidis was born in Athens on March 4, 1913. After his high school studies at the Varvakeio High School, he went to Germany, where he studied at the Technical University of Munich from 1931 until 1936. In addition to his university studies, he sought to meet new trends in architecture through personal study but also through trips to Germany, France, Belgium, Italy, Austria and Hungary, several of which he did on his motorbike. 
Upon his return to Greece, he worked in the Urban Planning Service (1938-1942) and in the Ministry of Public Works (1942-50). At the same time he travelled all over the country, with his camera and drawing scratchpad, in order to get to know the architectural language of his country. As he mentioned in an interview: "Why should I learn from others, when I can have as guidance what I'm keeping in myself? I know that they are genuine and true".
Thus, he studied "anonymous" architecture and captured it in his books such as "Two villages from Mykonos" (1947), "The old Athenian houses" (1951), "Modern true architecture" (1978), "Studies + Constructions" (1981) and "Theochtista". 
In 1951, Aris Konstantinidis married sculptor Natalia Mela and they had two children. From 1955 to 1957 he worked for the Workers' Housing Organisation. In the seven-year reign of the Greek military dictatorship, he taught at the Technical University of Zurich and later, he was head and special advisor to the Hellenic Tourism Organisation in the post-junta era.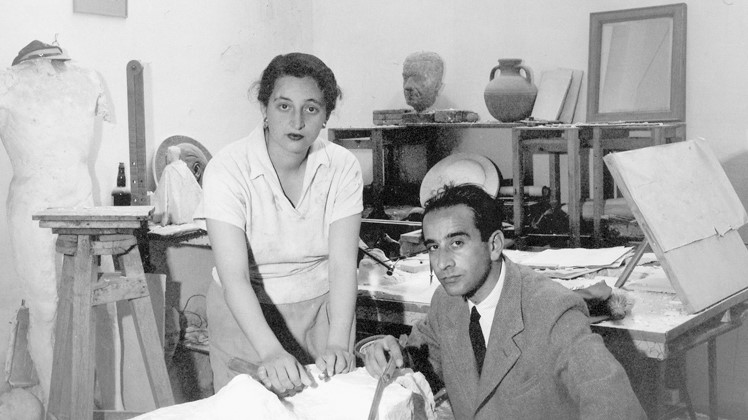 Aris Konstantinidis's first work was a holiday home in Elefsina, in 1938. After that, he designed and built: the working houses of Nea Philadelphia, Serres, Pyrgos, Heraklion in Crete and Agios Ioannis Rentis. He also made the pavilion of Epidaurus and eight Xenia hotels throughout the country - Kalampaka, Mykonos, Kozani, Olympia, Andros, Paliouri, Halkidiki, Igoumenitsa and Poros-, which were organically integrated into their environment and in fact, some of them have been considered designated monuments.
He built two museums, in Ioannina and Komotini, as well as the residence of the diplomat, art critic and collector Alexandros Xydis on Archimidous Street in Pangrati, the emblematic holiday home of Officer K. Papanagiotou in Anavyssos and of course the holiday home of Yiannis Moralis in Aegina. His works include the Pavilion of Nations at the Thessaloniki International Exhibition in 1954 and the entrance of the First Cemetery of Athens.
A core element to Konstantinidis's architectural approach and style was his attempt to interconnect modernism with tradition. He argued that a true architectural work is actually modern in terms of construction, but it's also "eternal in terms of its artistic identity."
When asked in an interview to suggest what a young architect should read, he said: "First of all, one should read Papadiamantis. Then, Cavafy and Solomos are also very significant. How to build houses by ignoring Solomos? Of course these are things which you learn by yourself, the Polytechnic school won't teach you things like that. I studied too, but I didn't limit myself to just my university studies; I went back to the streets and tried to get to know life better and to make real experiences".
Aris Konstantinidis wanted to make life more beautiful with buildings that respect man, nature and the urban environment. He believed that architecture was not a game of fashion. That's why sometimes conflicts with his clients were Homeric - although he used to admit that he was crabby as a character. He developed a clear architectural language, through which he built "Containers of Life", as he defined his works. He made simple and austere buildings based on necessary elements, avoiding any kind of frivolity. 
The great architect died in Athens in 1993.
#feature