Tatakis's magical pictures capture tradition in an extremely modern way. The international awards that he's won confirm his global influence and aesthetics and his kindness proves that the truly great should not only have talent but also a great character. 
 
By Mia Kollia
Translated by Alexandros Theodoropoulos
#photography #tradition #culture #art #greece
 
It is special and rare for someone to deal with both the image of the past and the tradition. And his story is pretty interesting. George Tatakis was born in Athens. His mother comes from Pontus and his father from  Büyükada. Since the early days artistic aesthetics were evident in their house - his mother graduated from the Doxiadis School and his father studied Design at a technical school but he eventually followed other paths and became a builder contractor. George studied electrical engineering, but from an early age he had an inclination to the arts and especially in everything that had to do with image and music, since he also plays the piano.
 
- How did you decide to study electrical engineering?
 
At the age of 18-19 you have to decide what to do in your life. The idea that came to me from my environment - mainly from school and my friends - was that it is not a profession to be a painter or pianist. I had to study something more "valid". So I got a bachelor's and a master's degree in Edinburgh, Scotland, and I have to say that the experience of living abroad was far more important to me than the studies themselves. Seeing different and interesting things places you out of the ordinary and broadens your horizons. At university I learned how to think and I think that was a great experience, useful even in photography, which I followed later.
 
- How did photography come into your life?
 
After my studies, I worked in the UK as an engineer for about a year and a half. However, I had missed Greece so I found an opportunity to do a doctorate in Democritus University. After a year it had become clear to me that in the end it wasn't what I wanted to do in my life. So I dropped out and went to do my military service. After the army I worked again as an engineer in various positions, with my last job being in sales of an automation system related to large photovoltaic projects. This job gave me the opportunity to travel a lot around the world, which planted the germ of photography to me.
 
- Until that moment, did you ever consider pursuing photography as a profession or was it just your passion?
 
I had it in my mind more as a hobby, as I had the piano from which I quit when I went to university. But the truth is that the first material good I wanted to get was a camera. Slowly I started reading more and more things about photography.
 
As an engineer, the technical part wasn't difficult for me. But when I started to get more involved in the world of photography as an art, I realised that I was still at point zero and there were a lot of things to discover. So I got to the point of setting up a darkroom in my bedroom, going to work and listening to photo podcasts, until sometime around 2015, I decided to become a photographer. For a year I also developed the painting part, making a drawing with charcoal and paint, something that helped me a lot in photography as well, because with drawing you understand better how light and shadows work.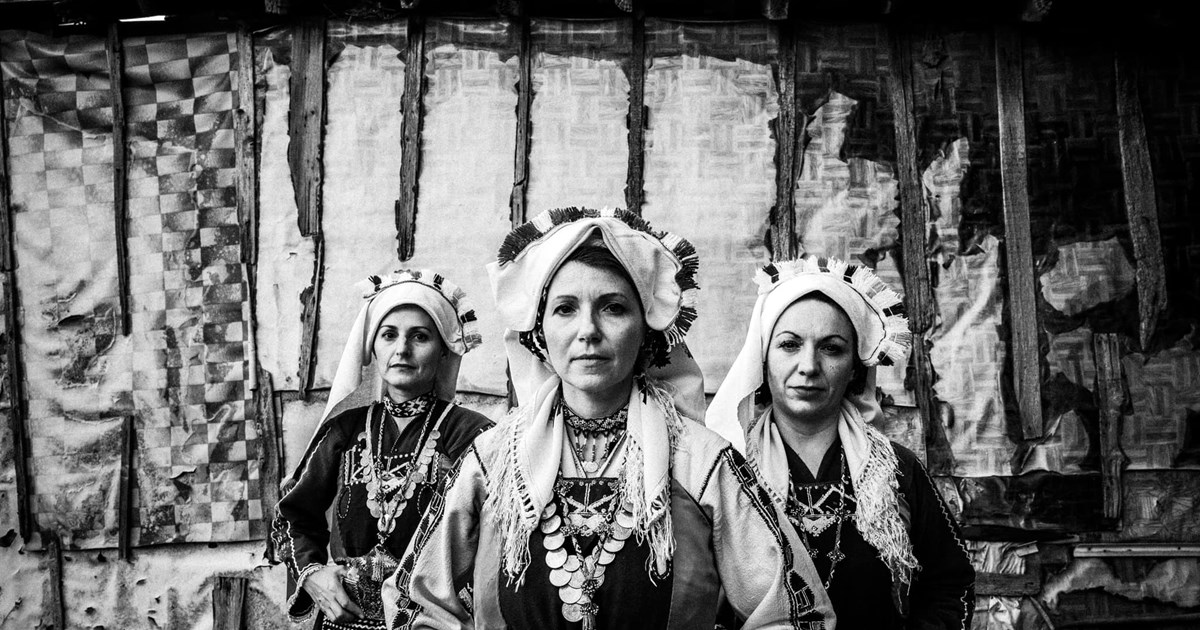 - Your recent award at the Sony World Photography Awards, one of the most important photography competitions in the world, came just seven years after you decided to focus exclusively on photography. What does good photography mean to you?
 
Good photography is a combination of two things: the subject and the composition. That is, what each photo depicts and how its frame is structured - how the forms are structured, how the photographer has dealt with the light, etc. Essentially for a good photograph there must be both of these parameters.
- How did you choose your own path regarding the subject of your photos?
I like to deal with the tradition of Greece and this was what happened from the beginning, nothing has changed. The evolution of my work has more to do with how I create pictures. When I started, the first part of my work was about local and traditional events, dealing with transitional periods in terms of time and people's lives, such as Easter, Christmas, the changes of the seasons.
In what I did now with the women's traditional costumes, the project "Karyatis", I direct the scene: I choose the place where the photo will be taken and the girls who wear the costumes pose according to my direction. I believe that my future work will also be about tradition, I will hardly go to something different.
- Why do you have such a love for tradition?
There are several variables that contributed to this. One has to do with the fact that I lived abroad for several years and I developed a strong nostalgia for my country and everything that has to do with Greece. This made me travel to Greece and observe the festivals and customs of our country. The second reason is aesthetics. The tradition contains very beautiful elements. Even the settlements that preserve the traditional architecture are much more beautiful than others that have lost this color.
The reason for this beauty has to do with the practicality of their construction, to serve the people who lived there. An architect recently explained this to me and I was impressed, because it also matched my perception. He told me that in traditional architecture, things were done in a very specific way, because they couldn't be done otherwise. For example, the windows of houses had a reason that they were built in a specific place, according to the materials that could be employed at the time.
- Why are there only women in your photo project?
 
This has to do exclusively with the wealth of women's costumes, something we don't usually see in men's clothing. I have a scientific collaborator who helps me find the costumes and who has been doing this job for 30 years and knows the costumes from 238 regions of Greece.
 
- How do you get the best shot of a picture?
 
Currently this doesn't bother me as much as it did before because in the past I probably didn't know exactly what I wanted. Now things are much easier. Firstly I think about the photos I want to take, then in each set I take 10 to 20 shots and finally I choose the one that seems best to me. 
 
- Where have you exhibited your photos?
 
I presented my first exhibition entitled "Ethics" at the Benaki Museum in 2018 and I was asked to transfer this exhibition to the Fragonard Museum in Cannes. Beyond that, the agency I work with promotes my work in the international press. Also a gallery in Hollywood keeps some of my works there and they use them in film productions. In fact, this month, when the second season of "Flight Attendant" airs on HBO, the protagonist will have a project of mine at home. Recently I have been working with an agency in Milan, to get in touch with big fashion houses.
#HisStory