Nikos Galanis was honored with the Global Teacher Award given every year by the large educational organisation AKS Education, to teachers worldwide who stand out for their excellence and offer. However, this is just a title. Serving as an excellent and innovative teacher to children is essentially a priceless engagement and a really difficult job.     
 
#education #society #teacher #award
By Mia Kollia
Translated by Alexandros Theodoropoulos
- How important is the role that the family environment plays in the upbringing of children? Did you spot any talent or inclination from the early days and if so, how much effort did it take for your further development?
The family environment plays the most important role in a person's evolution. Man is born tabula rasa, that is, like a blank painting that is ready to be painted with the colors of life. These colors are all the stimuli we receive from the very first day of our birth. 
Personally, the love of my family but also the observance of the rules, the limits that were set for me as a child, laid the foundations so that I could become autonomous on the one hand and pursue my dreams on the other. Also, I always felt that someone has endowed me with charisma and talent in specific fields, as it happens with all people.
An example of this can be my passion for photography, cinema or basketball. But this is not enough. It's something I keep mentioning to children. Hard work beats talent. There are many athletes who were gifted with great talent in their fields but eventually weren't successful because they didn't work hard. On the contrary, there are many people with little talent who worked hard and were rewarded for being successful in their field.
- What were the biggest difficulties you faced, how did you overcome them and what did they teach you?
When you see someone having achieved something, you don't know what has taken them there, you don't see the trouble, the obstacles, the difficulties, the sleepless nights behind the success. In my case, at the most critical turning point of a teenager, when I was in the third class of high school and just before the Panhellenic Exams, my parents divorced and I thought I had lost the ground under my feet.  
I went to a military school because of the immediate work it offered. I had to follow this path to make a living financially but it was something completely foreign to my worldview -  I knew that I didn't belong there. The core of my thinking is the human being, so I left that sector and the next year I entered the Department of Educational Sciences of the University of Patras. It's something that I always say to young children: it's never too late to chase your dreams. The Panhellenic Exams are not the end of the world.  
- How did you feel and how did you manage recognition and acceptance? What values ​​do you follow in order to continue and not rest at your success?
Recognition of your work through awards or through the kind words of colleagues and people in general is nothing more than an appreciation of your effort and an incentive to continue to do your job in the same way, in the path you have chosen. It's a seed of positive energy and good practice that may thrive in a handful of teachers and then in dozens of children. I always say that "Good things love multiplication". The ultimate purpose is to be socially useful.
If we all try to be the best version of ourselves every day, then our society will change for the better. But if you stick to any recognition or fame, then you get bogged down, you stop creating and you remain just another being on Earth. Before going to bed, think about what you did today and what you would like to achieve tomorrow.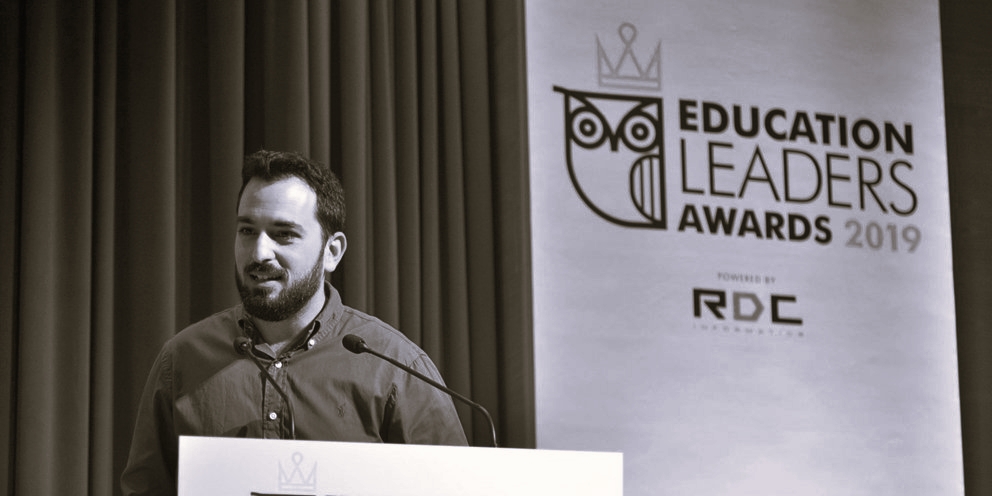 - How do you manage potential failures?
For about 15 years I was a basketball player and sports helped me manage failure. We are called to understand two things regarding failure: First, that it is part of the game of life and second, that it happens to everyone. And when I say everyone, I mean everyone.
Michael Jordan has made a statement that means a lot: "In my career, I have lost over 9,000 baskets. I have definitely lost at least 300 games and 26 times that the game was judged by my shot, I shot and failed. I have failed so many times in my life that I don't even remember them. And that's the reason I became successful." Jordan proves one of life's most important lessons: that if you know how to manage failure and what you can gain from it, success will always be reached.
The only way to gain from your failures is to learn from them without making mistakes. But before you get there, the secret is to tell the difference between failure and error. Failure is an unpleasant situation, but with a didactic character. Mistake, on the other hand, is a recurring failure. What we have to do as human beings is to eliminate mistakes and accept failures by learning through them.
- How does one achieve good management of children and people?
It's a blessing to work with children, but I think it's one of the hardest things in the world. Above all, there must be love for children. Then experience helps a lot to become better and better. You can distinguish what's working and what's not, you recognise the positive practices. Educating and developing yourself constantly helps, but no matter how many degrees you collect (which are always valuable of course), as a teacher you become better by collecting experiences, moments, mistakes and achievements from daily practice.
Finally, you must always keep moving. A good teacher listens to the time and keeps up with it. It is our duty to accompany the children, to show them the way and to be close to them, illuminating like a candle the road they will take and the obstacles they will encounter.
- What is school after all and how can we make children love it?
Many of our fellow human beings do not live the experiences and the moments that they really want. They let life go and flow like it does. Some are angry and some are immobilized. Life chooses them, instead of them choosing life. The school can play an important role in changing all this.
We owe our children a better future. We owe them the basic skills and values ​​of life, as well as the tools to move forward, to believe in themselves early on, to say YES or NO with confidence, to look at themselves in the mirror and smile, to accept themselves and understand that they don't need to change but only to evolve.
Too often, we as teachers, or parents, try to persuade children to be diligent students using arguments based on fear (you will not find a job), guilt (we make so many sacrifices for you) or comparison with us (when I was at your age I did so much bla bla bla) or even worse with other children. No one wants to feel scared, guilty or disadvantaged.
Love blossoms where there is joy, freedom, interest and satisfaction. Education is intertwined with error. In order for children to love school, they should learn to love their mistakes and accept them as part of the learning process. Do not be disappointed.
- How important is Emotional Intelligence beyond knowledge?
The ability of a person to recognise emotions, both his own and of those around him, to distinguish them through a wide range of emotions and to use this emotional information as a guide of thought and behavior, is very important, especially in the structured societies we live in during the last many years.
Team spirit, effective communication and adaptability, combined with strategic thinking and team management skills are the characteristics that can make a person stand out. Personal Skills and Emotional Intelligence (Soft Skills) seem to be more important than hard skills, according to many studies.
There are many ways to build children's emotional intelligence such as creating a safe and positive environment, building the language of emotions, establishing relationships of care and trust for students, evaluating their emotions to eliminate tensions with them, encouraging "active participation" (independent learning and active work) and integrating higher thinking skills into learning and empowerment through continuous feedback.
Info:
Nikos Galanis makes short films, in which his students become young actors that convey important social messages. His films have won many awards in international competitions and have been screened at dozens of film festivals in Greece and abroad. Two of them ("SOSivio" and "Ah afto to au") have been awarded the Honorary Prize at the West Side Mountains Doc Fest. The film "SOSivio" won the Audience Award at the 8th MICE Film Festival in Valencia. Also, the film "You can do anything, as long as you believe in it!" was awarded the First Prize at Our Voices Film Festival in Vancouver and was awarded by the United Nations at the PLURAL + Youth Video Festival. Finally, the Alvorada International School Film Festival (FECEA) awarded the Production Design Award for the film "ELEFTHERIA: 200 years since the Greek Revolution".
For the innovation of the introduction of cinema as an educational practice, Nikos Galanis was honored with the GOLD award at the Education Leaders Awards 2019 and was nominated for "Person of the Year" award. In 2021, he received the title of "Teacher of the Year" at the Education Leaders Awards 2021 and the Global Teacher Award 2021 at the AKS Education Awards.
 
#HisStory