Antonis Sykaris is a guiding light for many young people involved in mountaineering in our country. He has achieved so much and has placed the Greek flag on most of the peaks. He gives inspirational speeches and inspires people from all walks of life with his positive approach and attitude towards life.    
He is a happy family guy who loves his wife, children and grandchildren, enjoying life every minute even when he doesn't risk it. 
 
By Mia Kollia
Translated by Alexandros Theodoropoulos
What pushes a person to exceed his limits to such an extent? Is love for nature just enough?  
Perhaps only in mountaineering can one find such important benefits as motivation for health, pleasure of training, contact with nature and the magic of adventure and exploration, all of course in combination with social motivations.
Exploring my limits is a constant battle with my own existence, achieving each goal paves the way immediately for the next, success increases self-confidence and this in turn brings more success - all these, of course, work in conjunction with adrenaline but mainly due to the love for mountaineering. These are the impulses to overcome your limits every time and to discover your unlimited potential!
Have you figured out how adrenaline works? What comes first, the body or the mind?
Adrenaline helps the body to mobilize all the energy sources available in cases of intense activity, such as mountaineering and expeditions to the high mountains of the Himalayas. The nervous system is stimulated by producing "emergency" energy during the so-called "battle or flight reaction".
Adrenaline is the opium of climbers: every time you overcome a technical difficulty, your body produces so much adrenaline that all you ask for is the next, more intense technical difficulty and a stronger new challenge. And that goes on to offer you endless joy and pleasure - mountaineering as well as love makes people very happy.
What have been the most difficult and critical moments during an ascent or descent? What kept you on track and empowered you and what were your thoughts in those hours?
Most of the time there will be critical moments especially when you need to decide whether to go to the top or go back to the safety of normal life. There can still be critical moments in managing an emergency such as an accident or death in the mountains. In any case, ensuring the physical integrity of both yourself and your partners often depends on critical moments and critical decisions.
Logic and respect that you cannot always defeat the elements of nature and the insurmountable objective difficulties of the mountains always keep you safe. After all, "a good climber is the living climber!". Another reason is thinking of my family - feeling responsible for them, I am more careful, but at the same time their wishes and love can help me immensely!  
What skills should one have to succeed in such difficult endeavors?
Apart from technical training, excellent physical condition and experience, what is needed most is the mental strength that comes only from the love for mountaineering and for the goals that are set every time! Mental strength is what dictates the need to expand your boundaries, to raise your morale and to aim for the top.
If your children did the same, how would you feel and how would you deal with it?
My kids haven't followed me and are not involved in mountaineering - so I feel quite calm. But if they did, I would advise them to always set goals that they can achieve, so that they are safe and really enjoy mountaineering and the mountains. In addition to all the skills mentioned above, in mountaineering you also need luck sometimes. Mountaineering is generally a dangerous hobby.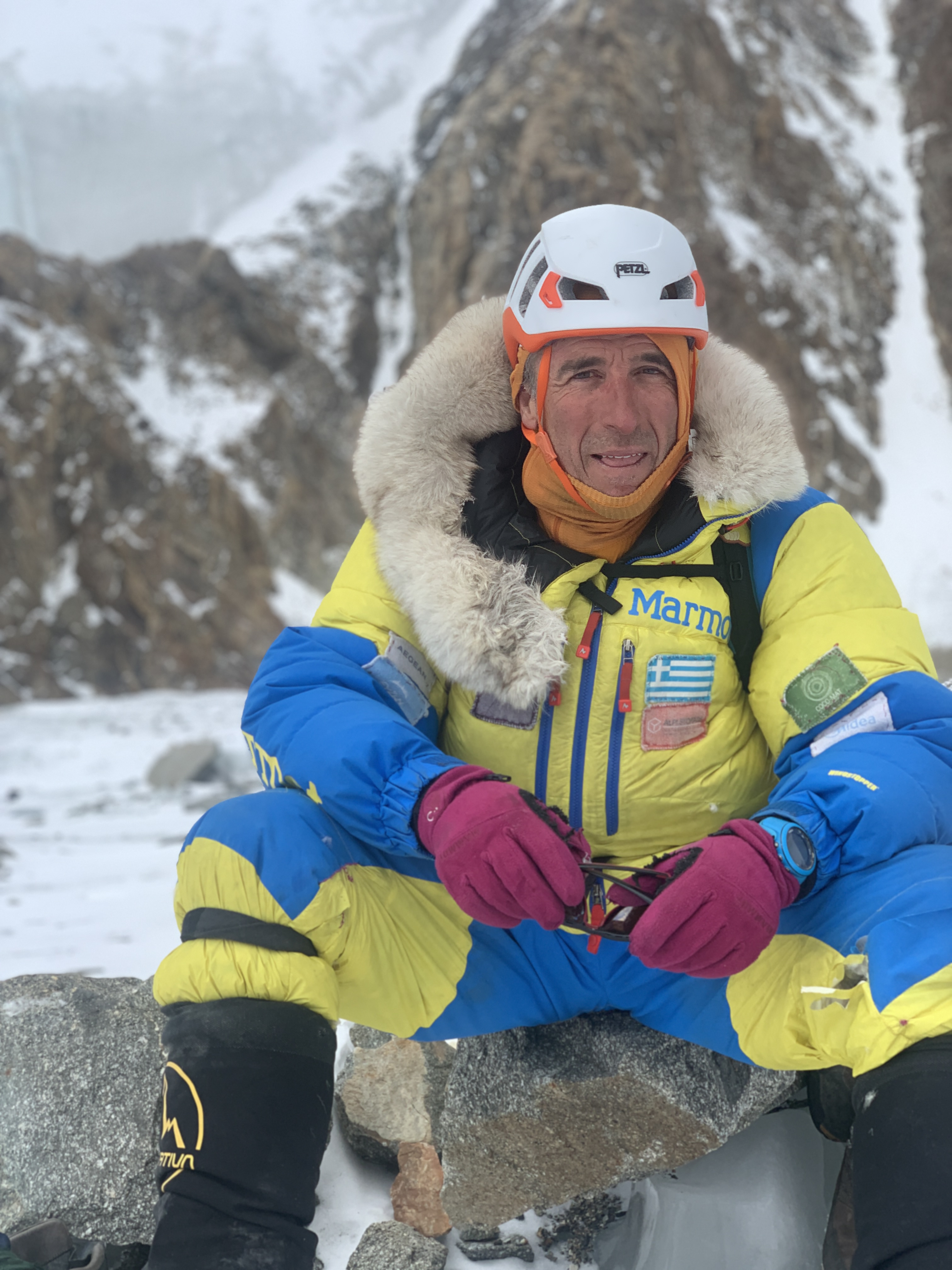 Is our world a big and inclusive world, like a hug, or will people never be able to reconcile? Which populations have stood out during your adventures and what are their elements? 
Our world is a big world and it can become even bigger and reconciled very easily, placing love as a priority without racial discrimination and racism.
All the people of the world have the same rights and the same needs - Peace, Equality, Justice and of course Prosperity. Our reconciliation will be achieved when we'll understand, by doing our introspection, that we ourselves can make the world a better place and we shouldn't expect this from anyone else. One of my most beloved people in the world is the Nepalese Sherpa and I single out all those who have embraced the ideology of Buddhism, relying on love and simplicity of life as being taught. 
What advice do you give in your speeches? Is there a recipe for life after all? Why are more and more people getting depressed?
I think the purpose of human life is happiness. We all carry out social, personal, family work or leisure activities aimed at happiness.
So we limit ourselves to feeling happy in some moments of our lives - "Life is moments".
Personally, I believe the opposite: we can live a completely happy life as long as we know that happiness lies in simple things - in the view of a mountain, in the beauty of sea, in the company of friends or family, even in work. Whatever we do, we perform an act of creation. You don't need a lot of money to be happy, you don't need to wait for the next weekend or the next holiday to feel joy and happiness – you can feel that every day. 
Who is Antonis Sykaris
Antonis Sykaris is a Greek climber with adventures in Greece and abroad, in the Alps and the Himalayas.
He was born in Athens. He is married to Kalliopi Koni and has two children. He is the only Greek who has climbed five of the 14 octave peaks of the earth (Grand Slam).
Everest 8.848m - Kangchenjunga 8.586m - Manaslu 8.163m - Lhotse 8.516m - Annapurna 8.091m.
In the 31 years of his mountaineering life he has carried out 63 mountaineering missions and has climbed a total of 153 peaks!
He is a member of the Association of Greek Mountaineers and the Hellenic Mountaineering and Climbing Federation. He is also a member of Team 100 Mentors, the Board of Directors of Blue Cedar AEEAP, as well as a speaker at companies, universities, events and at TEDx (Inspirational - Motivational speaker). He is also a goodwill ambassador of the schools of Avgoulea - Linardatou. 
 
#HisStory