Every company should be able to reach its full potential based on a well-thought-out plan. To do this, it must be aware of its strengths and weaknesses and its opportunities and threats.
By Mia Kollia
The SWOT Analysis takes an overall picture of our business and evaluates more minor scale elements. As a result, it highlights whether or not we are strong and can help us explore the opportunities and threats in the market we are interested in.
What does SWOT mean?
The SWOT Analysis is a strategic planning tool that examines the Strengths and Weaknesses of a company and the Opportunities and Threats of the environment in which it operates. Many companies use it to assess the situation they are in today to make decisions and thus shape their future strategy.
The SWOT Analysis is divided into two main parts: In the analysis of the internal environment of the business, which is the Strengths and Weaknesses, and in the study of the external environment of the company, which are the Opportunities and Threats (Threats).
"Strengths and weaknesses shouldn't be seen simply as characteristics of a company, but more specifically as something that sets it apart from its competitors or affects its customers' experiences," explains Michelle Feder, director of Small Business Consulting at BDC platform.
In terms of Opportunities and Threats, these usually refer to changes in our target market or the wider world and may positively or negatively impact our business.
Feder says we need to take advantage of our strengths while preventing our weaknesses from becoming a hindrance. While it's essential to eliminate these weaknesses, Feder suggests that we continue to build on our obvious strengths—those that will differentiate us from our competitors.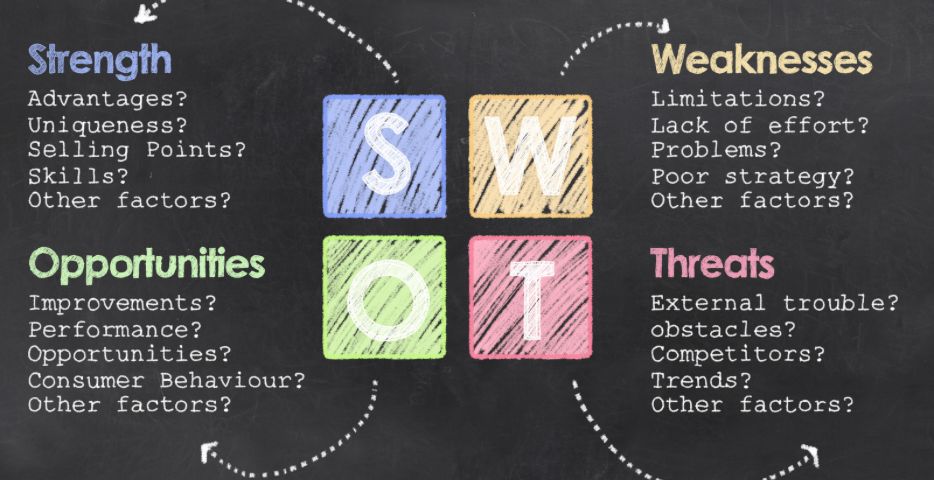 The four elements of a SWOT Analysis
Strengths
They are anything our company does exceptionally well or its resources and assets relative to its competitors.
The strong points of a company can be the following:
- stable funding
- positive reputation
- valuable intellectual property
- an innovative mindset
- low production costs
- a variety of products
- healthy corporate culture
- a solid online presence.
Weaknesses
They are internal features and resources that our company needs to improve. We need to know our weaknesses because they make our business vulnerable.
The weak points of a company can be the following:
- high levels of debt
- low customer satisfaction
- long delivery times
- outdated equipment
- know-how gaps
- products that are slow to reach the market
- rigid structures and lack of flexibility.
Opportunities
They are a set of external conditions that, with the right decisions, can develop our company and put us in a favorable strategic position.
Opportunities for a business can be:
- new trade agreement
- new trend favoring our products
- the tendency to work from home, which can promote a new communication app we created
- development of the industry sector to which we belong
- new state support programs.
Threats
They are external forces that pose a risk to our business. We must always be on the lookout for external obstacles we must overcome. We must consider the political, economic, sociological, technological, legal, and environmental factors that may affect our company.
Threats to a business can be:
- new national trade agreement, which may lead to increased competition
- new requirements in Environmental, Social and Corporate Governance (ESG) policies, with possible more bureaucracy
- problems in the supply chain
- aging of the customer base
- change of product standards.
When should a SWOT Analysis be done?
A SWOT Analysis should be performed regularly.
A company should perform a comprehensive analysis using extensive data and look at key industry players every three to five years. It can then review its initial assessment every year or every other year. "Has anything fundamentally changed in the company or its business environment?" Feder asks. Then it may be time for a SWOT Analysis.
The analysis can be conducted on a smaller scale whenever the company changes direction or faces a challenge. For example, if a particular business unit is underperforming or if the company wants to gain a deeper understanding of its product mix.