If the life of Spyros Skouras became a movie, it could have the title "Spyros the Fox, no matter the Century" and it could have an incredible soundtrack. The film would start with a traditional Kalamatianos song or with the popular folk song "Tsompanakos" and then, quite a lot would follow without music. After the break, the film would be dominated by Jazz, dancing and singing to get closer to the finale with the touching adagio.  
 
By Mia Kollia
Translated by Alexandros Theodoropoulos
Along with two of his brothers he immigrated to America from his village, Skourochori and fell in love with the movies. After settling in St. Louis, Missouri, in 1910, the three brothers did various jobs, but also started watching a lot of movies. When they realised that their passion for cinema was actually strong, they started engaging with it professionally.
Thus, they founded "Olympia" cinema and in a few years they owned most of the cinemas in the area. Later they created a building with many cinemas, what is now called a multiplex, looking like ours, but of the last century. Ambassador was the name of it!  
Fortunately, that wasn't enough for them. Three years later they sold it to Warner and managed to open their film businesses further. They bought shares of the company 20th Century and around 1935 the company merged with Fox and the star of 20th Century Fox was born: the huge and well-known film corporation in which Spyros served as president for 20 years and became the "big boss". 
In the 1950s, when television started becoming part of American homes - almost uninvited - he managed to get people out of their homes and send them to the cinema, using the cinemascope in his films at the time. Spyros Skouras could see far and wide! An example is the movie "The Robe", with Richard Burton, Jean Simmons and Victor Mature.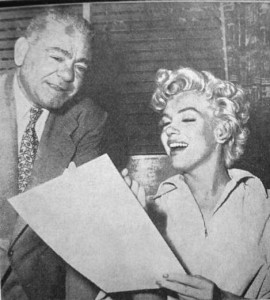 Spyros Skouras's English language level was amazingly sucking! On a scale of 1 to 10 he would barely get a 3. He never managed to speak, let alone sound like an American even though he lived there for almost 60 years. Everyone who heard him talking used to laugh for 15 days, more or less.  
During his 20 years in the presidency, he promoted Greece and arranged many films to be made in Greece, like "Boy on a Dolphin" with Sophia Loren and Alan Ladd, in Hydra. It is known that Sophia walked in a ditch in their common scenes, so that Alan would look taller.  
The premiere of the film in Athens was magnificent. It took place at Rex cinema in 1956 and was attended by the then prime minister, Konstantinos Karamanlis and his wife Amalia, Georgios Papandreou, Sofoklis Venizelos with his wife, Panagiotis Kanellopoulos, Panagiotis Kallias, Elli Botsi-Levidi and many other famous personalities of the time.    
Spyros Skouras had an eye for success and a sense of greatness. He was a talented manager and was the one who introduced the model Norma Jane Baker in Hollywood, creating the world idol Marilyn Monroe. 20th Century Fox produced some of the best movies of Marilyn Monroe, such as: "How to Marry a Millionaire", "Gentlemen Prefer Blondes", "The Seven Year Itch", and more. 
During World War II, Spyros Skouras managed to raise large financial aid to support Greece - $ 40 million in cash - as chairman of the executive committee of the Greek War Relief Association. 
His actions to protect Greece from the great starvation of 1941 are considered heroic. Along with Archbishop Athenagoras and other prominent Greek Americans, he managed to persuade President Roosevelt to help, seeking to end the blockade of Greece by Allied troops so that food and medicine could be smuggled into the country. Eventually he succeeded and the blockade was lifted. 
"Cleopatra", this fancy and extravagant film production that cost $44 million and that almost went 20th Century Fox bankrupt in 1963, turned out to be probably the same black snake that bit Spyros Skouras's career, as it did with the Empress in the movie. Spyros Skouras lost his place due to the 4-hour film that was cut long enough to become three hours and something. For this film, even the protagonist, Elizabeth Taylor, said the inimitable quote: "The ultimate humiliation was that I had to go and see the film."  
Spyros Skouras remained chairman of the company until 1969. After his cinematic turmoil he turned his attention to shipping, creating his own shipping company, Prudential Lines. 
He passed away in 1971, going to find Hollywood stars to make movies with free admission for the public.
 
 
 
#HisStory