Greek makeup artist, Gregoris Pyrpylis, is the new creative director of Hermès Beauty. The international press as well as the owners and executives of this great house sing his praises. 
 
#makeupartist #beauty #creativity #art #successstory #inspiration
By Mia Kollia
Translated by Alexandros Theodoropoulos
Immediately after the official announcement that Gregoris Pyrpylis had become the new Creative Director for Beauty at Hermès, Gregoris Pyrpylis wrote on his Instagram account: "I'm so honored and thrilled to be joining the iconic house of Hermès as the creative director for Beauty; a house that epitomises beauty in all forms with its attachment to craftsmanship and savoir-faire, a true house of creation and creativity.
The beginning of a journey in which every personality can be expressed and every form of beauty will be revealed and celebrated, a vision of beauty I've cherished and kept since the day I discovered the art of makeup, 15 years ago. And of course a big THANK you to my new Hermès family". 
Gregoris Pyrpylis will work under the guidance of Agnès de Villers, president of Hermès Parfum et Beauté and of course under the guidance of Pierre-Alexis Dumas, artistic director of Hermès.
"As an expert in colors, textures and gestures that express and highlight beauty, Gregoris's talent will be a driving force for Hermès Beauty", said Agnès de Villers, while Pierre-Alexis Dumas also added: "With Gregoris we share a common vision of beauty as an everyday ally that reveals personality and gives elegance, comfort and pleasure. We are so pleased to welcome a makeup artist and craftsman like Gregoris on board, to help us build Hermès Beauty's unique, authentic and sensual style".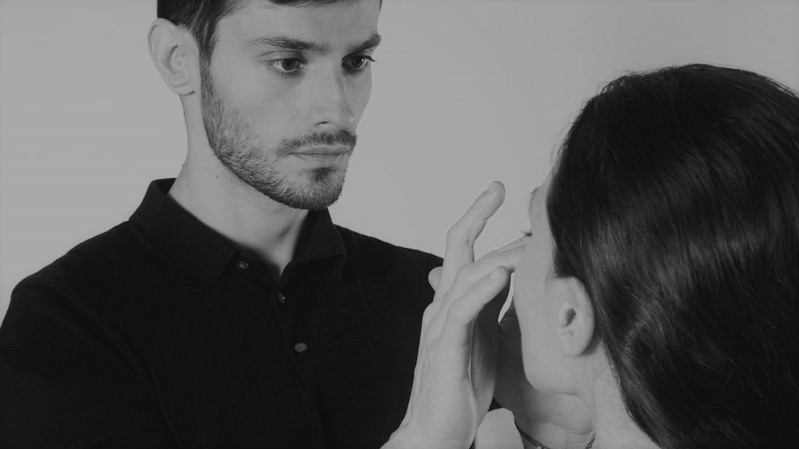 As a teenager, even while living in the Greek countryside with his pharmacist parents, he stumbled upon fashion and beauty images only in magazines. As he has confessed, he was dealing with the whole image and the overall aesthetics and not only with make-up. He now treats his job in exactly the same way. For him, beauty is part of the expression of a more general artistic vision that can be implemented with specific materials, colors and textures in his case, but also in innumerous other unexpected ways in general. 
His engagement with make-up started by accident, when in 2005 and at a time when he was studying English Language and Literature, a friend of his asked him to put makeup on her. People around him were immediately astonished by his skills and the next day he started looking for makeup schools. In just one week he began his studies and a new journey had just started for him. 
Gregoris Pyrpylis started his career at MAC in 2006. His first great teacher was Tom Pecheux, the former artistic director of Shisheido - when he arrived in Paris from Greece in 2012. At the age of 23 Gregoris became the ambassador of Maybelline New York for Greece and Cyprus.
From September 2015 until 2017 he worked for Laboratoires Bioderma, being the first make-up artist of the brand. In 2018, an internationally recognised Gregoris went to Shisheido, the legendary beauty house with the unsurpassed and characteristic photos and stunning albums that include pictures of his artistic make-up.
Everyone, in Greece and abroad, recognises the great talent of Gregoris Pyrpylis. But talent is only half the job, as he has admitted many times. The rest is about how much one desires something, the patience and perseverance that one will show, how much one can tame one's ego, as well as to have strong nerves, endurance and of course, luck.
He loves naturalness and transparency. Maybe that's why his favorite makeup pictures are the most unpretentious. But even when makeup games are intense, they must meet, accompany or complement a woman's true personality. It's no coincidence that he stands with great controversy against the filters and image processing that have prevailed on Instagram.
His ideal image is characterized by freshness and simplicity. The concealer is one of his favorite products, as it covers fatigue and small imperfections, restoring radiance to the face. Gregoris Pyrpylis is a proponent of natural beauty, but he also embraces women who choose the most intense makeup, as long as they don't fall victim to fashion. His personal motto is: "You should consider your face as something really special; you are unique, don't try to be the same as someone else".  
Cyclades, Amsterdam, Christy Turlington, Charlotte Rampling, Laetitia Casta, Herb Ritts, Meryl Streep, Yannis Ritsos and Nepal are his great loves but also his inexhaustible sources of inspiration. 
 
#HisStory