Dionysis Grammenos has been recognised worldwide as one of the most charismatic artists of his generation. At the age of 21, he was already applauded in Vienna and since then he hasn't stopped moving audiences with his music.
 
#music #culture #conductor
By Mia Kollia
Translated by Alexandros Theodoropoulos
- You grew up in Corfu, a place with a tradition in music. How much it influenced you and to what extent do you think the family environment plays a role in raising children?
The environment in which one grows up and the models he imitates play a decisive role in his development and in the formation of his personality. I was very lucky to be born in Corfu and to spend the first 17 years of my life there. The first memory from my childhood is connected with music and more specifically with the sound of the band. I am sure that without realising it, it greatly affected my life and choices.
- Did you have any particular inclination from the beginning? And if so, how much effort is needed for further development?
For as long as I can remember, I have always felt that music magnetizes me. Back then, when I started learning the clarinet, I felt my contact with a musical instrument as something very natural. It definitely takes effort for your next step, how much and when your efforts and talent will flourish but it is something very personal for anyone. 
- Is music education different from education in general? And what does a country need to strengthen that?
By "education" we mean the cultivation of man, to acquire a culture for our way of life, to explore the relationship with ourselves, with our ideas and our environment. Music culture doesn't make much difference - apart from the fact that we use some musical terms. I believe that in order to strengthen music education, we need "transmission centers", like places where one can develop ideas and apply them in practice; places where we can discover what's special inside us and what is our true nature.  
- What were the biggest difficulties you faced, how did you overcome them and what did they teach you?
I don't come from a wealthy family. From a young age I realised that if I want to get somewhere, if I want to make a dream come true, I have to work hard and rely on my strengths. The difficulties always helped me to try harder and not to give up. In essence, these difficulties were a blessing since they taught me from an early age to navigate alone in everyday life, to have faith in my dreams and to fight to make them come true.
- How did you manage the first big recognition, reputation and acceptance? What do you say to yourself in order to continue and to stay consistent?
Most things about music came into my life somewhat unexpectedly and the truth is that they found me unprepared. It wasn't easy for me to manage neither the recognition nor the reputation at a young age and that is because I didn't seek them. However, I have been very concerned about my relationship with music and art – that is, if it has substance, if it acquires some depth over time and if my ideas mean anything to the recipients. I continue this search and I'm consistent - I don't believe that in this journey there is time to rest.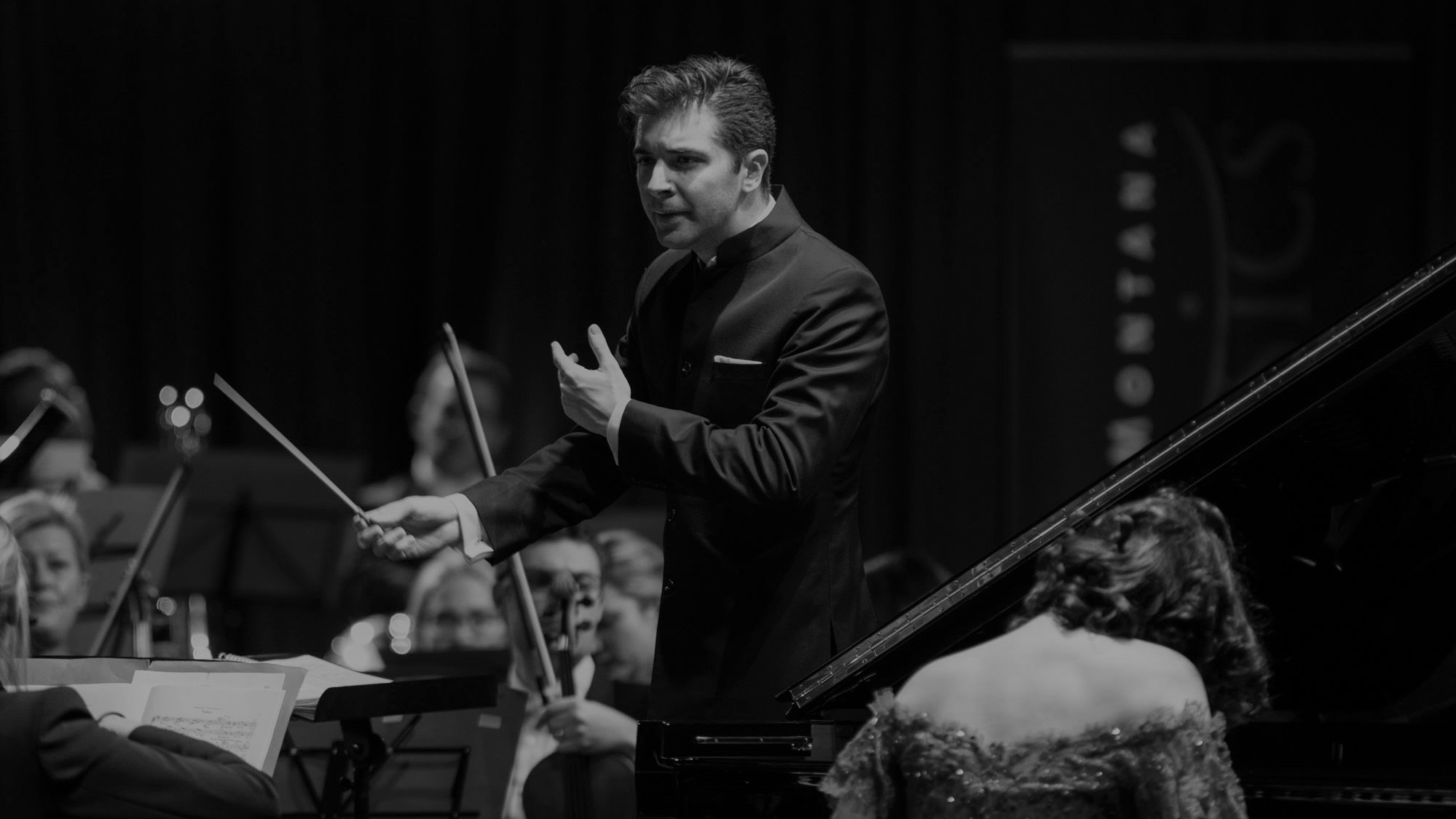 - Are the arts of all kinds vivid and motivating? How can we help children discover their inclinations and passions?
Perhaps through their contact with art, people try to deceive their mortality for a while. Perhaps the arts open a small gap in man, who by looking inside, realises that his spirit can conquer much higher peaks than those to which he is accustomed in everyday life. Maybe our contact, our connection with something intangible leads us to deepen our human nature. I imagine that discovering one's inclination or talent is like finding the right way through which one releases one's energy, in a way that makes sense to him.
My humble opinion is that we should try flavors from all walks of life, without prejudice. It is very likely that we will connect with more than one object and discover different aspects of ourselves in different fields (sports, arts, sciences).
- What does it mean for a conductor to manage ensembles and people? What is needed and how do you experience that?
I feel that honesty and simplicity are the basis for successful communication. This is what I always have in my contacts with every person, with every orchestra and every ensemble. I am there to create the conditions and the atmosphere in which we will achieve good communication. A very big part of orchestral conducting is how effective the conductor's communication with its members is. The beauty of this is that there is no manual and the challenge is that every time you have to find the right language of communication. The conductor's communication with the orchestra is an art in itself.
- How is life abroad? What do you gain, what experiences do you stand out?
Life is very interesting wherever you are. I feel that being abroad gives you generous sources of inspiration and new ideas, but at the same time it makes you seek what you took for granted.
- What is music? What does a musical instrument in your hands mean?
When we talk about music, we usually try to describe in words our relationship with it. We never touch its essence. The baguette is certainly not worth mentioning, but a musical instrument is a means that all our effort and study is done in order to be able to become one with it.
- Sacrifices and profits?
I don't believe in the dipole sacrifices - profits. I believe in the conscious choices we make when we find something meaningful or when we think something is important to us. You don't lose in something like that, you only have to gain. Or, at least, that's how you feel. 
Brief CV
Dionysis Grammenos' first major international success took place in 2008, winning the Gold Medal at the EBU Pan-European Young Music Competition and the title of "European Young Musician of the Year". He was the first wind instrument in the history of the competition to receive this title.
He performs regularly in major music venues such as New York's Carnegie Hall, Berliner Philharmoniker, Amsterdam Concertgebouw, London Barbican Center, Vienna Konzerthaus and Cité de la musique in Paris, as well as in live concerts for BBC Radio-3, Bavarian Radio and ORF of Austria.
He made his debut as a chief musician at the age of 21 with the Vienna Chamber Orchestra and has since conducted orchestras such as the Deutsche Staatsphilharmonie Rheinland-Pfalz, Festival Strings Lucerne, Malta Philharmonic Orchestra, Vienna Young Philharmonic Orchestra and Hofer Symphon.
He has been honored with the world art award "Leonardo da Vinci", the "Rising Star" award of ECHO and the Gold Medal of the City of Athens.
The Hellenic Youth Symphony Orchestra (ELSON) was founded in 2017 by Dionysis Grammenos and consists of young Greek musicians living in our country or abroad. Based on the respective European standards, ELSON has as its main goal the identification, guidance, training and promotion of young talented Greek musicians in the symphonic and operatic repertoire.
#HisStory