Alekos Fassianos passed away on January 16, 2022, old and satisfied, leaving behind a legacy that will forever reflect his talent and his worship for Greece!
 
#painter #culture #greekspirit #talent #art 
By Mia Kollia
Translated by Alexandros Theodoropoulos 
Cyclists, men with a cigarette in their mouth, couples in love with open wings, waving scarves and birds sending messages of freedom; coffee tables and chairs, ancient monuments and ruins, bees, watermelons, fish and steamers; often with much of color and spotted figures, sometimes blue, sometimes red, always in golden-yellow background because: "I feel with colors. I show my feelings when I choose a color", once said the painter Alekos Fasianos himself, whose art has the power to become instantly recognisable even by a child.
He was born in Athens in 1935, son to music teacher Epameinondas and philologist Eleni. He took his love for music from his father and even studied violin at the Athens Conservatory. His mother was his teacher regarding ancient Greece. She took him to the Acropolis, to museums and generally taught him everything about Greek history. 
Concerning the religion, the Byzantine icons and their transcendental protagonists who magnetised him as a child, he has said: "My grandfather was a priest. (...) From a very young age and because of my grandfather, I wandered around the half-dark post-Byzantine churches and helped him sometimes by bringing him the incense burner and sometimes by reading the Apostle. However, I was more attracted to the religious, Byzantine and popular icons compared to the actual religion. I was impressed by the holy horsemen with their halos and swords, which made flames and killed beasts and by the dry Byzantine mountains in the background, the strange trees and plants and the golden skies ... ».
Fassianos studied painting at the Athens School of Fine Arts, with professor Yiannis Moralis. When Yannis Tsarouchis saw his works for the first time, he was astonished and called him a "teacher of the Nation".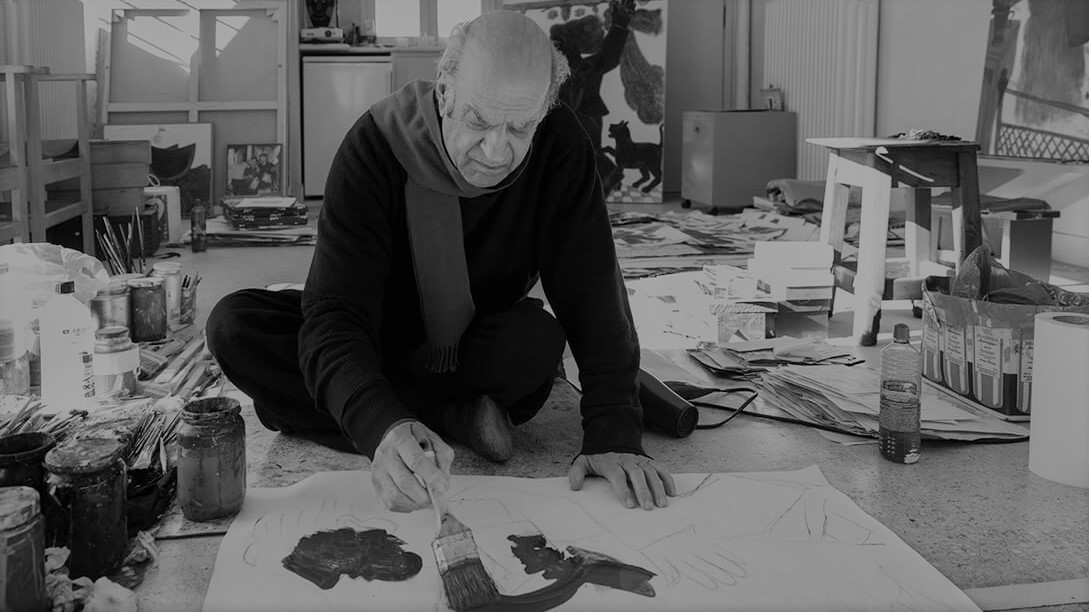 In 1960, Fassianos went to Paris to study lithography with a scholarship from the French state at the École des Beaux Arts for three years. His works have been housed in important venues in the French capital, such as the Pompidou Center and the Iola Gallery, while he has been given the opportunity to illustrate poetry by great artists such as Apollinaire and Aragon.
Apart from the Greek poets, Elytis and Sachtouris, who were also personal friends of his, many French poets adored him too. Louis Aragon used to say to him: "You are the last great Mediterranean painter" while he wrote about him: "Oh, Fassianos! I remember the first days and the first surprise of a new way to love". 
The characteristic artistic style of Alekos Fassianos was established in the early 60's. The three main themes that remained unchanged during his course are man, nature and the environment. In his first paintings, the figure of the officer with the red cheeks and the fancy ribbons in the uniform dominates the overall picture. It's like the forms move gradually and acquire their own life. 
 
The great painter lived in the French capital for 35 years, but didn't openly align himself with the European avant-garde and radical currents of the time. When Melina Mercouri once introduced him as a Greek painter, François Mitterrand, who had a small collection of works by Alekos Fassianos, reportedly said, "oh, no, Fassianos is a French painter." 
He never accepted the French passport they offered him. He remained faithful to documentary painting and to his Greek origins, maintaining his love for Greek art (ancient, Byzantine, folk) and his strong ties with his experiences from life in Greece.
From the mid-70s, the great painter became interested in scenography and costume design and created sets and costumes for classic and contemporary plays on state stages (National Theater and Greek National Opera) but also in other theaters. He was also involved with ancient drama.  
Influential works of him can be found in the National Gallery, in the Averoff Art Gallery, in Athens and Rhodes Galleries, at MOMus-Museum of Contemporary Art in Thessaloniki, at the MIET Collection, at the Musée d'Art Moderne in Paris and in many other places. He was honored by the French state with the Higher Order of the Knight of Literature and Arts and was awarded by the Academy of Athens (1999).
In 2000, he created works for the Metaxourgeio Metro Station in Athens, entitled "The myth of my neighborhood". Concerning the work of the great Greek painter, four films have been shot on Greek and French television, while several of his monographs have been released.
In 2004 Alekos Fassianos was one of the participants in the Torch Relay for the Athens Olympic Games and described the moment he ran, holding the Olympic Flame, as "unique" and "touching".
Until the end of his life, Alekos Fassianos got satisfaction from and felt life itself through his art. He used to paint on the floor, like a small child. He chose carefully and mixed his materials and colors and traveled with them in journeys of imagination. After all, he didn't hesitate to admit his connection to painting publicly: "When I don't paint, I am unhappy." 
Alekos Fassianos, as a genuine "popular artist", let his art spread and flood our daily life with the charm and optimism that his works exude, which we need so much. Maybe that's one of the reasons why his painting was so loved by people. He passed away on Sunday, January 16, at the age of 87, with his wife Mariza and their two children by his side.
 
#feature