There can be no Innovation and Development without Disruption. The world's largest companies, especially those in the digital sector, are constantly talking about industry disruption as a decisive move towards development and success. Radical or subversive innovation is based on the idea of ​​establishing new markets by disrupting the normal flow of services and products. 
 
By Mia Kollia
Translated by Alexandros Theodoropoulos
#innovation #disruption #career #professional #digitaldisruption #success #evolution
By radical / subversive innovation and disruption we actually mean, in business terms, the deconstruction of conventional practices, actions, procedures or even roles within a sector or a company. Such a "disruptive" approach brings a fresh look to every aspect of an organisation or an entire industry and is a key component of the radical reorganisation and strategy that are necessary for the redevelopment and continuous evolution required for professional success in the modern professional field. 
But how can we use the practices of a subversion in order to manage our career trajectory and take off our skills?
The idea of a ​​permanent and uninterrupted work in an organisation is now considered obsolete. Most professionals don't have a straightforward career. On the contrary, more and more of us see our business as a complex crossword that covers multiple positions, even sectors.
Our ability to "jump" between positions with different requirements, data and databases, is the foundation to develop the skills we need to take our business self to new heights.
The four principles of personal radical/subversive innovation
1. Go where you will be needed in the future
Instead of waiting to follow the emerging trends, as successful "overturners" we make sure to be at the center of shaping new trends.
The first step is to look at the working field through a disruptive and innovative approach. Together with a strong dose of experience and talent, we can make sensible assumptions about the areas that are going to move particularly in the next period of time and be able to position ourselves professionally.
Such a move enables us to shape the field before it even acquires significant momentum, placing us at the top of the specialisation that everyone will soon be looking for.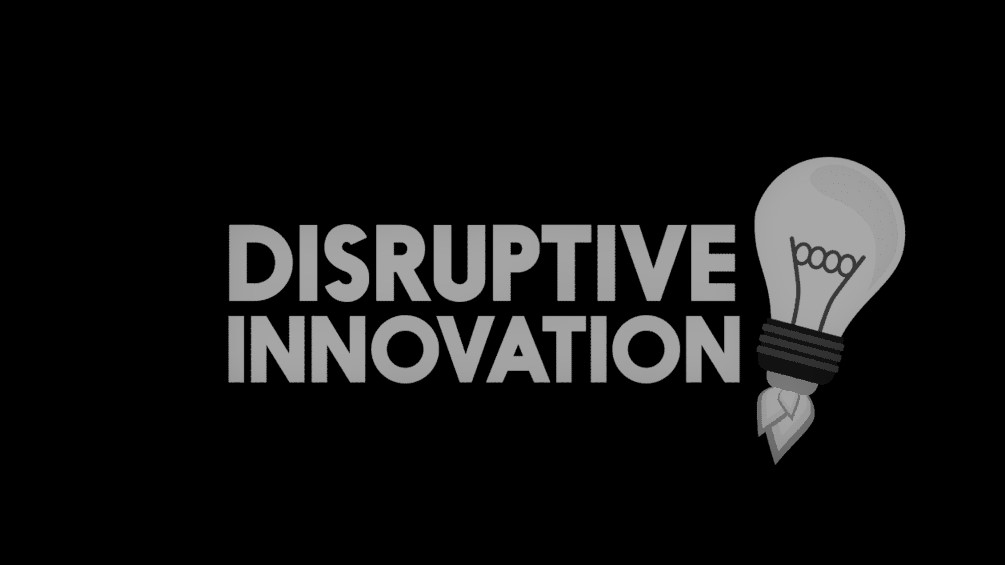 2. What is the disruptive ace up your sleeve?
Analyzing subversive innovation at a business level, we see that leading companies are not covered by simply identifying an area for growth. The key is to recognise the company's competitive advantages that can be applied in the specific available field.
Respectively, in our effort to evolve, we must analyze our attitudes, skills and talents and identify what is necessary for the development of the market to which we want to address, but also, in which of these we have no other competitors.
If we rely solely on what we do well, we are in direct competition with a plethora of other professionals who can offer similar services. Our goal should be to highlight the skills that we have and that most other professionals do not have at the moment.
3. A step to the side can be better than a step forward
We now recognise that the studies we choose to do at a younger age, which lead to our career choices at the beginning of our careers, aren't necessarily the end of the road for our knowledge.
When we have identified a new field which we think we can follow, it's worth thinking seriously about how we will move and organize our movement in detail. This can mean an unconventional route from one location to another.
Taking a step aside and re-entering a new educational process, which may seem scary to many of us, but it is a necessary risk for the determined "overthrowers". Acquiring specialized knowledge around a new field, rejuvenates and strengthens our position as groundbreaking professionals.
4. Strategic flexibility
The conventional and usual approach to strategy follows the specific path from market research to step-by-step plan development to achieve a specific goal. But what happens when circumstances demand something radically different?
By choosing reversing careers, we let go of the prescribed course and don't follow traditional paths where the end is already known from the beginning. But this is a high-yield risk in a world that is evolving at a pace that we couldn't imagine 20 or 30 years ago.
Flexibility is a necessary skill that we must develop in order to be able to deal with the unforeseen conditions that arise. We have an idea, we plan the next step and when we get there, we study the feedback and adjust or redefine the next step.
---
According to research, companies that seek to grow in new markets have six times higher chances of success and 20 times higher revenues. It is of course impossible to quantify the effects of adopting subversive/disruptive innovation on personal careers in the same way, but the available data show that it can bring similar results, dramatically improving our chances of reaching success financially, socially and emotionally.