She was one of the best Greek vocalists, the ultimate diva of lyric theatre, timeless and incomparable; Maria Callas. It's been almost half a century since her death but she will never be forgotten…  
 
By Mia Kollia
Translated by Alexandros Theodoropoulos
Almost everything regarding this legendary woman is well-known. We will focus on the most significant of her aspects, as we'll always be in awe. 
The ugly duckling
Callas grew up in a family where her father was absent while her mother, a neurotic woman unable to offer affection,  took advantage of her daughter's musical talents. Maria Sofia Anna Kaikilia Kalogeropoulou was born on December 2, 1923 in Manhattan, New York, to a Greek family. Overweight and short-sighted, young Maria was convinced that her mother preferred her sister, Jackie, over her. Only through singing Maria managed to overcome her shortcomings. 
At the Arena of Verona
In one of the most important lyric venues in Italy, after an audition, she was commissioned to perform "Gioconda" in the opera of the same name by Amilcare Ponchielli and successfully managed to take the first important step of her career, on August 2, 1947. Verona is "home" to the love story of Romeo and Juliet, but also of Maria Callas and her future husband. Giovanni Batista Meneghini, an Italian businessman, was much older than Maria but he fell madly in love with the young singer. From that moment on, Meneghini had always been by her side, as husband, friend and manager. 
Maria and her roles
Encouraged not only by Meneghini but also by her conductor and mentor Tulio Serafin, Maria Callas slowly conquered every music scene in Italy. Venice, Trieste, Genoa, Turin, Pisa, Florence and Rome: the soprano was everywhere. Her ability to play a great variety of different roles made her stand out. She was able to take full advantage of the range of her voice. In 1949, she surprised critics by playing two very different roles in the same week: the one of Brunhilde, a powerful goddess and warrior, in Wagner's opera Valkyrie, and that of the sensitive and romantic Elvira in Vincenzo Bellini's opera, "The Puritans". 
Idol but not standard
With her unique sound colour and style, Maria Callas overturned the traditional codes of the lyric scene. Along with her vocal skills, she brought a theatrical dimension to the opera, an obsession with artistic performance and stage presence, which would later become the benchmark for artists experimenting with this kind of art. However, any artist who dared to imitate the style of the great soprano did not succeed. There was only one Callas capable of such poetic expression and vocal style. But her technique couldn't be standard and many had pointed out that it was a risk that could end up in losing her voice at some point. 
Her first time at La Scala in Milan
Maria Callas was first invited to La Scala in 1950, when she was asked at the last minute to replace soprano Renata Tempaldi in Verdi's Aida. Her performance, however, was far from expected: the audience was not thrilled and the reviews that followed were generally negative. It was a disappointing first time that would soon be forgotten. The following year, Maria Callas was invited again by the Milan Theatre for Verdi's "Sicilian Vespers", and this time her performance was triumphant. Until the late 1950s, the great soprano was the true jewel of La Scala in Milan, a prestigious and demanding European institution.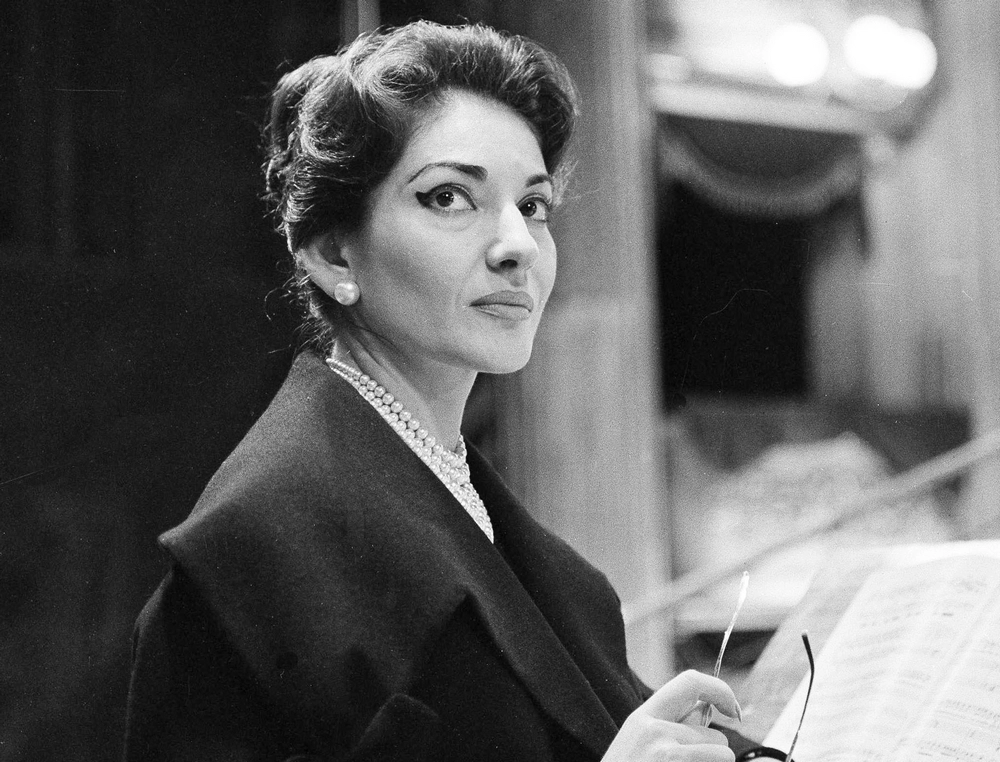 My dear lady
Thus, a new chapter in the life of Maria Callas began and caused a great deal of discussion: her natural transformation. In an incredibly short period of time (less than two years), the soprano lost over thirty pounds. Her female role model? Audrey Hepburn. And like the role of the actress in "My Fair Lady", Maria Callas had her own "Pygmalion", a "Professor Higgins", to perfect her look and movement: the director Luchino Visconti. From this collaboration were born five operetta productions, from which stood out the legendary "Traviata" of Verdi, in Skala, in 1955. A new era had come for opera singers: natural beauty was now paramount, a cinematic beauty just as elegant as Maria when she played Violetta, wearing a gorgeous Liberty dress. 
Callas on the big screen
Maria Callas was a diva in every sense - even the most negative. Her outbursts in front of journalists were countless. Obsessed with the media, she collected every article, every critique that mentioned her name. She spoke openly to the press and even shared many personal details from her childhood but also her romantic adventures. However, the soprano was sometimes annoyed by the paparazzi invasions or by a particularly harsh criticism. It was then that Calla's voice began to lose its power. In the 1960s, completely absorbed in her love affair with the Greek Croesus Aristotle Onassis, she abandoned singing and tried to discover other fields, such as cinema next to Pier Paolo Pasolini, although this experience would be short. 
"Carmen", but never on stage
"Carmen" by Maria Callas, which was recorded with Georges Pretre in 1964, is still considered a necessary reference. Interestingly, the diva was not at the peak of her career, but was already in decline. Her voice "broke" due to overwork and rapid weight loss. This voice, however, dark, unstable and dangerous, perfectly matched the character of Carmen: passionate and unpredictable, determined and rebellious. Unfortunately, Callas never performed this opera by Bizet live on stage.
Ten years of loneliness
After 1965, Callas never reappeared on the opera stage. Although she had one last tour with her old partner Giuseppe di Stefano and her stage presence still fascinated the audience, unfortunately her legendary voice was gone forever. "Since I've lost my voice, I want to die. Without my voice, what am I? Nothing!", she once confided to her sister. Maria Callas spent the last years of her life alone, in her apartment in Paris, mourning the death of Aristotle Onassis, the lover who never married. She passed away on September 16, 1977.
 
#HerStory